When walking through the famed Skirball Cultural Center into the main gallery where "Paul Simon: Words & Music" is currently on view, one cannot help but hear the familiar melodies of this renowned singer/songwriter (that is of course, if you are over 45). Murals, and memorabilia triggered melodies in my head of days gone by. "Bridge Over Troubled Water," "Cecila," "50 Ways to Leave Your Lover," "Me and Julio Down by the School Yard," to mention a few…all came flooding back to me. Each time I turned a corner, there was a new song that popped into my head and kept me swaying as I took in this magnificent exhibition.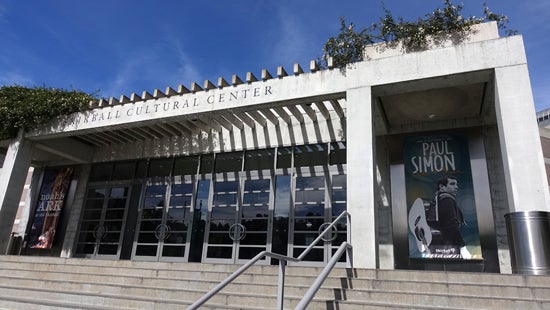 During an unprecedented time, when many of us feel so uncertain, "Paul Simon: Words & Music" is most certainly a breath of fresh air. With our government's current administration putting up walls, it is humbling to witness the Skirball Cultural Center continuing to tear them down. I had the chance to speak with museum director Robert Kirschner, and longtime music critic for the LA Times Robert Hilburn, who shared a wealth of knowledge about Simon's early years. Both of these grown men acted like kids in a candy store as they finished each other's sentences. Kirschner has been a part of the Skirball Cultural Center since before the building was built. "It's been a priority for us to be inclusive of all types of people (despite religion, race, or age)." The traveling exhibit originally premiered at the Rock and Roll Hall of Fame in Cleveland in 2014. "Paul Simon built bridges of understanding and opened minds and hearts of people everywhere with his music," said Kirschner. A music lover, he recounted seeing the Beatles live at the Hollywood Bowl in 1965. As the museum director, he was instrumental in mounting music focused exhibitions at Skirball. Noted exhibitions include "Bill Graham and the Rock & Roll Revolution," "Rock & Roll Billboards of the Sunset Strip" (featuring the photography of Robert Landau - both taking place in 2015), "Bob Dylan's American Journey, 1956–1966," in 2007, and more.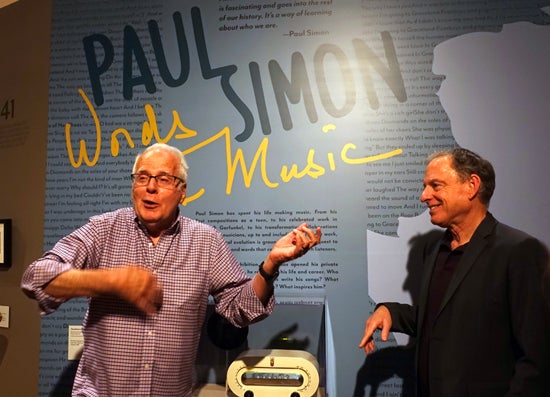 Skirball's re-invention of "Paul Simon: Words & Music" includes twice the original number of pristine artifacts (many provided by Simon), featuring such items as his first guitar given to him by his father on his thirteenth birthday, original writing notes, set lists, never-before-displayed photographs, film clips, even the jacket (an overpowering shade of red) borrowed from a relative that he wore for an early appearance on American Bandstand. Of course, the early part of Simon's career and his creative partnership with Art Garfunkel was well documented, including the full explanation and timeline of the name change from Tom and Jerry, to Landis and Garfunkel, and finally to Simon and Garfunkel. The exhibition is arranged chronologically and also spotlights his acting career with movie posters and clips from his many appearances on Saturday Night Live.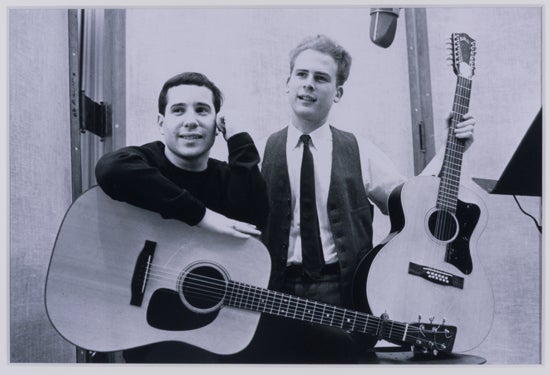 A music lab furnished by Roland Corporation is another enticing feature. It allows for the public to interact with the legendary music of Simon. One can separate tracks out and manipulate famous songs such as "You Can Call Me Al" and "The Boy in the Bubble," etc. This interactive part of the exhibition features five main music activity labs (Audio Mixing, Electronic Drum Circle, "Parch" Keyboard, Rhythm Mix & Match, and Harmonizer) with more than ten different interactive music stations that showcase a host of musical products for hands-on music making. This would be of particular interest not only to emerging and pro-musicians for a self-explanatory musical learning experience, but also for teens and younger children who (like sponges) can soak up the knowledge of what new technology can offer. My photographer, who accompanied me to the preview, was so impressed that he went out shopping for a Roland the next day.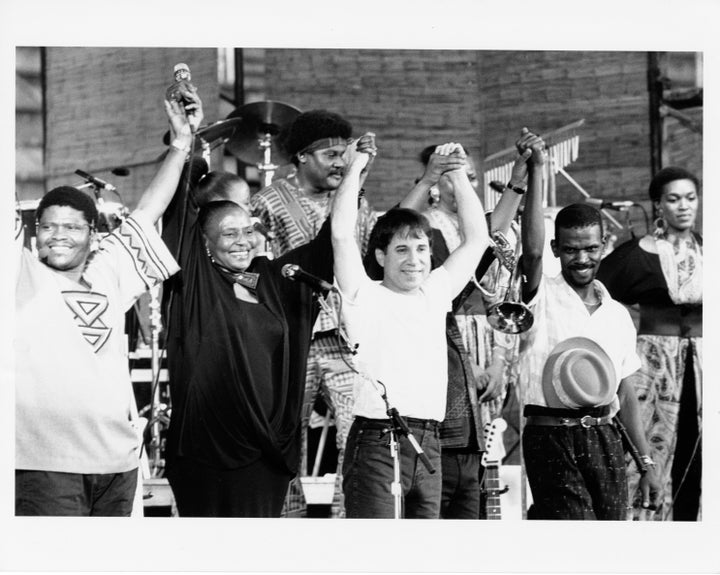 Unlike most musicians breaking off from a beloved band, Simon successfully re-created himself as one of the top songwriters of the twentieth century. He continued to defy the record labels executives by switching genres and incorporating world music into his ever-changing sound - something the music business frowned upon at the time. Simon has earned sixteen Grammys and is the only person to win a Grammy in three consecutive decades.
I asked Kirschner what part of the exhibition affected him the most. He said that seeing Simon's first guitar held special meaning for him. He had a similar one growing up, and like so many of us, Kirschner had aspirations of being a musician and still plays guitar to this day.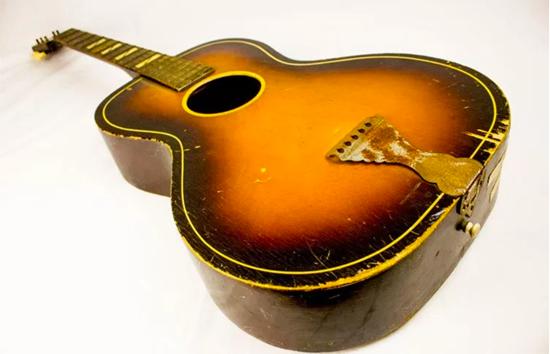 If you love the music of Paul Simon - don't wait another second, as this is the only west coast stop for the exhibition. This Friday, May 12, is a great time to go, since the Skirball is hosting an after-hours event from 6-10pm to celebrate the opening of "Paul Simon: Words & Music." Kirschner leads a tour of the exhibition at 7pm. A cash bar and local food trucks will be open throughout the night. At 8pm, enjoy a screening of the Emmy-nominated documentary Under African Skies.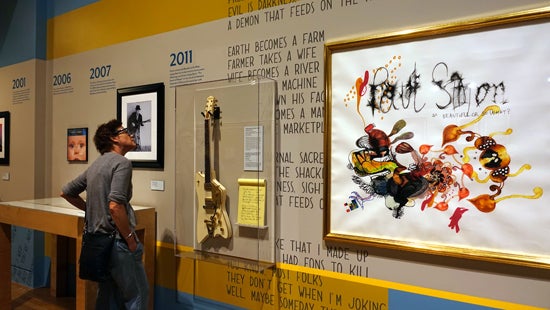 The exhibition remains on view through Sept. 3, 2017. Museum hours: Tuesday–Friday, 12-5pm; Saturday–Sunday, 10-5pm; Closed Mondays and holidays; $12 General; $9 Seniors (65 and up), Full-Time Students with ID, and Children over 12; $7 Children 2–12; FREE to Skirball Members and Children under 2; FREE to all on Thursdays; The Skirball Cultural Center is located at 2701 North Sepulveda Boulevard, LA, CA, 90049; 310-440-4500; http://www.skirball.org/
Popular in the Community