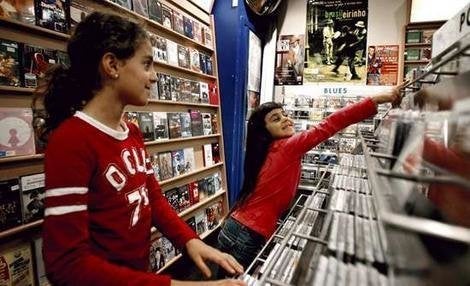 Slumming at Borders this past week was a pretty rewarding experience for those of us who wandered around the music aisle. There under "S" appeared a new Random House-published book by singer-songwriter and vintage pop icon, Paul Simon, simply titled Lyrics. It is an assembly of just that, ranging from his Simon & Garfunkel days to his latest solo album, Surprise. What is refreshing about this book is that it not only documents every Paul Simon song you could think of (such as "Fifty Ways To Leave Your Lover," a song he wrote for his son Harper to teach him about rhyme), but also rarities such as "Shelter Of Your Arms" that was written during his Hearts And Bones period, as well as the Graceland-era composition, "Changing Opinion," that appeared on Phillip Glass' Songs From Liquid Days album. Even Simon's Capeman musical is thoroughly represented, complete with all the lyrics to that production's final set list as it appeared on Broadway. Comparable to Joni Mitchell's 1997 book The Complete Poems And Lyrics, Simon's collection one-ups Mitchell's by supplying a forward by artist Chuck Close, an introduction by journalist David Remnick, and a few original handwritten pages of classics such as "Kodachrome," "Graceland" and his ever-relevant "American Tune." The book invites both fan and novice to catch all the double entendres, urban imagery, collegiate poetry, inside jokes, and general genius that can elude the most dedicated listener since Simon's recordings engage on more levels than their brilliant lyrics. And weaving through many of his songs' words is the idea that we are all interconnected, whether through romantic entanglements or global concerns. In "Citizen Of The Planet," a song left off of Simon's version of Hearts And Bones when it originally was recorded and mixed as the Simon & Garfunkel album Think Too Much, the author writes, "We are the citizens of the planet, we were born here, we're going to die here come what may." He doesn't mean this exactly as it reads since its verses are peppered with sarcasm, but that's the point. After reading the lyrics as prose, you get yet another kick out of what Simon says.

Now, let's pretend that while you were at Borders or Barnes & Noble with Lyrics tucked under one arm, you also wanted to buy the double or triple compact disc/DVD configuration of The Essential Paul Simon. Good luck. The problem of compact discs disappearing from the marketplace is worse than it was only a year ago. CD inventories, beyond Borders (traditionally, a strong music outlet), are way down. Store buyers just ain't a-buyin' from the labels, and it's looking grim all over. Circuit City's downsizing and filing for bankruptcy plus record label EMI's 1.2 billion dollar loss are giant signposts that the music industry's physical goods dilemma is reaching critical mass with an impending domino effect fast approaching. With download revenues not yet replacing the loss of physical sales, DVDs now claiming CD territory in Best Buy (coinciding with the chain's significant elimination of music endcaps), Borders and Barnes & Noble virtually hiding their music sections, and Starbuck's intense reduction of counter-promoted compact discs, it's easy to see that record companies are facing the worst marketplace ever that will result in a brutal fourth quarter. And contrary to the hype, the resuscitation of vinyl isn't even a band aid despite one-way sales, considering the manpower, time and expense involved. No matter how cool LPs are, vinyl absolutely, positively will not be the industry's savior, though tilting at that windmill reveals much about the music business' continued short-sightedness.
So how are these former music titans facing the impending battle for our entertainment dollar? In a reality where that dollar has more perceived value when spent on a Steve Martin or Michael J. Fox multi-movie box set or even a Superman or Matrix fourpack, what magic can record companies conjure to keep a 45 to 80 minute CD of merely music competitive? Theoretically, a strong release schedule could do the trick. But looking at recently shipped projects and near future releases, it's another yawn of a year's end with one big exception: Guns N' Roses' apocrypha, Chinese Democracy, that finally will be issued in a little over a week. However, this really, really long-awaited release had better turn out to be bigger than any November surprise Obama or McCain could have dropped since the weight of the music industry's future just might be resting on the shoulders of Axl Rose. Why so gloomy? Check out what else is coming down the pike by our pop standard bearers: Britney Spear's appropriately-named Circus, Taylor Swift's Fearless, David Archuleta's and David Cook's self-titled albums, Maroon 5's remix project, Beyoncé's I Am...Sasha Fierce and Ricky Martin's 17. Can you detect any life-changing records in this batch? See anything other than GNR's CD herding fans to stores by the hundreds of thousands?
Trying its best to pick-up the slack, the catalog world of reissues and compilations--once reliable income generators--unfortunately has had to cut back on releases significantly. Future highlights include UMe's deluxe edition of R.E.M.'s Murmur, Rhino's Led Zepplin box revisit, Genesis' Peter Gabriel years box, Legacy's Philly International repackaging campaign and whatever Shout! Factory has up its sleeve. Still, if that's the most adventurous the industry can get during a holiday season that used to support about ten Grammy®-worthy box sets, expanded reissues by the boatload, and significant, high profile, desirable hits collections, people are just not thinking hard enough. Yes, it's the economy, stupid. But no, it shouldn't mean roll over and play dead. As much as this article has downplayed it, there is one cue to take from the release of vinyl--find any existing demand and fill the pipeline. A synergy of niche releases combined with a guerilla-style marketing approach to more local outlets--we're talking Obama-like ground troops here--could begin the outreach process that traditionally has been limited to Special Markets or Special Products departments. Despite the angst-ridden strains from sales departments that can't quite figure out exactly how to do it, CDs, just as they are right now, should be proliferating everywhere since music potentially has a correlate to every product that is being marketed. The simple fact is when Singer Sowing Centers used to sell 45s in the very old days, no sales department resisted, they just sold music every place they could.
There is an even bigger issue than a more challenging consumer landscape. Look at that list of original artists with new releases again. See the problem? See why we should ban American Idol from the airwaves for about ten years? Take Clive Davis' apparently endless parade of mediocrity, add-in boy and girl band graduates, One Tree Hill-taylored emo and Britney clones by the half-dozen and there is, basically, the state of pop music today. It's also the reason why no one is rushing out to buy new CDs regardless of there being fewer places to buy them. This is all casual music, it's all pretty disposable and adds very little to the culture other than being tuneful wallpaper. Sadly, there are so few contemporary acts beyond The Black Eyed Peas, Joss Stone, Coldplay, Radiohead, etc. that don't appear as fabricated as High School Musicals 1-3. Artists of depth such as John Mayer and John Legend are currently such a minority that similarly talented singer-songwriters are always the last signings for labels (Verve and Concord the exceptions) despite the bigger picture. Following this template, there will never be another Paul Simon or Joni Mitchell, and probably not even a Neil Young or Bob Dylan. A&R departments have devoted much energy on signing and promoting kid stuff but have no clue what to do with artists that have multi-generational appeal or consciousness-raising ideas. And as labels abandoned every generation beyond the youngest to snag profits, we practically lost whole genres of music such as classical and true jazz. Sure, labels can complain about stores going away, marketing dollars shrinking, and iTunes being the only future. They could also reminisce about mean ol' Napster and unregulated file sharing that initially contributed to the music business' messy downward spiral. But if what record companies sold wasn't so disposable, maybe one little compact disc would have a greater perceived value than four boxed Tom Hanks '80s movies. Wait, that is still pretty hard to beat. But as we're waiting for the record business to reinvent itself, is it too much to ask for stores that sell Paul Simon's new book Lyrics to at least try and keep his Essential collection in stock?

Popular in the Community