America is arguably the most advanced economy in the world, but today it resembles a toddler who just accidentally pulled down the Christmas tree and set the house on fire.
That's hyperbole, sure. But the fact is that one conservative American billionaire and a handful of American judges have just pushed Argentina, a nation of 43 million people with an economy bigger than that of the Netherlands or South Africa, into defaulting on its debt. It's a move that threatens not only chaos for the Argentinian people, but potential chaos for other countries hoping to borrow money in the future.
"This is America throwing a bomb into the global economic system," Columbia University economist Joseph Stiglitz told The New York Times on Thursday in a front-page story about the battle. The conservative billionaire is Paul Singer of the hedge fund Elliott Management. Singer has given millions of dollars to George W. Bush, Mitt Romney and Swift Boat Veterans For Truth, to name a few causes (including, to his credit, support for gay marriage and LGBT rights). He has waged a years-long war with Argentina over its debt, driven by his fervent, conservative belief that debtors should pay creditors all of the money they owe, according to the NYT.
Elliott Management did not immediately respond to a request for comment.
Here's a quick sketch of the background on this complicated story: After Argentina defaulted on its debt in 2001 amid an economic depression, it forced most of its creditors to take a lot less money than they had loaned to Argentina in the first place. In bond-market lingo this is known as a "haircut," and it is sort of like The Moe on the Spectrum of Desirable Haircuts.
But the Moe is arguably better than getting scalped (to continue the metaphor) -- unless you are Paul Singer. He and a handful of other investors would rather get nothing, and pay millions of dollars to lawyers along the way, than settle for The Moe.
Through a Cayman Islands subsidiary, NML Capital, Singer had bought up a bunch of Argentinian debt on the cheap after the country defaulted. Then he and other holdout investors, including other "vulture funds" like his, began demanding Argentina pay them in full.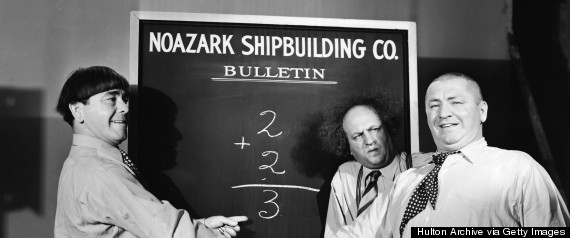 The original Moe haircut (left)
Argentina refused to pay these vulture funds, on account of their being vultures, but kept on paying its Moe-coiffed bondholders. Singer said this sort of behavior made the ghost of Ayn Rand cry -- I'm paraphrasing -- and he fought and fought and fought it in court.
Then in 2012, a federal judge, Thomas Griesa of the Southern District of New York, got the gospel of Paul Singer. He decreed that Argentina could not keep paying its Moe-coiffed bondholders if it wasn't paying Singer and the other holdouts. Not only that, but he also declared that any banks playing middle-man between Argentina and aforementioned Moe-coiffed bondholders would be in trouble with the law.
This was a radical decision. Worse, it might have been kind of stupid. Times columnist Floyd Norris pointed out recently that Griesa "had not completely understood the bond transactions that he had been ruling on for years."
But the Second District Court decided that Griesa's ruling was A-OK, leading Felix Salmon to call them "poltroons." Poltroons, I say!
And then finally in June, the U.S. Supreme Court, led by Associate Justice Antonin Scalia, declined to hear Argentina's appeal. Last-ditch negotiations to end the dispute failed Wednesday night, and Argentina did not make a scheduled bond payment -- again, because Griesa had ordered it not to do so. Bada bing, bada boom, Argentina is in default and nobody gets paid.
Some of the blame for this is arguably Argentina's. Maybe it should have weighed its disgust with Singer against the need to protect its citizens from another financial crisis. Forbes' Agustino Fontevecchia suggests that maybe it didn't protect itself well enough legally.
Fontevecchia also notes that Argentina still has time to cut a deal and forestall all of this. The nation has not reached the point of no return, beyond which it can't borrow any more and its economy devolves into turmoil. But they're closer to that point than they should be.
Singer's victory stands to make it a lot harder for other debt-burdened countries to cut deals in the future, the International Monetary Fund warned last week. After all, what creditor is going to want to take The Moe when there's hope some court will let them get ... The Fabio?
Related
Popular in the Community