Just weeks before Paul Singer penned a glowing letter backing Sen. Marco Rubio's (R-Fla.) presidential campaign in late October, the hedge fund billionaire helped host a two-day gathering of several dozen rich allies and GOP political operatives. The New York confab focused on the 2016 elections and the conservative projects the wealthy men and women were financing.
The event drew the likes of brokerage CEO Charles Schwab, Home Depot co­-founder Bernard Marcus, a representative of the family of TD Ameritrade founder Joe Ricketts and former RNC Finance Chairman Ron Weiser. According to attendees and GOP sources familiar with the meeting, several prominent operatives gave presentations on the 2016 electoral landscape and talked up projects and groups they were running.
Among the elite operatives in attendance were Steven Law, the president of American Crossroads, which was cofounded by Karl Rove, and Marc Short, the president of Freedom Partners, the fundraising hub for the conservative political and advocacy network led by the billionaire Koch brothers. Singer and some of his rich allies have previously helped underwrite both groups.
The muscle of Singer's donor network, underscored by the names drawn to its early October meeting at New York's ritzy Park Hyatt, is reshaping the 2016 landscape. Formally known as the American Opportunity Alliance, the group has become a big-money pipeline with a distinct focus on conservative and some more moderate causes and candidates. Alliance donors were presented with a menu of more than a dozen conservative groups they could fund, including projects focused on anti-Hillary Clinton efforts, opposition research, voter mobilization and millennial engagement.
The Singer-led Alliance, which now boasts some 40 big donors who pay $50,000 a year to belong, is similar in respects to the older and much larger and flusher Koch donor network. The two networks share many -- but not all -- donors, including Singer himself. But as one GOP operative familiar with both networks put it: The 2-year-old Alliance "gives potential donors a new place to play and shows that the Koch network isn't the only game in town."
It's an aggressive play for the famously reticent billionaire. The 71-year-old, white-bearded Singer, whose wealth is now pegged at almost $2 billion, is best known for pumping millions into conservative foreign policy and hawkish pro-Israel outfits, as well as being a big funder of gay marriage rights and immigration reform -- causes that the Koch network has largely slighted. He's now adding to his clout by rallying like-minded GOP donors around his pet issues and candidate. Those who attended the previously unreported New York meeting, along with some other mega-donors, received Singer's pro-Rubio missive, which touted the senator's "message of optimism" and foreign policy chops.
"Singer has become the Pied Piper with mega-donors across the country," says one veteran GOP operative, adding that Singer's letter backing Rubio "will send a strong signal" to other donors and fundraisers. Likewise, a top fundraiser for the Bush campaign, with a touch of envy, calls the Singer letter "a big get for Marco. Singer is a big fish and most important, Singer is an awesome fundraiser."
Singer's network started to take shape in mid-2013 at a summer meeting in New York. In the wake of the 2012 electoral debacle, many big donors felt their money wasn't strategically spent, a lesson that the Koch world understood too.
In 2014, Singer was the third-biggest donor in the country (and the biggest GOP giver) plowing some $11.5 million into the coffers of super PACs, candidates and party committees, according to the nonpartisan Center for Responsive Politics. He hosted several big New York fundraisers for GOP senate candidates -- efforts that were instrumental in the party's retaking of the Senate -- and had a big hand in orchestrating other fundraisers for a number of women running for the House, including Elise Stefanik (R-N.Y.) and Martha McSally (R-Ariz.), both of whom won their races.
Singer's network, which includes the likes of fellow hedge fund CEOs Ken Griffin and Cliff Asness, plus coal baron Joseph Craft III and former World Wrestling Federation chieftain Linda McMahon (who ran unsuccessfully for Senate in Connecticut), has a big Wall Street presence. For political strategy and fundraising help, Singer relies on his own elite crew ­led by veteran fundraiser Annie Dickerson, neocon foreign policy author Dan Senor and former RNC Finance Director Angela Meyers.
Building on 2014's success, Singer's presence has expanded,­ sometimes in tandem with allies. This election cycle, he has already donated a total of $3.1 million, according to the Center for Responsive Politics.
That total seems likely to rise significantly as he turns his attention to Rubio, the freshmen Florida Republican who is starting to look well-positioned to win his party's presidential nomination. Singer and his network are poised to boost both Rubio's campaign -- which has lagged in fundraising -- and the senator's super PAC, Conservative Solutions, which has raised far less than super PACs associated with rivals like Sen. Ted Cruz (R-Texas) and former Florida Gov. Jeb Bush.
Three GOP sources tell The Huffington Post that a series of fundraisers for the Rubio campaign are being led by Singer's political team, with help from some donors and operatives allied with the network. Singer himself is slated to host a "hard money" New York bash for Rubio in December. "They're encouraging a lot of big donors to host events," said one Rubio bundler.
("Hard money" donations are limited to $2,700 per election from an individual to a campaign. Thanks to the Supreme Court's 2010 Citizens United decision, Super PACs and tax exempt nonprofits can accept unlimited "soft dollar" checks from corporations, unions and individuals.)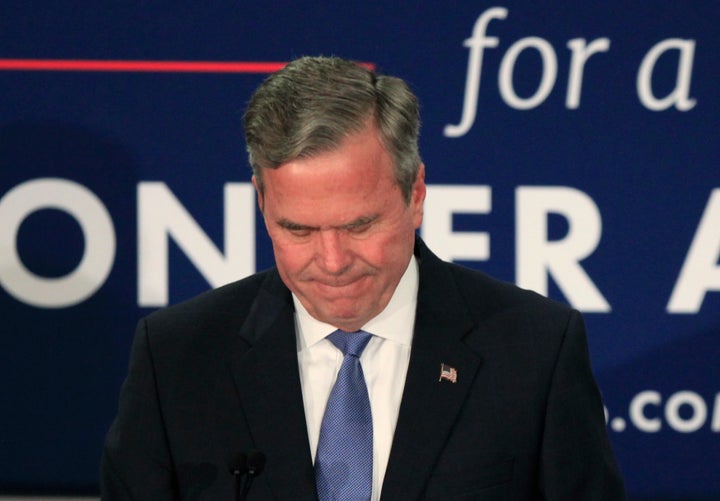 Singer is also expected to write a big check to Conservative Solutions and encourage other donors to do the same, sources say. If they prefer, donors will have an option of giving to an allied dark money nonprofit, the Conservative Solutions Project, which to date has paid for all the pro-Rubio ads to the tune of $8 million­.
"Singer's endorsement is a major gain for Rubio, both on the hard money front and for his super PAC," said one of the sources.
Singer will have plenty of arm-twisting to do within his own network. Donors have been divided in their preferences for president. Home Depot's Marcus and Charles Schwab's wife, Helen, gave $1 million and $1.5 million respectively to the pro-Jeb Bush super PAC Right to Rise. Bush, like Rubio, reportedly worked aggressively to snare Singer's endorsement.
But there is little doubt among Republican donors and fundraisers that Singer has the capacity to provide Rubio a tremendous boost. He has deep roots in the donor universe and knows plenty about devising a powerful network, having gone to the Koch Brothers' semi-annual retreats for several years in addition to occasionally speaking at them. One big Singer theme, says a Koch attendee, has been getting major donors involved in hard dollar efforts in addition to writing big checks to super PACs and dark money groups.
Charles Koch, in a talk at one of the brothers' retreats in 2011, cited Singer and some 30-odd other big check writers for having kicked in $1 million the previous year to conservative projects blessed by the Kochs, according to a tape obtained by Mother Jones. Singer is expected to make a seven-figure donation again this year, sources say, as the Kochs plan a $750 million campaign of political and advocacy efforts -- down from an earlier projection of $889 million.
As for other advocacy efforts this election season, Singer and some network allies are teaming up on new ventures like Future45, a super PAC that is targeting Hillary Clinton and is designed as a rapid response operation using ads and other tools. Singer has donated $250,000 to the group, which has also received big checks from Ken Griffin and the family of TD Ameritrade founder Joe Ricketts, according to records and sources. Future45 also has an allied dark money group, 45Committee, which will do issue advocacy. Brian Walsh, a veteran GOP operative, is leading both organizations. Ron Weiser, the real estate mogul and former RNC finance chair who attended Singer's network meeting in New York last month, is chairman of Future45 and will lead fundraising.
"There's a great need for rapid response and trying out different things," said a senior GOP operative familiar with the new super PAC. "There will be constant advocacy."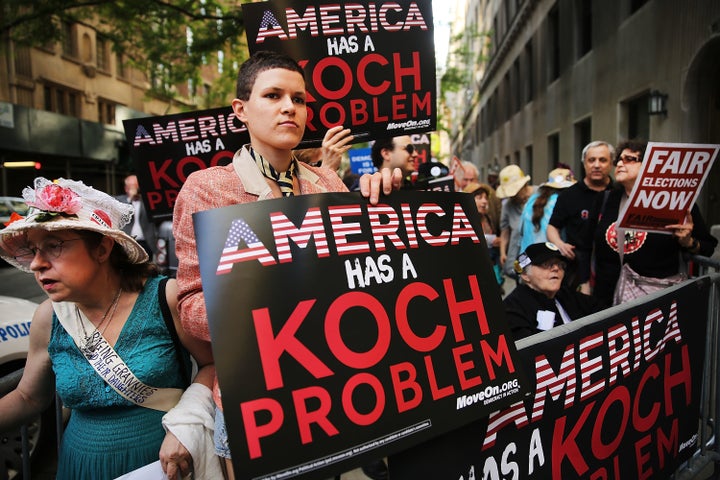 Singer has spread his money elsewhere. He gave $250,000 to America Rising, the leading GOP opposition research group that's working closely with Future45. He also pumped $1 million into American Unity, the super PAC he formed in 2012 to back candidates who support gay marriage rights. Singer has a personal commitment to the cause since he has a gay son who was married a few years ago, and has worked closely on the issue with former RNC Chairman Ken Mehlman, who is also gay and is now a top executive with Wall Street behemoth KKR.
Singer also recently started a new nonprofit called Start­Up Nation Central (named after Dan Senor's book Start­Up Nation) to spur investment by companies and countries in Israel's technology sector. He has reportedly put $20 million behind the effort, which will be run by Eugene Kandel, a prominent Israeli economist. The foundation's aim is partly to counter Palestinian-led drives to boycott Israel over human rights concerns and other issues.
Serendipitously, Singer jetted over to Israel soon after his network's gathering in New York. He brought along some two dozen donors like Linda McMahon and coal magnate Joe Craft, along with top political aides to Schwab and the Ricketts family. The trip's mission was partly related to StartUp Nation, and included a few days of meetings with government and private sector leaders. A scheduled meeting with Israeli Prime Minister Benjamin Netanyahu had to be scrubbed at the last minute due to an outbreak of violence.
Israeli politics and security issues played a role in Singer's decision to back Rubio. The senator has been an outspoken critic of the Iran nuclear deal, which Singer and other mega-donors like casino mogul Sheldon Adelson deplore. Since early summer, the Conservative Solutions Project, the pro-Rubio tax-exempt group that doesn't disclose its donors, has run at least $4.5 million in ads that attack the nuclear deal and feature Rubio, according to the group's spokesman, Jeff Sadosky.
The pro-Rubio group has come under fire from three different watchdog groups, which allege that it is violating IRS rules for tax-exempt groups requiring that their spending not be for the "private benefit" of an individual or organization. Sadosky has said that the group's mission is to promote conservative views on big issues like the Iran nuclear deal and taxes, and is not aimed at backing Rubio.
Singer's business interests align him with Rubio as well. Singer made his fortune leading the $27 billion hedge fund Elliott Management, which specializes in buying distressed debt from poor countries and making big profits by holding onto the bonds for years while their values soar and then sometimes suing for full repayment.
The hedge fund's biggest fight in recent years has been with Argentina, which defaulted on almost $100 billion of debt in 2001 but a few years later settled with over 90 percent of its creditors and banks for about 30 percent of the original value. Elliott has been the leading holdout of a small group of creditors seeking full repayment of some $1.3 billion and has waged an expensive multi-year legal battle to that end. If it wins, Elliott would get about $300 million for bonds that Argentina claims it only paid $48 million to buy.
In that fight, Rubio has emerged as a key ally. From his perch on the Senate Foreign Relations Committee, Rubio in 2014 grilled the White House nominee to be the U.S. ambassador to Argentina on the debt issue. Argentina, the senator charged, "doesn't pay its bondholders and doesn't work with our security operations. … These aren't the actions of an ally."
Whether driven by ideological or business interests, or a mix of the two, Singer's impressive ability to harvest money should yield hefty dividends for Rubio. A few years ago at one Singer money bash, which are often held in his luxurious co-op at the Beresford on Central Park West, the hedge fund CEO quipped that he was so aggressive in bundling checks that some colleagues deemed him a "fundraising terrorist."
That's no secret to those who know Singer, and it's what the Rubio campaign is banking on. Or, as a leading Rubio bundler said in a recent interview, "People know that Paul vets people (candidates and causes) and he's very careful. People trust him. I think he'll pull in a lot of people especially in the finance world."
Peter H. Stone, who covered lobbying and the influence of money in politics at National Journal for 18 years, writes for Mother Jones, The Huffington Post, the Daily Beast, The Guardian and Politico.
Popular in the Community