Nomadic photographer Paul Solberg gives us a walk down memory lane and a glimpse of the future. (Photo below: Paul Solberg in Atacama, 2010, Christopher Makos)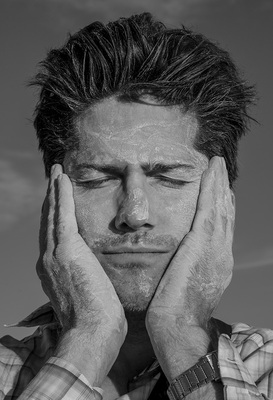 On the day of our Skype interview, Solberg looks as dapper as when I randomly ran into him and fellow Hilton brother, Christopher Makos in Paris last year. He is sporting round-shaped eyewear and a vibrant printed jacket tailor-made in Shanghai.
Right off the bat, his sense of humor kicks in: "It's like an anchorman outfit. It's just from here below. Then it's just California shorts on the bottom," says Solberg, in Los Angeles for his new book signing.
"It's actually 1,012 degrees here. It's so hot, it's unbelievable! The last time I felt this heat was in Egypt in the summer."
An avid traveler, Solberg is a native of Minnesota and New York transplant whose artwork resides in such collections as the Elton John Photography Collection.
Ten Years in Pictures is your fifth book, how different is it from your previous ones ?
Paul Solberg: This book is an honest journal -- pictures instead of words -- of my 10 years on the road. Ten years of longing for more time.

Thus the diversity of content ranging from portraits to still photography. But is there a common thread between each photograph ?
Paul Solberg: Yes, there is. I just think it's more fun for the audience to discover those threads. There are a couple different stories throughout the book, but I hate to give it away.
Can you breakdown the selection process of your subjects ?
Paul Solberg: The Service (2010) series was all photographed in Times Square, NYC, which is a sea of LED, with essentially no white background, necessary for this portrait series of Servicemen during "Fleet Week." I finally found a couple buildings about two square feet of white wall, all the frame I needed within my Polaroid camera. I was on my bike with my film and just went up to strangers, "Excuse me, can I take your picture?" Most of them ran. I felt like a missionary, selling an idea to strangers.
Can you elaborate on the evolution of your photography?
Paul Solberg: As much as I try, I don't seem to have the wits to do anything but what is organic and in front of me. I make big plans for photo projects that I never keep. Almost half of the past 10 years I've have been on the road -- three weeks on, three weeks off or so. My publisher said it's time for a book. And I looked back at all the trips, and thought, I guess the book is, just what it is -- 10 years in pictures.
It's been 10 years of this push/pull of wanting more studio time, wanting to be home, while being pulled away. If you say no to travel, your brain shrinks, and I can't afford that, and I can't say no to a trip across the Atlantic, or Pacific, or Adriatic. There's always a trip on the books, so I'm gone again. My luggage is always half unpacked, counting my Ambien. Sleep aids are my contribution to the economy.
How would you describe your work in three words?
Paul Solberg: Spontaneous. Flawed, fortunately... honest. I try to stay pretty honest.
In 2008, you photographed Chinese contemporary artist and activist Ai Weiwei. What was your encounter like ?
Paul Solberg: The first time I met Weiwei was in 2008 at his studio in Beijing, around the time of the Beijing Olympics. Christopher Makos and I met many of the leading Chinese contemporary artists during this period. Not unlike the American artist, many Chinese artists are real businessmen. You don't sense this with Weiwei.
He's more a philosopher with real curiosity, who finds your story more interesting than his own. The government's response to Weiwei's work has provided the perfect recipe to create today's art superhero. The adversary -- while trying to destroy -- merely fuels the purpose of the lone soldier.
Travel is at the core of your work. Have you been in particularly dangerous environments to capture some of your imagery?
Paul Solberg: Maybe... but there is usually "danger" when we're afraid. So there's no point in fear. And we're usually afraid of what we don't know. Besides, my work is more romantic. I'm no war photographer, the real heroes of photography. Although I've been to uncertain places on the map, I have much more respect for photographers like Lynsey Addario, who really puts her life on the line for the photograph. Without their images, we wouldn't know what is happening in much of the world.
Can you give a personal example of you being fearless?
Paul Solberg: At 18 years old, I was an exchange student in South Africa (during Apartheid), spending months in Namibia and the former Bophuthatswana among other parts of Southern Africa. I was always told to be careful and not go to "certain areas." But the beauty of youth is you have nothing to fear. You learn fear. You touch a hot stove, and you alter your behavior. Although today I am fairly 'fear-immune'. If you're lucky to be able to play in the sandbox for a living, it's your duty to fearlessly JUMP when given the opportunity.
What are some of your world travels highlights of the past 10 years ?
Paul Solberg: I would say Vietnam, Egypt, Chile. And then there are my second homes -- there are so many -- Spain and Italy being two. When one's ideas is split in two, this is the drug of travel. This is youth serum. Better than Botox. To be rattled. Agitated. Confronted. When you learn that your ideas about the world are upside down, it's thrilling. That's why the smartest people often say, "they know nothing." I get that. We all want to go to the Moon. And find me an arrogant astronaut. You can't.
What is your take on social media, does technology influence your creative process?

Paul Solberg: I use social media, but it uses me more. I feel I should be on it more, or off it more. Like any robot, it's helpful until it bites back. So play nice. Humans are already part robot, and it's a good thing. I think I would trust a robot more than many people. Look at the election.
The real beauty of social media is meeting people all over the world, whom you've made an authentic five-minute connection with. Prior to social media, you would have lost such a fleeting connection. Now you can keep a thread alive -- which can -- occasionally, end up being meaningful.
What do you look forward to in the next 10 years?
Paul Solberg: Keeping my aching back straight. Skipping through tulips, crying through storms, with the one I love. Hoping no one drops dead. Everyone takes their vitamins. I keep taking pictures. And I get off Ambien.

For more information about Paul Solberg, visit: www.paulsolberg.com
Instagram: @paul_solberg - Twitter: @paulsolbergmr
Related
Popular in the Community