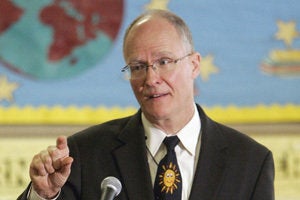 Former Chicago Public Schools CEO Paul Vallas, who has been superintendent of the Recovery School District of Louisiana in New Orleans since 2007, is not running for mayor in Chicago, Chicago Sun-Times columnist Michael Sneed reports.
In recent years, there has been speculation about Vallas running for Cook County Board President, governor and most recently mayor, but none of those things have happened--or will be happening.
"The time has also expired for establishing residency in Chicago to be a mayoral candidate," said Vallas' brother Dean. "So please put these rumors to rest."
In 2005, Vallas considered running against former governor Rod Blagojevich, but didn't. In 2008, he again told the media that he was thinking of running for governor in 2010--then in 2009, said he would run for Cook County Board president.
He ultimately backed out on that plan, telling the Chicago Tribune's John Kass he couldn't leave the New Orleans school system in aftermath of Hurricane Katrina: "...I don't think I can do the politics and balance my obligations here. There is too much work to do. I didn't come here not to finish what I started."
Vallas commutes to New Orleans from his home in southwest suburban Palos Heights, and has now been hired by an international American bank to develop a model to build a school system in Haiti, Sneed reports.
Few details on the Haiti deal were available Monday morning.
Related
Popular in the Community