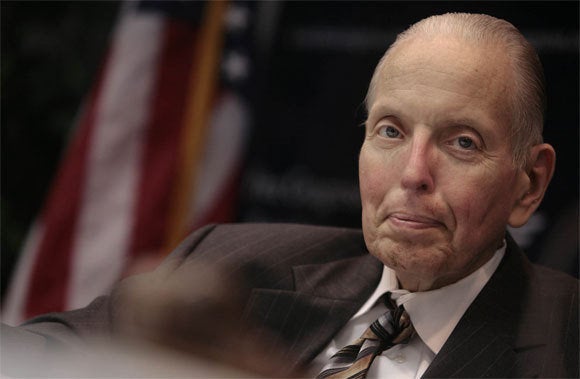 Conservative icon Paul M. Weyrich, who helped found the Heritage Foundation, died Thursday morning at the age of 66.
Paul M. Weyrich, chairman and CEO of the Free Congress Foundation and first president of The Heritage Foundation, died this morning around 1 a.m. He was 66 years old. Weyrich was a good friend to many of us at Heritage, a true leader and a man of unbending principle. He won Heritage's prestigious Clare Boothe Luce Award in 2005.

Weyrich will be deeply missed. Our thoughts and prayers are with his family, including son Steve, who currently works at Heritage.

Stay tuned for more tributes throughout the day.
Grover Norquist adds on National Review's website:
Ideas alone do not have consequences. Ideas, even -- or especially -- powerful ideas are like seeds. If they land in fertile soil and are cultivated they can grow. On rock or sand or ignored or tended by incompetents they die.

The idea of individual liberty and a limited constitutional government has been around a long time. Liberty doesn't need new ideas to advance, but institutions to give muscle and skeletal structure to a political movement for liberty. That is how Paul Weyrich changed the world for the better.

Paul Weyrich created institutions and networks that incubated new and old powerful policies and strategies to advance liberty. The Heritage Foundation. ALEC. The Free Congress Foundation. The Kingston meeting. Many of the structures of the "religious right." He understood that only freedom could successfully promote traditional values. He brought leaders of various freedom impulses together. Most of the successes of the Conservative movement since the 1970s flowed from structures, organizations, and coalitions he started, created or nurtured.

Paul also lived a balanced life with work, family and his faith.

We will miss his puns and wisdom and hard work.
In 1973, with the financial backing of Coors, Weyrich and Ed Feulner founded the Heritage Foundation as a think tank to counterbalance prevailing sentiment on taxation and regulation, which they considered to be anti-business. While the organization was at first only minimally influential, it has grown into one of the world's largest and most respected public policy research institutes and has been hugely influential in advancing conservative policies.

The following year, again with support from Coors, Weyrich founded the Committee for the Survival of a Free Congress (CSFC), an organization that trained and mobilized conservative activists, recruited conservative candidates, and raised funds for conservative causes.

Under Weyrich, the CSFC proved highly innovative. It was among the first grassroots organizations to raise funds extensively through direct mail campaigns. It also was one of the first organizations to tap into evangelical Christian churches as places to recruit and cultivate activists and support for social conservative causes. Indeed, they proved such a wellspring that, in 1977, Weyrich co-founded Christian Voice with Robert Grant and two years later founded with Jerry Falwell the Moral Majority. Weyrich coined the phrase "Moral Majority."
Calling all HuffPost superfans!
Sign up for membership to become a founding member and help shape HuffPost's next chapter