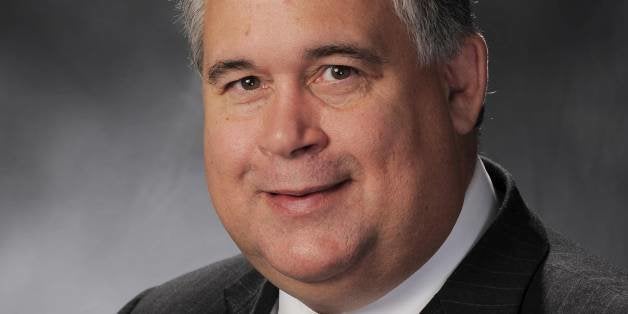 Missouri state Rep. Paul Wieland (R) and his wife, Teresa, are renewing their suit against the U.S. Department of Health and Human Services over the Affordable Care Act's contraception mandate, which they claim violates their Catholic beliefs by granting their three daughters access to birth control through the family's government-provided insurance plan.
A lower court threw out Wieland's case last year, on the grounds that he didn't have standing to sue. Now his lawyer's arguing that the Supreme Court's June decision in Burwell v. Hobby Lobby, which allowed closely held corporations to deny contraceptive coverage to employees on religious grounds, has changed the landscape. Wieland contends he has standing for his own suit and has appealed the lower court's ruling.
"The employees are to Hobby Lobby what the daughters are to Paul and Teresa Wieland," Timothy Belz, the Wielands' attorney, argued in front of a three-judge panel on the 8th U.S. Circuit Court of Appeals in St. Louis on Monday. "The government is holding a gun to our head and saying this: 'Either you give up your conscience or you give us your money.'"
Making birth control more accessible to the Wielands' daughters -- ages 13, 18 and 19 -- would be "exactly the same" as forcing Mormon parents to "provide a stocked unlocked liquor cabinet in their house whenever they're away for their minor and adult daughters to use," argued Belz, who is special counsel with the public interest law firm the Thomas More Society.
Justice Department lawyer Alisa Klein defended the government's position, stating that no case law supported the type of personal exemption sought by the Wielands.
"Different people will have different beliefs," Klein said Monday. "Here we have 100,000 beneficiaries in the Missouri group health care plan and there is no precedent for having the employer design the plan 100,000 ways."
As a state employee, Wieland receives health coverage for himself and his family through the Missouri Consolidated Health Care Plan, which must abide by the minimum coverage standards set by the Affordable Care Act.
Wieland also has the option of obtaining a different health care plan on the private market that could exclude contraceptive coverage, but he has deemed this option too expensive.
Gretchen Borchelt, senior counsel at the National Women's Law Center, dismissed the lawsuit as "just another attempt to undermine the health care law" in an interview Wednesday with MSNBC.
"Under [Wieland's] theory, an employer could be forced to create an individualized plan for each employee depending on their objections -- one plan that doesn't cover contraception, one plan that doesn't cover vaccinations, one plan that doesn't cover maternity coverage," Borchelt said. "Who knows where it would end? It radically undermines the principle of insurance and undercuts the purpose of the health care law, which is to standardize benefits and ensure everyone has comprehensive coverage."
One of the judges on the appeals court, James Loken, questioned Wieland's claim during Monday's arguments.
"There's much greater control by a parent than an employer," he said. "All the parents have to do is say, 'We expect you to abide by our religious tenet.' That's a non-event."
Belz replied, "Well, we all have high hopes for our kids, that is true. We all expect and want them to obey us. They don't always."
After initially filing the case last year, Wieland defended his position in an interview with the St. Louis Post-Dispatch, calling the contraceptives "abortion-inducing drugs" that are "intrinsically evil."
"This is a moral conundrum for me. Do I just cancel the coverage and put my family at risk?" Wieland, who is running for the Missouri Senate this year, said at the time. "I don't believe in what the government is doing."
His office did not immediately respond to a request for comment.
REAL LIFE. REAL NEWS. REAL VOICES.
Help us tell more of the stories that matter from voices that too often remain unheard.
BEFORE YOU GO
PHOTO GALLERY
GOP's War On Sex