Paula Broadwell, whose reported relationship with former CIA director David Petraeus hastened the end of his career last week, has come under scrutiny for the unusual level of access she appears to have had in the process of writing a biography of the general.
In a speech this summer at the Aspen Institute, Broadwell noted that she regularly had access to classified information in the course of her work in Afghanistan, when she was embedded for about a year in 2010 and 2011.
"I was entrusted with this opportunity to sit in on high level meetings with General Petraeus. Sitting in on SCIF [sensitive compartmented information facility] meetings in the morning, listen to classified chatter of terrorist talk and so forth. And I had that background anyhow, so I knew a lot of that information for my writing, but I knew there was a clear line that I couldn't cross when I was writing it out," Broadwell said, according to remarks recounted by Politico.
It's not clear how inappropriate Broadwell's access was. As an Army reservist with a background in counterintelligence, Broadwell had a high-level security clearance.
It is also not unheard of for reporters embedded with the military in war zones to encounter some classified information or spend time in secure compartmented information facilities. The standard non-disclosure agreement for reporters embedding with the military in Afghanistan, for instance, includes pledges not to reveal any specific plans or classified information the reporter might see.
Petraeus was also famous for granting reporters extraordinary access to his thought process and planning, and as The Washington Post reported on Monday, he even afforded permanent office space to a pair of conservative Washington, D.C. think-tankers at his military headquarters.
It may have been this general tendency that Broadwell was referencing when she wrote, in the introduction to her 2012 biography of the general, "I took full advantage of his open-door policy to seek insight and share perspectives."
But Broadwell's access appears to have raised red flags even during her embed, and the concerns continued long after her embed was over, when her relationship with the general reportedly took place.
Former aides have told The Washington Post that they found the general's closeness with Broadwell unusual, and were frequently troubled by the level of access she appeared to have while in Afghanistan.
Officials at the CIA also told the Associated Press that they had been taken by surprise when Broadwell posted a photograph taken at the agency's Langley headquarters on her personal Facebook page.
In an October speech at the University of Denver, Broadwell cited a little-known detail about the attacks in Benghazi, which had recently flared into controversy that threatened to envelop Petraeus.
Noting that the CIA director was under pressure to not publicly defend himself because of the sensitive nature of the CIA's activities in Libya, Broadwell mentioned that the agency was holding "a couple of Libyan militia members" as prisoners in a secure annex.
"They think that the attack on the consulate was an effort to try to get these prisoners back," she said.
Broadwell eventually cited Fox News for some of the information contained in her speech. Early news reports about the speech referred to a Fox News article that uncovered the CIA's role in Benghazi. The article, by Fox's Jennifer Griffin, made no mention of the prisoners, raising questions about how Broadwell may have come to this information.
But in an Oct. 26 appearance on Fox, Griffin did in fact mention "three Libyan attackers" who had been taken into custody by CIA agents.
When the FBI later opened its investigation into the relationship between Broadwell and Petraeus this summer, following clues that appeared to suggest someone may have hacked into the director of the CIA's email account, they found classified documents on Broadwell's personal computer, according the The Wall Street Journal.
Investigators eventually concluded that the documents had not been given to Broadwell by Petraeus, and dropped that line of inquiry.
CORRECTION: An earlier version of this story incorrectly stated that Fox had not reported the presence of Libyan prisoners at the CIA annex in Benghazi, Libya, at the time of the attacks, prior to Paula Broadwell's speech in October. The original story cited reports raising the question of whether Broadwell may have been the source for the information. Jennifer Griffin had appeared on Fox News Oct. 26 and mentioned the prisoners.
Before You Go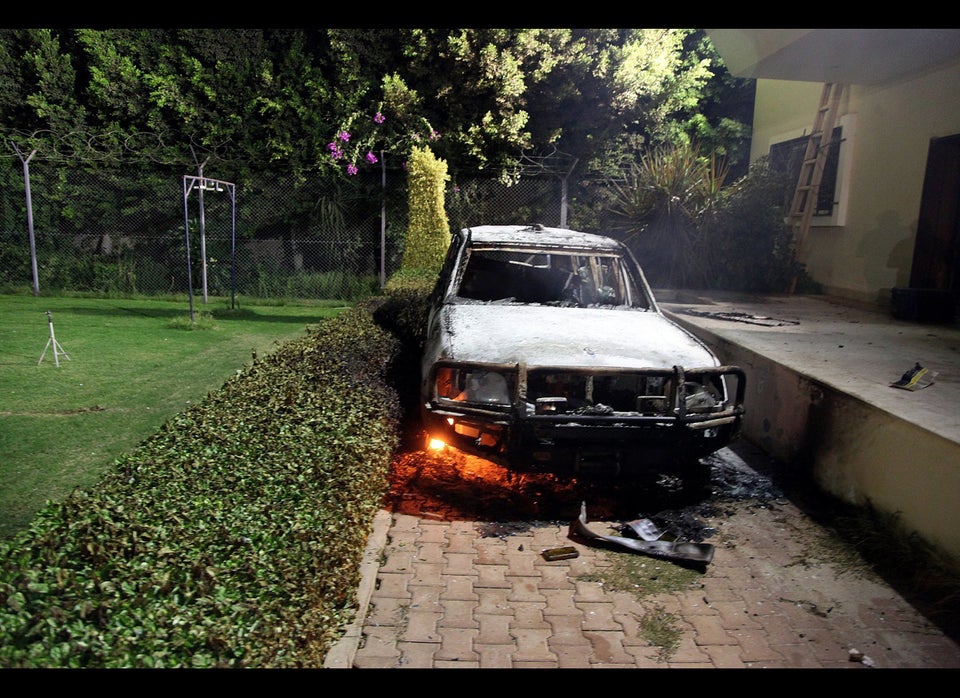 Attack On U.S. Compound In Benghazi
Popular in the Community