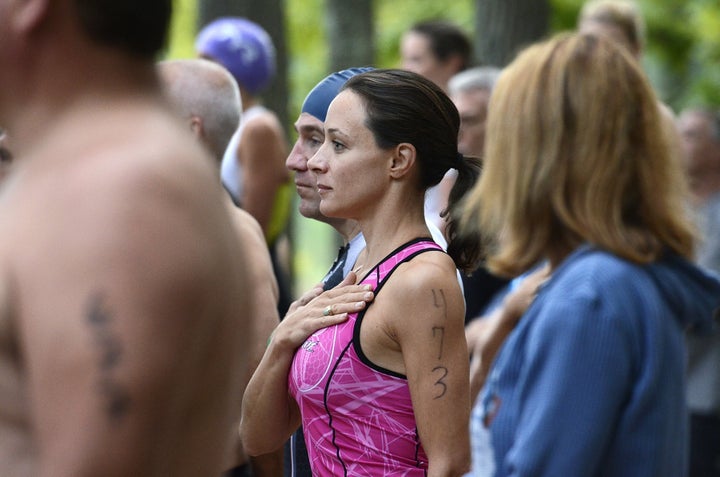 With news that former CIA Director David Petraeus may be nominated as President-elect Donald Trump's secretary of state, Paula Broadwell ― Petraeus' biographer, and the woman with whom he had an extramarital affair ― is speaking out publicly for the first time.
Broadwell, a former Army intelligence officer who is still waiting to receive resignation papers from the military, has found it difficult to move forward from the 2012 scandal that tainted her name.
In an interview with Vanity Fair published Thursday, Broadwell, 44, discusses the stigma associated with the term "mistress" and the scrutiny she has faced as a woman.
"It's not just the word," she said about the media primarily using the term "mistress" to characterize her. "The word is a label and I don't like it at all. But it's the fact that you can reduce my whole life to one word, whatever it is, my entire career, my service to my country, my academic rigor, my courage in going to interview terrorists, and refugee camps, and third-world prisons. It's reducing my entire professional career and background to this one word. I just figured, for the most part, mainstream networks stopped using it. Those are small brush fires. The election made me realize we've got forest fires that we collectively need to be focused on."
She described the double standard that's been applied to her and Petraeus, saying she wants people to understand that she's still trying to bounce back all these years later. Her career was ruined as a result of the affair, she said, while Petraeus has been granted numerous opportunities.
"I was an academic and I lost my assignment at Harvard," she said. "Meanwhile, he gets invited to Harvard to become a fellow."
She also noted how disturbing the focus on her appearance was, especially coming from female journalists. She still feels like she was a victim of media bias, she added.
Why was there this focus on my physical characteristics? I was shocked at that. On the other hand, my reaction was, as a feminist, I'll wear whatever I want to. If I'm strong, I'm not going to apologize for being strong. I was really incredulous at that coverage, especially because it was written by a woman.
She was shocked when she heard the news about Petraeus' potential cabinet position, she said. At the same time, she argued that Petraeus is "the best person for the job."
"He's exceptionally talented," she said. "Our country could use someone like him right now."
Broadwell, who has asked that various news outlets cease using the word "mistress" in their coverage, discussed her desire to address the media in an interview that aired Thursday on "CBS This Morning."
"Sometimes it's better to remain silent," she said. "But I've reached a point where I feel I need to fight back for my life."
REAL LIFE. REAL NEWS. REAL VOICES.
Help us tell more of the stories that matter from voices that too often remain unheard.