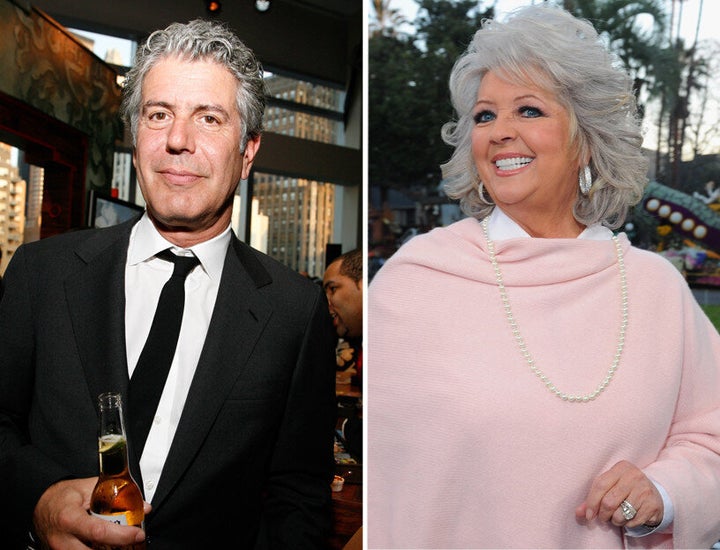 Yesterday, Page Six revealed the harsh words Anthony Bourdain had for Food Network chefs in this month's TV Guide. He criticized the morality and culinary acumen of Rachael Ray, Guy Fieri and Sandra Lee -- but he saved his harshest critique for Paula Deen. He called Savannah's Crisco savant "the worst, most dangerous person to America," explaining that her connections to food corporations and disregard for healthfulness made her a threat to cardiovascular systems across the country.
Page Six reached Paula for her response to the attack, and she was relatively measured. She told Bourdain to "get a life," and explained that her mission, unlike his, is geared toward struggling working families. She elaborated:
"You know, not everybody can afford to pay $58 for prime rib or $650 for a bottle of wine. My friends and I cook for regular families who worry about feeding their kids and paying the bills . . . It wasn't that long ago that I was struggling to feed my family, too."
Although eating on a budget and maintaining a marginally healthy diet are in no ways mutually exclusive, it's probably a keen line of response on Deen's part. Since Bourdain has pledged, via Twitter, to "just shut up" the next time someone asks who the worst chefs on the Food Network are, this could be the end of the feud for now.
Deen also appeared on Fox News to talk about her reactions to Bourdain's comments. She seems surprisingly placid in the video; though she admits she was "shocked" to hear what her fellow chef had said, she says she "learned long ago that you can't please everybody." Here's the video.
Related