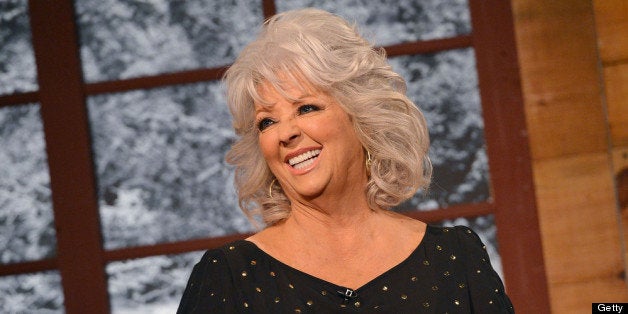 Paula Deen has served up her last dish on the Food Network.
The celebrity chef, 66, has been embroiled in scandal for a week after news broke that Deen admitted in a deposition that was part of a lawsuit that she had in the past used racial epithets and tolerated racial jokes in the workplace. And by Friday afternoon, the network announced that it would not renew her contract, which expires at the end of this month.
Deen thanked the network for 11 "great years." She said in a statement Saturday, "I have had the pleasure of being allowed into so many homes across the country and meeting people who have shared with me the most touching and personal stories. This would not have been possible without the Food Network."
From restaurants in Savannah, Ga., to cookbooks, kitchenware, public appearances and endorsement deals, Deen has made herself a Southern cooking icon. The Food Network began airing Paula's Home Cooking in 2002 and added Paula's Best Dishes in 2008.
But will she find a way to win back disappointed fans after such a racially charged, public controversy?
"Paula Deen will survive, but she will never be whole again," says Howard Bragman, vice chairman of Reputation.com. "She will never make as much money, she will never have the respect that she once had, there are people that will never be in business with her again."
The lawsuit was brought against Deen and her brother, Bubba Hiers, by Lisa Jackson, a former manager of the siblings' restaurant, Uncle Bubba's Seafood and Oyster House in Savannah. The lawsuit alleges sexual harassment and a work environment rife with racial slurs.
The network's announcement Friday came after she posted three videos online apologizing for mistakes.
"I beg you," says Deen in one 46-second video. "I beg for your forgiveness."
While some fans have remained loyal, including those standing in line this weekend outside her Savannah restaurant, The Lady and Sons, and others posting their support on social media sites and demanding she stay on television, the damage is done.
"Her brand is now tainted beyond recourse," says Mark Pasetsky, CEO of public relations and marketing content firm Mark Allen & Co.
Deen will have to contend with the lasting effects for the rest of her life, says Bragman. "When her obituary is written, this will be a significant part of it.".
But life, and business, will go on.
"She will have a viable business, she will have a lot of fans and make a lot of money," he says, adding that "it's never going to be the same." Because when you're a chef who's also a TV personality, "the Food Network is where you want to be. It's where she started and where you belong."
However, Bragman predicts that "when enough time passes, she will (have another show)."
Pasetsky isn't so optimistic. "I don't see another network getting behind her and supporting her and giving her a new show."
Deen probably had no idea what she was saying at the deposition was so offensive, Pasetsky says, attributing the public relations disaster to "someone who's so famous and who cannot tell the difference between right and wrong."
Going forward, Deen must make sure to take the necessary and appropriate steps to repair the damage done to her image. "She needs to make this lawsuit go away. ... That's No. 1," says Bragman.
"No. 2, she quietly needs to be sitting with her advisers, coming up with a business strategy. I would be taking the Paula Deen empire and making it the Deen family empire."
She also must admit the mistake, says Bragman. And what of the apologies Deen has issued in recent days? "They've been horrible," says Bragman. "They're textbook bad."
"It's been one fumble after another," Pasetsky says.
Although Deen's publicist cited exhaustion, the decision to skip a pre-arranged Today show interview with Matt Lauer Friday morning was "a terrible move," says Pasetsky.
Evangelia Souris, president of Boston-based Optimum International Center for Image Management, agrees. "It only suggests that she was afraid to get into more trouble and doubted her ability to provide an authentic apology."
And though she bailed on Lauer, Bragman suggests she still needs a big interview. "Were I advising her, I would either go to Oprah or Robin Roberts. I think she would be well advised to sit down with a respected African-American journalist. I think that it creates the perception of courage and going into the lion's den, and that would serve her well."
Calling all HuffPost superfans!
Sign up for membership to become a founding member and help shape HuffPost's next chapter
BEFORE YOU GO
PHOTO GALLERY
Paula Deen Racism Scandal Timeline