Paula Deen just launched her own line of butter, and no, that's not a joke.
The celebrity chef, often lampooned for her excessive use of fatty ingredients, has developed a variety of "finishing butters" as part of a new product line that also includes chocolates and "all-natural tortilla chips made with fresh vegetables." For the record, those "vegetables" are corn and jalapeños. Really.
The butters come in five flavors: Southern Grilling Butter, Lemon Dill Butter, European Style Butter, Sweet Citrus Zest Butter and Garden Herb Butter. They're currently available in Walmart stores, and the chips will appear on Walgreens shelves in a few weeks. The chocolates, available in "premium" and sugar-free varieties, will debut on QVC later in 2013.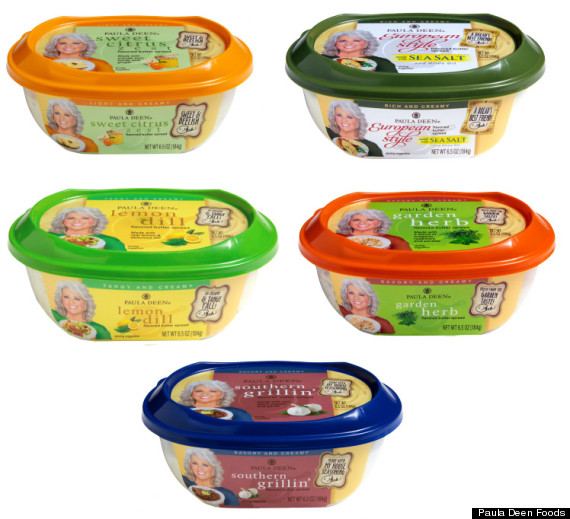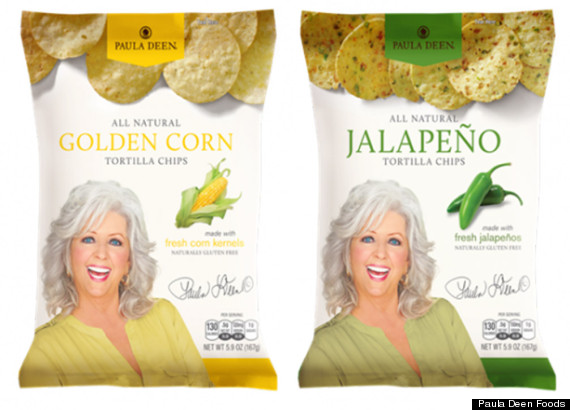 Deen's decision to launch a butter line seems a particularly ironic move considering that she also reps the Type 2 diabetes drug Victoza. Deen announced that endorsement early last year, the same time she revealed her own diabetes diagnosis. Since then, Deen has slimmed down and been vocal about changes to her diet.
Deen probably knows what you're thinking: Really, Paula? This butter line isn't helping the perception that you hawk unhealthy products. Or, as Anthony Bourdain once put it, that you're "the worst, most dangerous person to America."
That's why, at least according to a press release, they're called "finishing" butters, because they "let cooks bring a wonderful fresh butter taste to various dishes while just adding butter to the end of the cooking process." The implication being that the butters are to be enjoyed in moderation.
That doesn't seem to jive with some of Paula's own descriptions of the flavors, which appear on the butters' product pages. "My Sweet Citrus Zest butter is hard to practice in moderation," she coos.
The description of the European Style Butter also poses what sounds suspiciously like a health claim: "Using just a little bit is a great alternative to using a lot of regular butter and it's made with olive oil and sea salt -- you'll love it!" It's still butter, though, which means that it's probably not very healthy. HuffPost has reached out to Paula Deen's press representative for nutritional information; we'll update the piece when we receive it.
Deen has been hitting the media circuit hard in the last few days, talking about butter but never mentioning her new line. Eater has a great breakdown of her appearances.
We can't help but imagine that Deen is aware of the backlash the butter line is likely to incite, and she's trying to play it cool. But why then, knowing this, would she choose to launch a butter line in the first place? We understand that butter is on-brand for Deen, but wasn't she trying to change her image?
While you mull that over, have a laugh at Kristen Wiig's amazing Paula Deen impression on "Saturday Night Live." Who knows, maybe Deen's butter line will be making an appearance on the comedy show soon. We wouldn't be surprised.