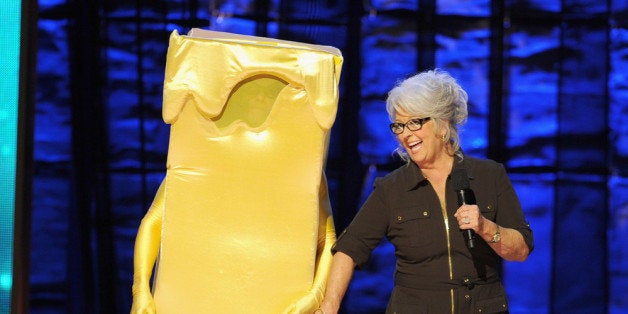 Ever since my mom put my dad on a low-cholesterol diet a few years ago, Paula Deen has become his best imaginary friend. As he watches "Down Home With Paula," I can tell from his dilated pupils and open-mouthed drooling that he has gone to a better, buttery place.
When we recently discussed this year's family Thanksgiving dinner, he of course snuck Paula into the conversation. I know what this means: He's secretly hoping I'll make a Paula Deen recipe and turn his fantasy into a reality. So it got me wondering: How much butter could POSSIBLY be required to make an all-Paula Thanksgiving dinner? Would we even be able to afford buying that amount of butter? Is there enough butter stocked in the world's supermarkets?
To answer this question, I browsed Paula's full collection of Thanksgiving recipes to curate an all-Paula menu that's representative of a reasonable Thanksgiving meal. (I.e. I didn't cheat and load the menu with all of her most heavily buttered dishes.) I added up every tablespoon of butter in every recipe, and also accounted for other questionable ingredients that might cause one to have a heart attack.
So now, behold: ALL OF THE BUTTER YOU NEED TO COOK A PAULA DEEN THANKSGIVING. Scroll all the way to the bottom of the menu for the big reveal of the grand total.
We'll start slowly and ease our way up to the danger zone.
Deep-Fried Turkey: NO BUTTER (but 3-5 gallons of peanut oil)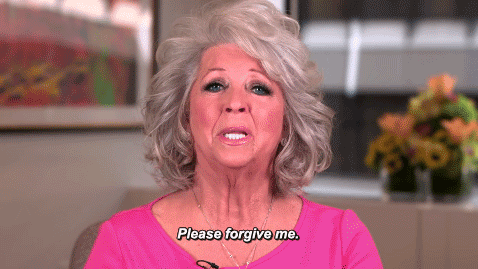 Giblet Gravy: NO BUTTER (but giblets and one very confused hard-boiled egg)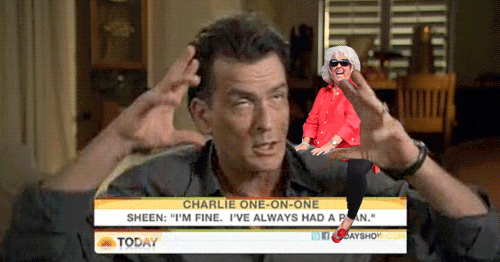 Mrs. Hoggle's Stuffed Cranberry Sauce: NO BUTTER, thank heavens (but a very alarming 8 ounces cream cheese and 2 Tb mayonnaise)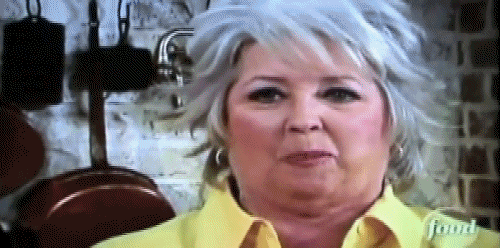 Green Bean Casserole: 1/3 stick butter (plus 1 can cream of mushroom soup and 1 cup Cheddar)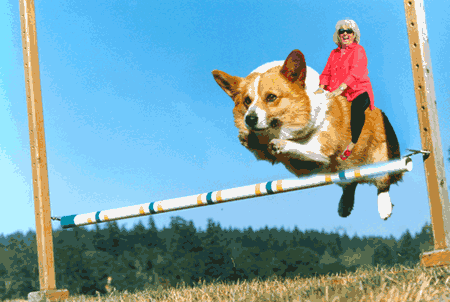 Mama's Fried Creamed Corn: 4 Tb butter (plus 4 slices bacon)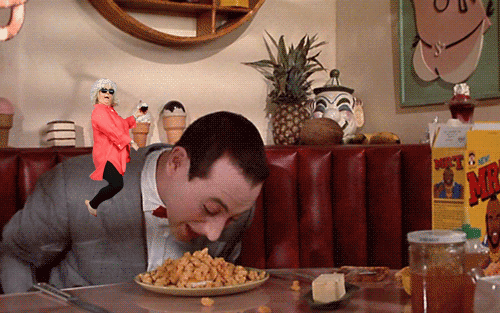 Southern Cornbread Stuffing: 8 Tb butter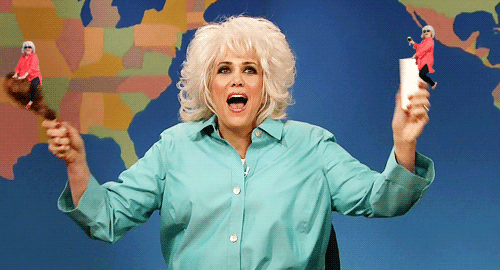 Loaded Mashed Potatoes: 8 Tb butter (plus 12 ounces sour cream, 8 ounces Cheddar, 1 1/2 pounds bacon)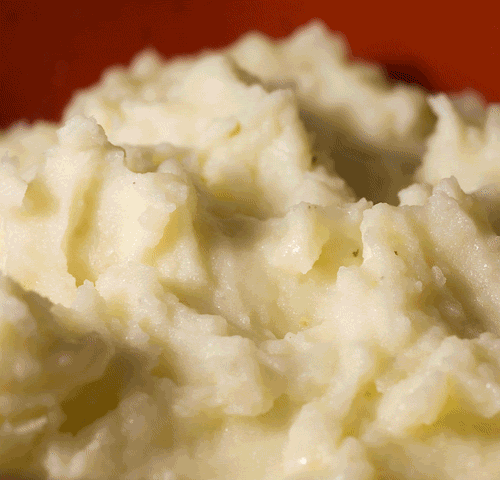 Aunt Peggy's Sweet Potato Souffle: 12 Tb butter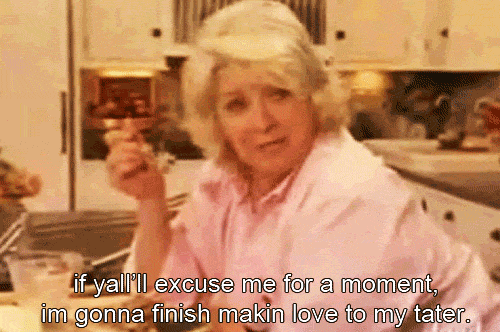 Biscuits: 8 Tb butter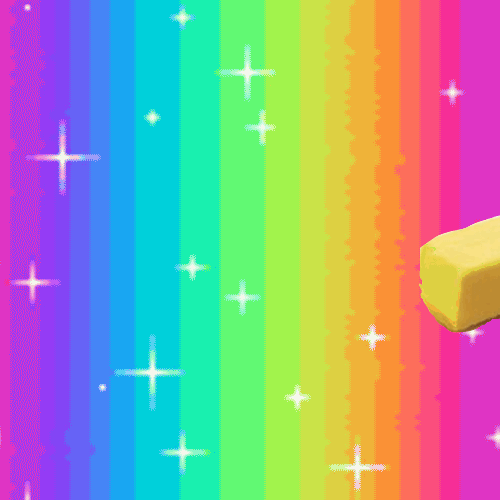 Crunch Top Apple Pie: 15 Tb butter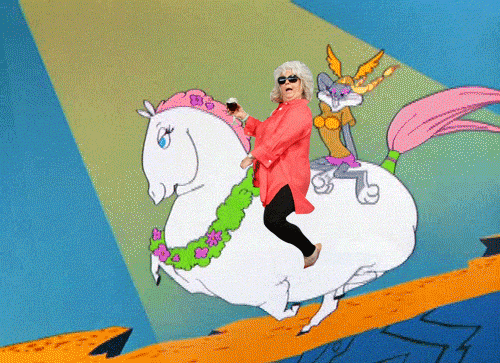 Gooey Pumpkin Butter Cake: 16 Tb butter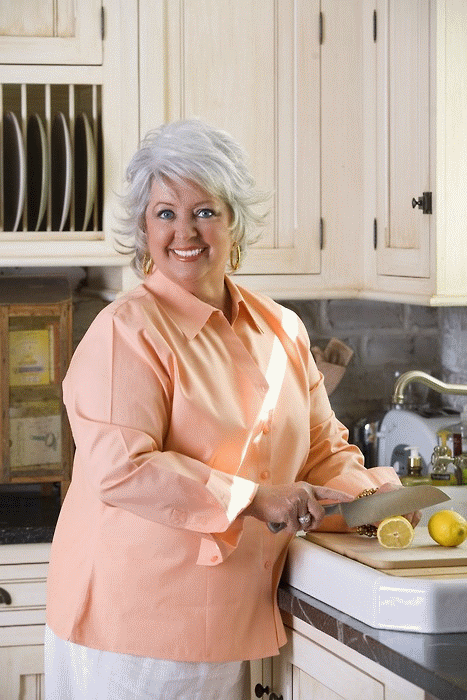 GRAND TOTAL: 9 1/4 sticks of butter (plus 5 gallons peanut oil, 8 ounces cream cheese, 1 can cream of mushroom soup, 2 cups Cheddar, 1 1/2 pounds bacon, 12 ounces sour cream, and one misplaced hard-boiled egg)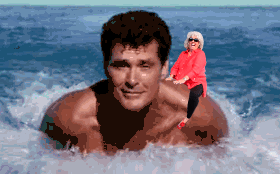 Related
Before You Go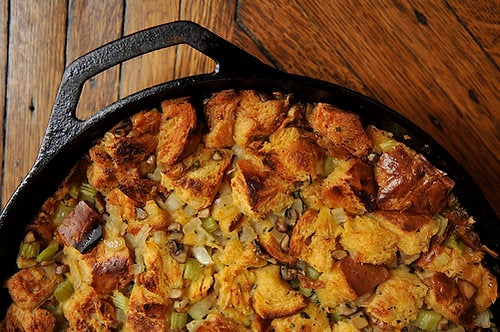 Stuffing Recipes