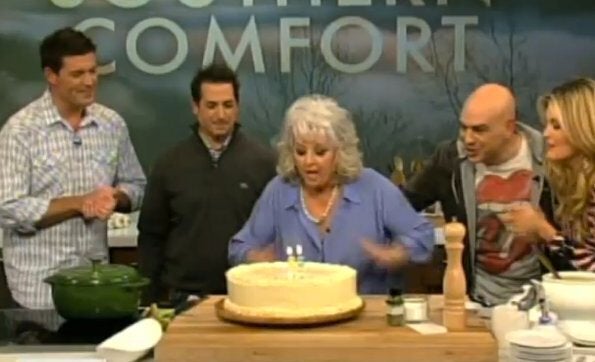 On Wednesday afternoon, Paula Deen appeared on "The Chew" to discuss her diabetes announcement. After her appearance on the "Today Show" yesterday, backlash (and backlash to the backlash) was immediate, with many people frustrated that Deen, despite being diagnosed with diabetes in 2008, only announced it after signing an endorsement deal with drugmaker Novo Nordisk. Her "Chew" appearance probably won't change any minds, as segments ranged from tears of sadness to suggestive comments about a pickle.
"Everyone is talking about Paula Deen right now," Clinton Kelly told her. Deen mocked surprise, and asked, "Are they?" She explained that she "thinks" it has been close to three years since she found out about diabetes and emphasized that "diabetes is not a death sentence." Deen acknowledged small changes in her diet, as she said on the "Today Show," and again claimed that she's abstained from sweet tea since her diagnosis. She also insisted that her show is "for your entertainment," and that she has never instructed anyone to go eat her food every day.
Then, she turned up the emotions, saying that after she dies and you hear her name, "I hope you associate the word 'hope' with it." She said that she does not blame herself for her diabetes and cites several causes for the disease -- including stress, age and race -- but did not mention diet outright.
When asked about her deal with Novo Nordisk, Deen explained that yes, she is working and therefore she should be compensated. Her sons chimed in, explaining how the deal will help millions of people and she will inspire people to go to the doctor to get checked. They are in a position to save lives, the family believes.
Then things move away from the serious to a game in which the Deens and the hosts had to guess ingredients that are put on people's foreheads. Deen described a pickle as long and hard.
Toward the end of the episode, Michael Symon brought out a giant birthday cake -- Thursday is Paula's birthday. Deen is portioned a generous slice. After all, as she said on "Today," "You can have diabetes and have a piece of cake. You cannot have diabetes and eat a whole cake."
Watch highlights from the episode below: