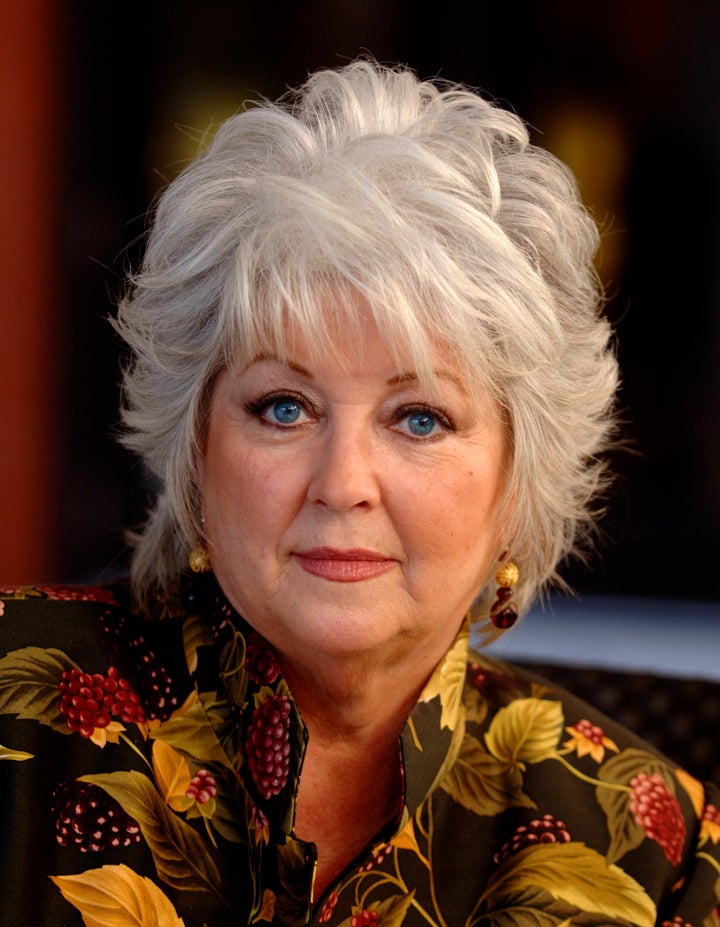 "You are the only person who can prevent your own happiness." ~~ Celebrity chef Paula Deen.
You never know how strong you really are until circumstances make you aware that major changes have to be made in your life. That was the case with Paula Deen. Whether you love her fabulous buttery Southern-style meals or worry about the calories and fats in certain dishes, you have to admit that Paula Deen is a shining personality. Looking at her today few people know that this ebullient lady has been down the unhappiness road herself. With a failing marriage and two young sons to support, Paula decided to take charge of her own life and happiness and that was a difficult decision.This outgoing, Southern charmer had suffered for 20 years from the nightmare life of agoraphobia.
But tired of being unhappy and trapped, Paula somehow found the courage to challenge her fears through actions that have propelled her into the national spotlight.
"I was tired of preventing myself from being happy!" ..
That statement alone energized her to work at allowing herself to be happy and free to become the woman she knew was hiding inside her.
She knew she needed to do more than just make enough money to support herself and her children; she needed a professional business that would generate income. Her prowess as a "good cook" was her hope. She used the hearty down home culinary skills she had been taught by the women in her family. With an investment of only $200 she launched a home-based food delivery service she christened The Bag Lady which sold delicious lunches to local businesses.
Two years later, after 18 hour days, 7 days a week, and lots of exhaustive hard work, she opened her first restaurant called, 'The Lady.' Ten years after, she moved that restaurant,(now called The Lady and Sons) to the thriving Savannah Market area and the rest is history. Today she is proud to say that she owns the most famous restaurant in Savannah.
Happiness is something that we give ourselves. It is a priceless gift that is made sweeter by the very fact that we ourselves have the power to make changes in our lives.
Courage, determination, hard work and a bit of luck combined to move Paula Deen from delivering lunches to local businesses to owning Savannah's most famous restaurant, authoring three best selling cookbooks, as well as starring on her own television show, "Paula's Home Cooking."
Her first cookbook, The Lady And Sons Savannah Country Cookbook, was a self-published one which she sold at her restaurant. That all changed after a literary agent ate at the restaurant, bought the book, and recognized its sales power. The book was quickly optioned by a major publishing house and the rest is history.
Her story is one that inspires. She was a woman who managed to take control of her life and create a better one. There are many women, unknown for the most part, who have made positive changes in their lives despite any obstacles that may have been thrown in their way. Women who found the courage to better their lives. We all have that potential to make changes and allow ourselves to be happy. Tapping into it is the first step.
In the summer of 2002 Paula was a guest on the Oprah Winfrey Show. That show generated thousands of letters from women who related to her early struggles and saw her as a mentor. She was gracious enough to say that she doesn't see herself as anyone other than someone who had to gather her courage and do what had to be done.
Paula Deen's life has a personal happiness story in it. On March 6, 2004, she married for the second time to Michael Groover, a tugboat captain in the port of Savannah. She and Michael both have two children from previous marriages and her business is a true family affair.
The wedding and preparation for it were documented by The Food Network. The wedding itself took place at the Bethesda Home for Boys in Savannah, Georgia an organization Paula avidly supports. Believing in giving back to the community of her beloved state of Georgia, she asked Old Savannah Tours to donate $1 to the organization for each ticket that tourists had purchased at the Paula Deen Store or at the restaurant.
Her philosophy of life is neatly summed up with these words.
It's not where you start, but where you finish. You are the only one who is preventing your happiness
Popular in the Community