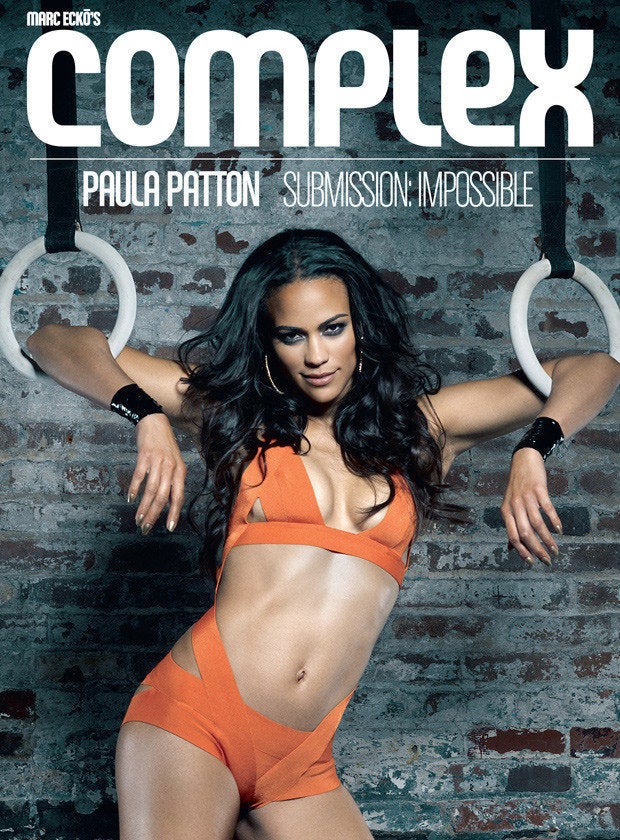 Although she's wearing barely-there swimsuits throughout the spread, Patton explains that she would have never posed for such sexy pictures earlier in her career. But at an age when most women start covering up, 35-year-old Patton is stripping down. And let's not forget, she has a 19-month-old son.
"I'm more comfortable with my flaws now, and with that, you start to feel more confident. When you're trying to hide all of your flaws, and you're embarrassed by them, it can be so uncomfortable—very, very uncomfortable," Patton told Complex.
In fact, Patton admits that she enjoys sexing it up from time to time. "It's a hell of a lot of fun to be sexy. I love to play dress-up in skimpy clothes."
"I hope he'd say that! Who else would I want it to be? Your wife should be your sex therapist, or if you're not married, your girlfriend should be your sex therapist. If she's not, then things aren't going so well."
Things are going extremely well for Patton on and off screen. Her leading lady role in "Mission:Impossible--Ghost Protocol" is her biggest role to date and she was recently named a CoverGirl cosmetics spokeswoman.
Here are a few more highlights from Patton's Complex feature...
On being seen as a sex symbol:
"It only matters what I feel. I know that I'm smart, and I know that I'm about more than just putting on sexy clothes. It'd be a lie for me to say that I don't enjoy putting on sexy clothes and showing myself off, and my husband would tell you the same."

"There's no recipe. There's no other way to say it—it's true desire. We're crazy enough that we just keep wanting to be together. We just don't not want to be with each other. It doesn't mean that we don't have our ups and downs. We just don't want to be with anyone else. That's how we keep it together: desire."

On filming "Mission: Impossible 4":
Making Mission: Impossible was a dream come true. It challenged me as an actor because it's so technical. Any time you're challenged you get better. I learned so much from working with Tom Cruise—it was remarkable. Also, I got to do my own stunts, and that felt more freeing than anything I've ever done. To be able to be that physical was exciting.
On working with Tom Cruise:
The guy's middle name is "Hard Work." Just when you think you're tired, he's doing a second workout, and he's got more money than God. He doesn't need to work so hard, but he does it. So who am I to complain that I'm back in the gym for the second time in one day? Tom goes hard!
Calling all HuffPost superfans!
Sign up for membership to become a founding member and help shape HuffPost's next chapter