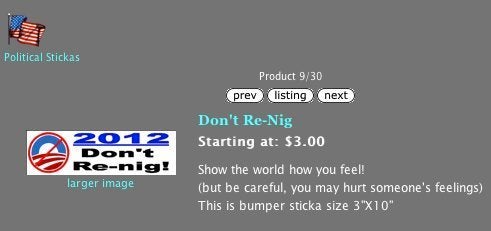 Days after an anti-Obama bumper sticker went viral, the seller of another version denies that her site's product is racist.
When asked by Forbes if the sticker was racist, Hines said no, explaining that the N word is not attached to race.
"According to the dictionary [the N word] does not mean black," she said. "It means a low down, lazy, sorry, low down person. That's what the N word means."
Last Thursday, a photo of a similar bumper sticker reading "Don't Re-Nig In 2012" spread on Facebook. Below that line was a set of smaller text that read "Stop repeat offenders. Don't re-elect Obama!"
The first version appeared to originate from Stumpy's Stickers. But as of Friday afternoon, ABC news reported that the site's email address had been suspended. By Monday, its landing page registered a forbidden 404 error.
Smith dismissed the idea that she is a racist, telling Forbes that her goal is to get a new candidate in the White House.
"And besides Obama is not even black," Smith added. "He's got a mixture of race. It's his choice of what his nationality is. I'm a mixed breed. I call myself a Heinz 57."
Support HuffPost
The Stakes Have Never Been Higher
Popular in the Community