SWEET, Idaho ― Democratic gubernatorial nominee Paulette Jordan had just wrapped up a town hall in this rural community and was talking to attendees lined up to meet her when she felt two hands gently grip the back of her arm.
"I just had to touch you," an elderly woman said.
Some people, often older men, cry when they meet Jordan. Others tell her she's inspiring them to vote for the first time in years. Strangers have asked her to marry them. A local artist, Hector Diaz, spent months creating a portrait of Our Lady of Guadalupe with an image of Jordan in it, dressed in what appears to be a velvet suit and standing on a crescent moon. (What?) Virtually everyone who crosses her path wants a photo with her, as HuffPost witnessed after traveling with her campaign for a few days this month.
Here in deep red Idaho, people across party lines are fanatic about this progressive, 38-year-old Native American woman vying for the state's top seat. And it's totally bizarre.
"I like her honesty and character and authenticity," gushed Tri Robinson, a conservative Republican and evangelical pastor in Boise who hosted a fundraiser for Jordan. "She cares about what we care about. She cares about the poor. She cares about climate change."
"I liked her before and I like her more now," said Judy, a retiree who lives in Sweet and requested that she be identified only by first name. "I've never been to a town hall until now. I vote. I'm independent. What I like is that when you ask her a question, she doesn't beat around the bush. She just answers the question."
"She's a breath of fresh air for Idaho," said Robert Gatfield, a Democrat from Montour. "I met her in May. I shook hands with her and told her, 'You remind me of Michelle Obama.'"
It has been a remarkable year for Jordan, a two-term state legislator who bucked her party's establishment to become the gubernatorial nominee and beat her primary opponent, multimillionaire A.J. Balukoff, by 18 percentage points. She has been writing her own playbook the entire time: She's not taking any corporate PAC money and supports Medicaid expansion while advocating for gun rights and rural ranching culture. Her go-it-alone approach has led to some hiccups, and old guard Democrats are irritated that she's running an unconventional campaign that doesn't include them. But she has undeniably shaken up the state's political infrastructure and turned the governor's race into a real fight.
The enthusiasm gap between Jordan and her opponent, 64-year-old multimillionaire Lt. Gov. Brad Little (R), was obvious after their last debate. The self-described undecided voters in attendance swarmed her for photos and questions as he quietly slipped out. One veteran waited in line for 15 minutes to meet her and promptly ripped a sticker off of his shirt bearing Little's name, saying he is voting for her instead.
What the hell is going on with you, Idaho?
Jasper LiCalzi, the chair of the department of political economy at the College of Idaho, said Jordan has hit a sweet spot in the Idaho electorate: young people and women unhappy with President Donald Trump and people across all parties who feel ignored.
"She's touching people who feel kind of alienated from the political process," he said. "They don't identify with Republicans at all, and Democrats haven't really appealed to them. She does."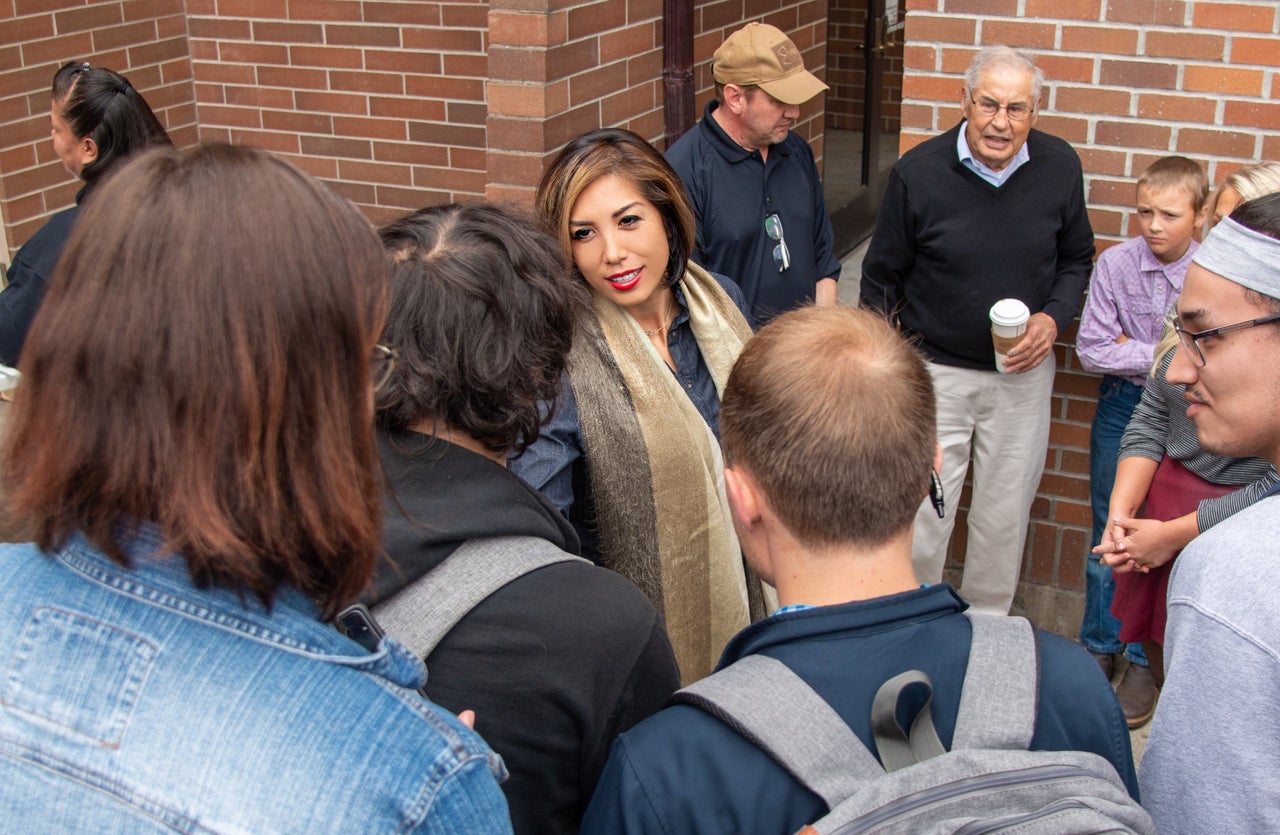 Jordan, a 6-foot-tall indigenous woman in a state led by white Republican men, also just looks different. Between her dynamism and calls for big changes to Idaho policies, like marijuana legalization, she couldn't stand out more from Little, who is, well, boring.
"She's more of an inspirational, visionary type," said LiCalzi. "He's more of a kind of policy wonk, technocrat type."
To Jordan, the reason her campaign is resonating is simple: It's about giving power back to people.
"It's proving that we can run without being millionaires. And we can win by staying true to our values closest to the people," she said. "We're encouraging elderly people not to give up on their state. We're encouraging people who are poor, struggling, we're encouraging them to have faith again in government. It's the idea that, OK, if I take action and get out and vote, government should work for me."
Of course, the big question is whether Jordan can generate the massive level of turnout she will need to win on Nov. 6. It's a daunting challenge. This is a state, after all, where Republicans control the legislature, the governor's office and all of the state's seats in the U.S. House and Senate. The last time Idaho elected a Democratic governor was in 1990.
There isn't much polling available. The most recent poll, from early August, gave Little an 8-percentage-point lead. But that was looking at a sampling of likely voters, which doesn't account for what seems to be, at least anecdotally, a surge of unlikely voters preparing to vote this time.
There are early signs that it's going to be a wave election in Idaho. In Ada County, for example, requests for mail-in ballots are way up, and local officials are projecting as much as 73 percent voter participation. That would be far more than in the 2014 gubernatorial election, which had 62 percent voter turnout. Ada County is Idaho's most populated county and includes Boise, which leans more left than other parts of the state.
"I've been in this business for 21 years, conducting elections," Ada County Clerk Chris Rich told Idaho Press on Monday, "and I've never seen anything quite like this."
If Jordan wins, she will make history as the state's first female governor and the nation's first Native American governor. LiCalzi said he puts her chances of victory at 20 percent, at most.
"There's just too many Republicans in Idaho," he said. "When those Republicans go to the ballot, are they going to vote for a Democrat? I'm not betting my house on it. If she did win, it would be as big an upset as anywhere."
But Jordan has no time for naysayers. She said her critics have long told her she didn't stand a chance and they've been wrong every step of the way.
"People said that about me in the primary. And they said I was running an unconventional campaign for winning. And we won by what, 20 percent?" she said. "We proved that the people can win versus the establishment's model. I think that's incredible."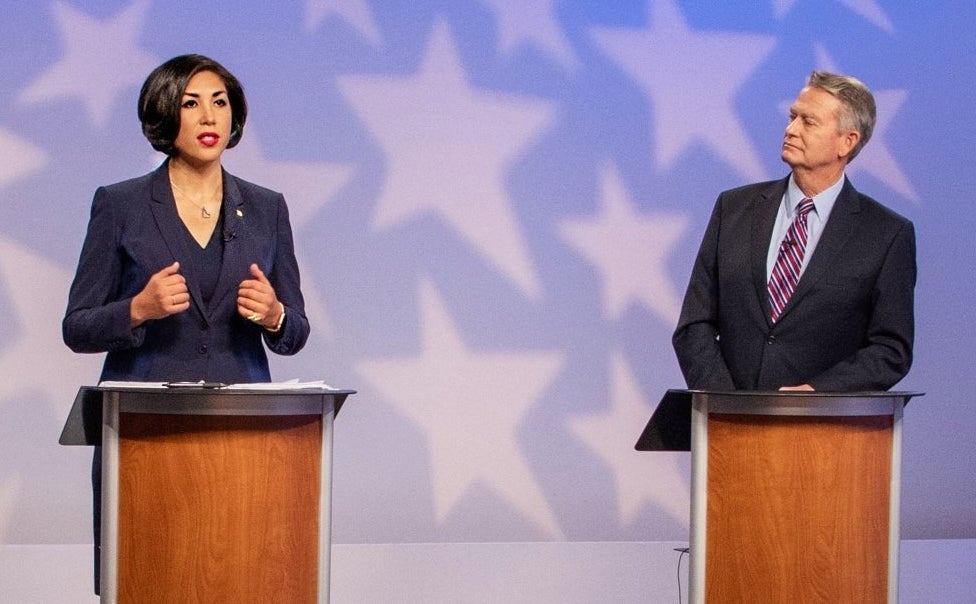 Jordan's anti-establishment message resonates with people like Joe Morton of Emmett, an independent who said he can't stand Little. He ripped the lieutenant governor for being in the pocket of "big ag" and for ignoring his letters sent via certified mail about a neighbor funneling cow manure from his property into a creek they share.
"It's a red, red, red, red state. But there's more people pissed off at the establishment and the system, period. Period," grumbled Morton, who has been putting up massive Jordan campaign signs along major roads. "I want the good ol' boys out of office. I want new blood from the people who represent each other, not corporate interests. That's Little."
Of the dozen or so Idahoans HuffPost talked to about the governor's race, it seemed everyone saw something different in Jordan that made them excited to vote for her.
Hailey Minder, a winemaker in Garden City who identifies as independent, said she thinks Jordan has the right balance of being socially progressive but fiscally conservative. She's also just ready for some diversity in the state's leadership.
"It's about time we get somebody into higher office that's native," said Minder, bouncing her young baby on her arm. "I also like that she is a very passionate woman."
National politics are a factor, too. Joann Miracle, a 58-year-old independent from Boise, was one of the undecided voters at the last gubernatorial debate. She said afterward that she's going to vote for Jordan because she's so mad at what Trump is doing to the country.
"The climate we're in right now is very vitriolic. Very angry. We've taken steps backward on women's rights and immigrants," said Miracle. "It's very important to send a message that this is not how people are. And the people sitting back and saying it will get decided really need to step up and get their voice out."
Asked if she thinks Jordan can win, Miracle paused and said she thinks the race will be closer than people expected.
"I hope it's really, really close and shakes things up," she said. "That's part of it. I'd really like to shake things up. I have lots of friends who are really excited and have never voted."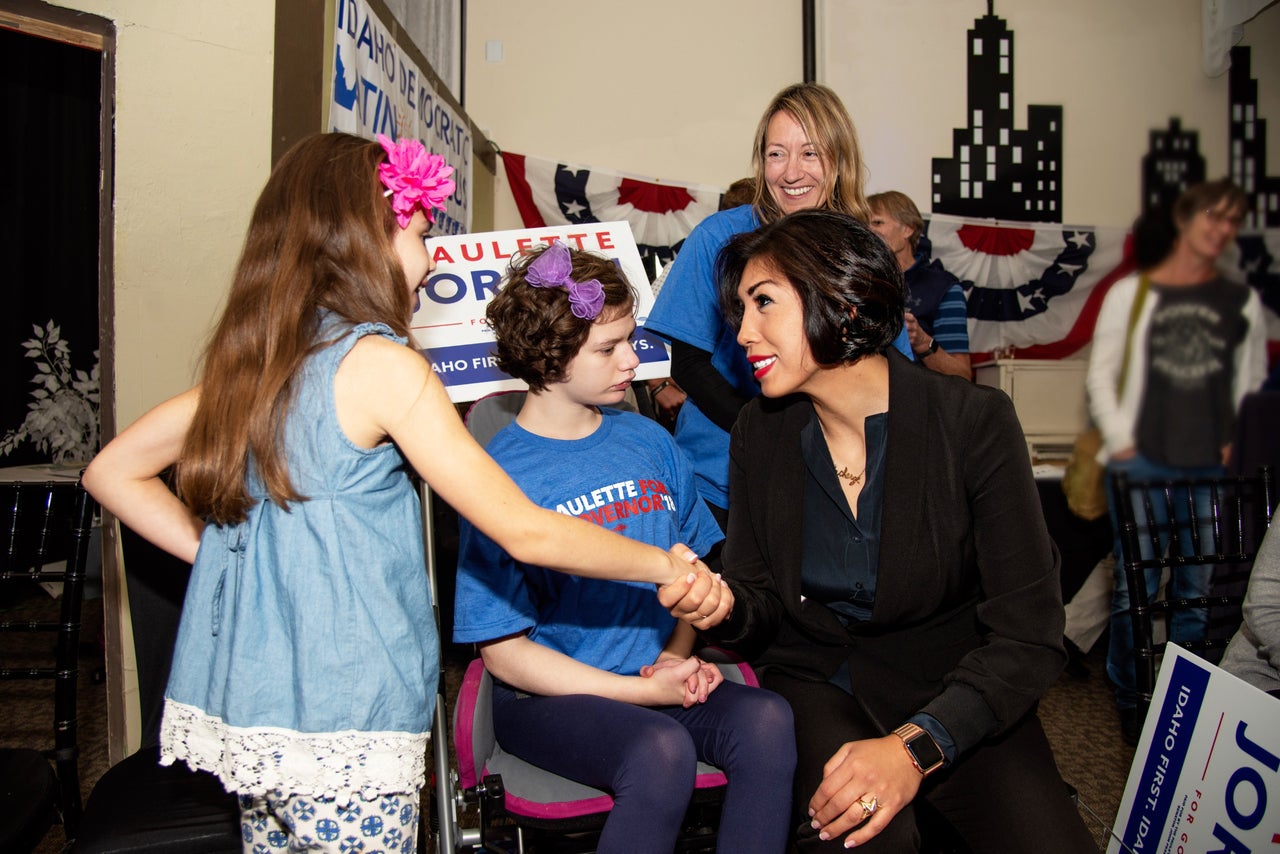 As people clustered around Jordan after her last debate, an older woman stood alone at the back of the room, holding up a little camera. It was her mom, Lucinda Jordan.
She was nervous to talk to HuffPost at first but couldn't resist when asked what she thinks of her daughter getting people excited about voting. She said people have been drawn to her daughter's spirit since she was a child.
"I think it's because she cares. She cares in her heart," Lucinda Jordan said. "And I think that's because of her relationship with the elders."
Paulette Jordan comes from a long line of tribal chiefs, and the elders in her tribe, the Coeur d'Alene tribe, saw that same leadership quality in her early on, said her mom. She said her own mother would often pull her aside and tell her to make sure to protect her daughter because the elders believed she had "a gift."
"To this day, even those elders who have passed on, they're still with her. They guide her," Lucinda Jordan said. "They are with her every day."
Popular in the Community