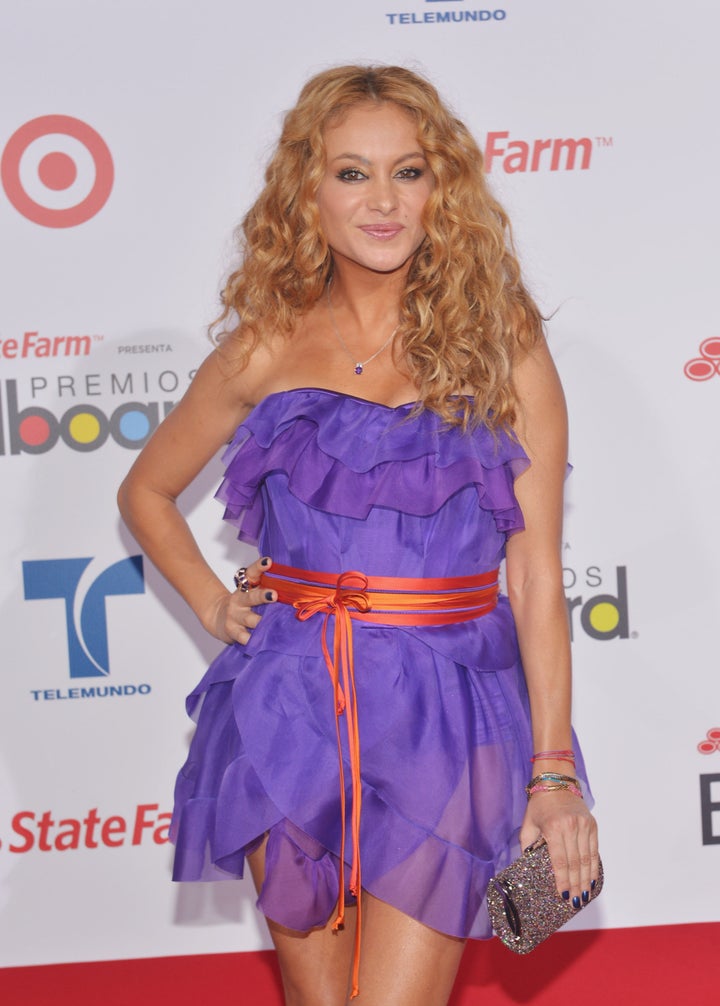 Latin superstar Paulina Rubio was in the spotlight last year when she divorced Nicolas Vallejo after almost five years of marriage. They were married in April 2007 but it was just last year that the crisis status of the couple's relationship began surfacing and, by November 2012, they started living apart, just a year after they became first-time parents to their son Andrea Nicolas.
What happened after Paulina Rubio's divorce?
Paulina Rubio's divorce meant a lot of money to her but, in this case, she wasn't the one receiving alimony but the one paying it! Unfortunately for her, she is the one paying up after their bitter break-up. Her ex-husband will receive $6,750 per month from her for three years; a settlement of $243,000. After much deliberation, the couple finally reached a divorce agreement with alimony for Vallejo and shared custody of their son.
This divorce was not a quick, clean or friendly one. The couple mutually bashed each other in family court to the point that the judge ordered therapy for the former couple and dictated that they would return upon completion. It was also said that Paulina Rubio supposedly hired a private investigator to follow Vallejo and have testimony of his negligence as a father but, thank goodness, all that passed and they were rewarded with their freedom and a divorce settlement.
Despite this "happy ending," Rubio had to confront a new economic drama as she was sued by her own lawyers. As the media published, the singer's lawyers report that they are still waiting for their fees for services provided so they have filed a lawsuit against the artist. Thus, though it seemed the calm returned for Paulina Rubio, the singer will have to face the judicial process again, since the case has been presented by the lawyers' cabinet to the Court of the City of Miami.
On the other hand, "Colate" Vallejo has regained his smile with a Venezuelan model, Alegria Beracasa, who he has been dating for the last five months. According to Univision, the Spanish entrepreneur is very happy with his affair and has let himself be seen being very affectionate with the 22-year-old Beracasa, candidate for the title Miss Venezuela. The new romance would confirm that Vallejo has been able to turn the page and move past the difficult chapter of his life that was his marriage to the pop star, while she is still dealing with the consequences.
Paulina Rubio's latest in the music business
Putting her private life aside, the Mexican pop star has signed on as the first of three musician coaches for "La Voz Kids," the singing competition for kids 7-14 that will air this spring on the Telemundo Network.
"La Voz Kids" will be the first Spanish-language version of "The Voice," which has already been a success in Mexico, Argentina and Colombia. In fact, Rubio was initiated as a coach in the last Mexican season together with singers Miguel Bose and the late Jenni Rivera.
"Having Paulina Rubio as a coach in this first-of-a-kind show is a true honor for us," said Daniel Cubillo, VP of content development at Telemundo Media. And it really is as Rubio is one of the most successful Latinas in Latin pop music. Her career has evolved enormously since she was a member of teen group Timibriche in the early 1980s.
Paulina Rubio left behind a difficult year and is still struggling with economic and legal problems. Overall, she remains a huge pop music mega star and she knows how to return to a steady presence in her field and brilliant personal future. Surely, we will see her in love again soon, enjoying life, success and her son, Andrea. After all, her show must go on!
BEFORE YOU GO
PHOTO GALLERY
Paulina Rubio