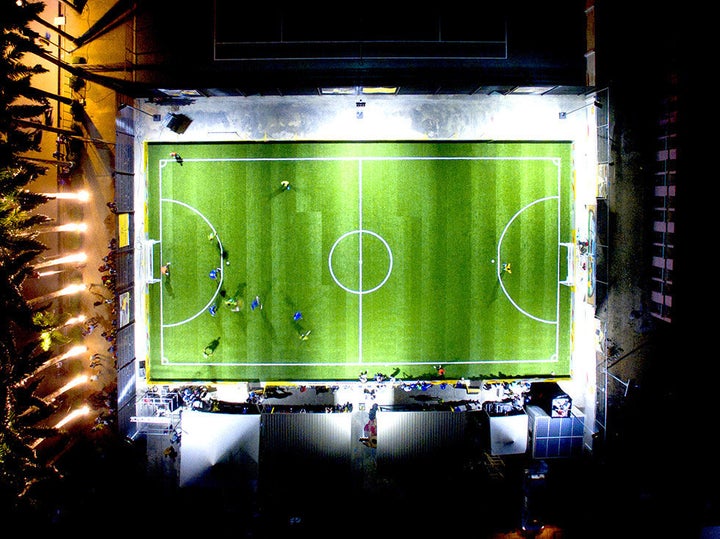 Lagos, Nigeria's megacity, where 17 million people are putting a serious strain on the power grid, has an untapped source of energy literally at its feet.
In Lagos, the new soccer field offers a glimpse at a clean, sustainable way to meet Nigeria's soaring energy demands.
The country has been plagued by fuel shortages in recent months. And, as in many developing countries, demand for electricity will likely continue to swell.
"Developing countries are on an up ramp, in terms of demand for electricity," Rachel Cleetus, leading economist and climate policy manager at the Union of Concerned Scientists, told The Huffington Post on Thursday.
Tapping into renewable energy sources will be key to meeting developing countries' growing thirst for electricity, while also mitigating the environmental threats posed by fossil fuels.
"These countries are trying to expand energy access and close the energy gap, while trying to look for low-carbon, cost-effective ways to do that," Cleetus said.
"They break; the fuel is expensive," she noted.
Renewable, off-grid energy sources can help expand electricity access faster and at a lower cost than diesel generators. They can also provide energy more reliably than centralized grids, which are likely to become increasingly vulnerable to extreme weather associated with climate change, Cleetus said.
Nigeria's rabid soccer fandom adds to the new technology's appeal. For a country voted the most soccer-crazed nation in 2014, harnessing the collective energy of millions of sprinting athletes to generate electricity has an almost poetic appropriateness.
For high-tech tile manufacturer Pavegen, the people-powered field represents a first step in an effort to revolutionize the way Nigeria generates electricity.
"I believe that we will change the way people see energy as we begin to scale and fully industrialize the Pavegen technology," Pavegen CEO Laurence Kemball-Cook wrote in a release in December. "We're hoping to install our technology across the African region one day."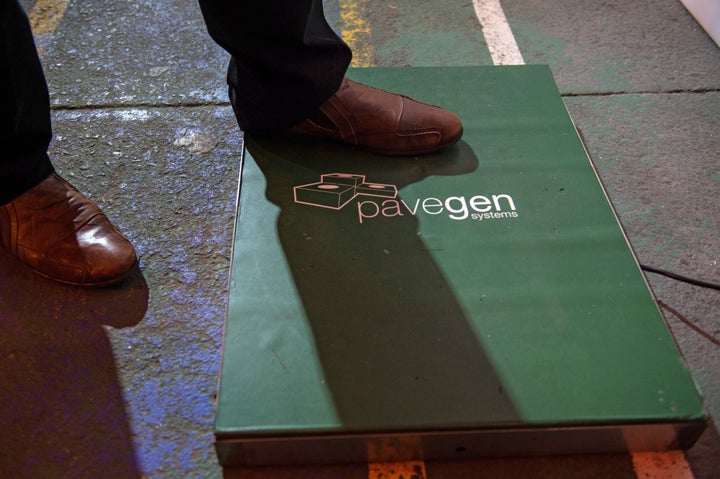 Like any new alternative energy technology, soccer fields that transform footsteps into electricity are unlikely to be a panacea for energy-strapped countries.
Kemball-Cook has acknowledged the technology's limitations. "We're not trying to make Pavegen the sole energy source to power every city in the future," he told Radio France Internationale in December. "We believe it's going to be one of the key constituents of the energy mix of the future."
Pavegen received a small grant in 2011 from Shell LiveWIRE, an accelerator run by oil company Royal Dutch Shell, to improve the tiles. It partnered with Shell to build the fields in Brazil and Nigeria.
Questions remain about the cost-effectiveness of converting footsteps into electricity. Pavegen has not disclosed the price of its tiles, but the company claims to have cut the cost of production considerably over the last several years.
"We've reduced the price by over 500 percent, to about 20 percent more than normal flooring that you might find in a typical shopping mall in Africa," Kemball-Cook said, per RFI.
It is also unclear how easily the tiles could be installed in, say, a remote village where they might be of most use. Pavegen did not respond to a request for comment from HuffPost.
Despite some lingering questions, the project is significant. It represents a step toward decentralized, renewable energy production in a country in desperate need of more reliable access to electricity.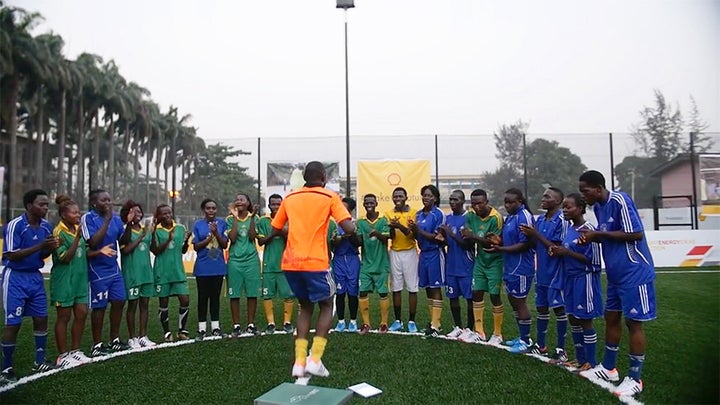 Popular in the Community