MEXICO CITY -- On Friday morning, hundreds of Mexico City residents marched against "Megaprojects"-- large public works that displace local communities and replace them with freeways, tunnels and airports. Spread out over 20 different locations throughout the city, protestors blocked streets, erected signs and chanted through bullhorns as traffic swept by.
Their mission -- plastered on hundreds of posters and leaflets -- was clear: "For the Right to the City and the Territory Free of Megaprojects." Already defined by cement, cinderblocks and sprawling highways, Mexico City is struggling to preserve the few public spaces it has left.
Friday's mobilization was in large part a response to a recent controversy over a new megaproject in Mixcoac, a central neighborhood of Mexico City. In early March, residents of Mixcoac awoke in the middle of the night to find hundreds of their trees chopped down and removed by city workers -- without prior warning.
Mayor Miguel Ángel Mancera later announced that the tree removal was part of the ongoing plan to construct a tunnel along Mixcoac to reduce traffic congestion in the region. Up to 1,700 trees could be removed in the process.
At Friday's protest, Mixcoac residents gathered to voice their dissent. "If the government keeps removing trees," one resident announced over a loudspeaker, "We will replant them!" Beside naked stubs of chopped tree trunks, many protestors planted new trees, while others erected signs that explained the benefit of urban greenery -- circulating air, soaking up rain, and reducing noise.
According to Jessica, who asked me not to use her last name:
This is about more than just the trees. It is about the destruction of our neighborhoods, our lives, our heritage. There are so many ways to solve traffic -- making avenues more suitable to biking, for example -- but they choose to break everything instead.
The Mixcoac tunnel is merely one episode in a long and conflicted history of megaprojects in Mexico City. Back in 2002, President Vicente Fox announced plans to construct a new airport on communal farmland. But Fox was forced to drop the plan after local farmers took to the streets and seized control of a local city office, rejecting the government bids to purchase their land. "Neither planes nor any other project of the neoliberal assassins will settle on our land," they wrote.
More recently, the construction of a new highway -- known as the "Supervía" -- erupted in controversy in 2011. In order to construct the Supervía, which connects the western edges of Mexico City, the government evicted the neighborhood of La Malinche, sending in riot police to ensure its residents would leave their plots quietly.
The Mexico City Human Rights Commission found that the Supervía project violated "the rights to decent housing, a healthy environment, water, information, citizen participation, and legal security" -- a truly damning conclusion. Unlike in the case of the airport, however, the Supervía survived. It was inaugurated in 2013.
These megaprojects illustrate a severe disconnect between Mexico City residents and the governments they elect. Urban planning happens behind closed doors. Citizens are informed only after the project is designed, only after the agreement is signed, and only after the trees have fallen. Ultimately, the government responds more to the needs of Mexico's cars and than to those of its citizens.
Indeed, despite the fact that 80 percent of residents travel by public transport, this is a city where the car reigns supreme. For every new baby in Mexico City, there are two new cars. They clog highways, pollute heavily, and generate horrific traffic -- the average commute of a worker in Mexico City is three hours daily.
Megaprojects like the Mixcoac tunnel, then, only serve to exacerbate inequality. For the wealthy, megaprojects accommodate cars and ease the daily grind. For the poor, they displace local communities, disrupt community life and destroy the urban ecosystem. "They are robbing the people," says Jessica. "And they are giving the riches to the wealthy in the process."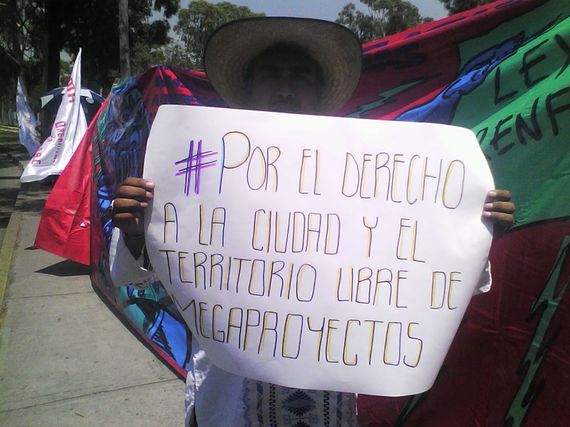 REAL LIFE. REAL NEWS. REAL VOICES.
Help us tell more of the stories that matter from voices that too often remain unheard.