Can you imagine a world truly free from poverty? What would the roadmap to get there look like?
The soon-to-be-accepted Sustainable Development Goals aim to pave this road, beginning with Goal 1: End poverty in all its forms everywhere. I like an ambitious goal, and this is nothing if not ambitious.
But is it achievable? And, if so, what will it take to achieve it?
I believe it is, and I believe it is going to take an immense amount of collaboration and outside-the-box thinking to get there.
At the core of sustainably ending poverty is the ability of all people to meet their own needs in a manner that neither exploits others nor damages the environment.
At Heifer International, our focus is helping the smallholder farmers with whom we work achieve precisely what I have described above. And we do it for good reasons:
75 percent of the world's poor live in rural areas, with most of them depending on agriculture for their livelihoods
Growth in the agriculture sector has been shown to be 2-4 times more effective at reducing poverty than growth in other sectors
Achieving income gains in agriculture is no more costly than in other sectors
Smallholder farmers will largely be responsible for feeding the world's 10+ billion people in 2050
Investing in smallholder farmers not only helps eradicate the poverty in which they predominantly live; the benefits spill over into the health and wellbeing of the rest of the world's population.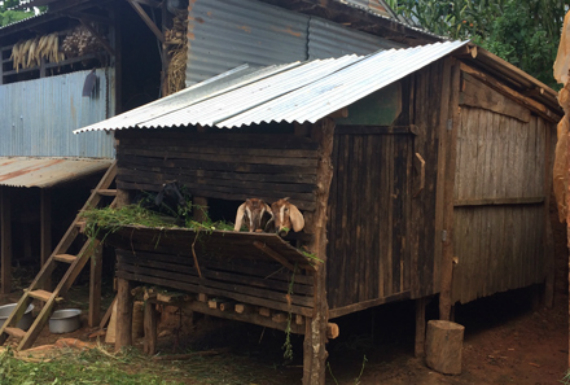 Photo Credit: Heifer International
Yet smallholder farmers face a myriad of barriers preventing them from closing what we call "the gap" and achieving dignified livelihoods. Therefore, the investments we make must be targeted at eliminating these barriers. Three factors I would like to address are access to land, farm productivity and access to markets, and post-harvest losses.
A significant challenge for many farmers is land; specifically land rights. According to ActionAid, "Having the right to use, access, control, own, inherit, transfer and otherwise make decisions about land increases the ability of communities to feed themselves, earn a livelihood, adapt to climate change, and exercise their social, political and cultural rights."
We must support organizations like ActionAid and the Oakland Institute, which work to help vulnerable populations secure and maintain rights to the land they need to raise food for their families, their communities and the world.
A specific focus for Heifer International is helping farmers improve their crop and livestock productivity, as well as increase access to agricultural value chains, to foster self-reliance. In Nepal, for example, our Smallholders in Livestock Value Chains (SLVC) program, we are working to strengthen 138,000 families in the dairy and goat value chain enterprises. We are helping families improve their farm productivity by 50 percent and increase their incomes to at least $2,000 per year (Gross National Income per capita for Nepal is $730 per year). Moreover, our interventions through this project aim to decrease Nepal's reliance on imports by 30 percent for goat and 10 percent for dairy.
Following the earthquakes in the spring 2015, Heifer Nepal families quickly rebuilt their animal shelters, because of their livestock's rapid and significant cash-generating potential.
View larger version of the graphic here.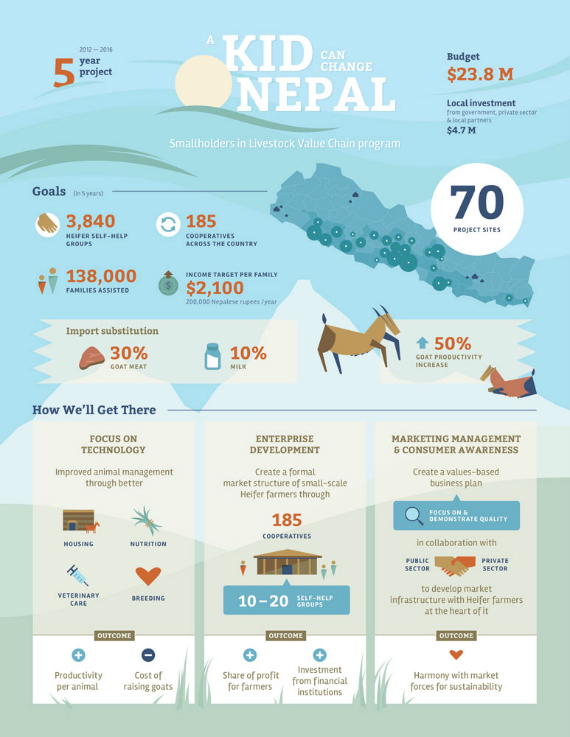 Graphic by Heifer International
We need innovative solutions to reduce post-harvest losses. The United Nations Food and Agriculture Organization (FAO) operates the SAVE FOOD initiative, in collaboration with donors, agencies, financial institutions and the private sector to tackle this growing problem.
Farming families must be able to provide for themselves, and they need livable incomes to do so. Secure access to land, increased productivity and access to markets, and innovative solutions to post-harvest losses are three important components to success. If we can help the world's 600 million smallholder farmers and herders achieve livable incomes through sustainable livelihoods, we will be well on our way toward reaching Sustainable Development Goal 1.
This post is part of a series produced by The Huffington Post, "What's Working: Sustainable Development Goals," in conjunction with the United Nations' Sustainable Development Goals (SDGs). The proposed set of milestones will be the subject of discussion at the UN General Assembly meeting on Sept. 25-27, 2015 in New York. The goals, which will replace the UN's Millennium Development Goals (2000-2015), cover 17 key areas of development -- including poverty, hunger, health, education, and gender equality, among many others. As part of The Huffington Post's commitment to solutions-oriented journalism, this What's Working SDG blog series will focus on one goal every weekday in September. This post addresses Goal 1.
REAL LIFE. REAL NEWS. REAL VOICES.
Help us tell more of the stories that matter from voices that too often remain unheard.