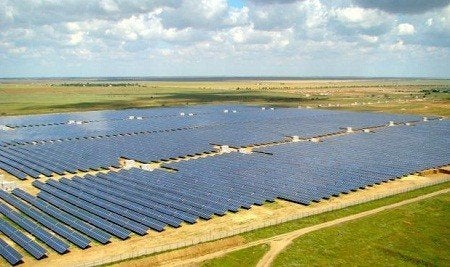 As President Obama lays out his jobs recovery program, there is one area he must include that can provide hundreds of thousands of jobs to Americans -- the developing world's energy market. Developing countries are often overlooked for their potential to serve as important markets for U.S. exports. In this sluggish economy, however, this is a mistake that we cannot afford to make. With the U.S. economy needing all the help it can get, U.S. businesses should look to expand their investment in clean technologies developed and manufactured domestically, and easily exported overseas, to give our economy the jumpstart we need.
Why are developing countries a key market in this sector? About three-fourths of the increase in global energy use between now and 2050 is predicted to occur in the developing world. Even further, the International Energy Agency predicts that responding to climate change could create $27 trillion in market demand for clean energy technologies over the next four decades from developing countries alone. These forecasts make it clear where the greatest need and demand for these technologies will be. But the U.S. cannot simply manufacture clean tech components and equipment and expect them to be adopted by developing countries overnight.
Developing countries need help to generate the right policy conditions that make their markets ripe for clean technologies. International climate finance is one method to fill this gap by creating opportunities for new policy and institutional reforms that will set the stage for widespread adoption of clean technologies -- ideally produced in the U.S. This finance will necessarily come from both public and private sources. In this deficit-ridden economy, there is little chance that the governments of the U.S. and other developed countries can provide the $100 billion per year by 2020 they pledged in Copenhagen without leveraging the private sector. However, public finance will be critical for reducing private sector risk in early project development, and for supporting projects where the private sector has yet to venture. Private finance will increase over time as investors realize the enormous market potential these countries possess for deployment of clean technologies developed right here in the U.S.
Even though the U.S. lacks a policy mandating clean tech deployment, it does not mean developing countries are not hungry for it. They are looking for new and innovative ways to bring electricity and clean drinking water to their people. Though there are exceptions, developing countries have not necessarily become as entrenched in fossil fuel subsidies and other policies that support carbon-based energy sources as the U.S. and other developed countries have over the last 100 years. International climate finance will be instrumental to supporting all of the elements needed to create and sustain a viable clean technology market in developing countries: capacity building, research cooperation, technology demonstration, and so on. This support is critical to maintaining markets that will endure for at least the next 50 years and demand technologies that the U.S. can produce and export.
Why should Americans care? According to experts at the World Wildlife Fund, in capturing 14 percent of just one portion of the potential clean technology export market in developing countries (covering 4 technologies: smart grid equipment, mass transit, wind turbines, and solar PV) American businesses could create between 280,000 and 850,000 long-term jobs. That's a significant number for an economy with a steady 9.1 percent unemployment rate. These investments can also increase American competitiveness with China and other countries exporting clean technologies, potentially allowing us to take back some of the market share we've lost to other countries over the last ten years. If we don't even try to compete, we will surely lose out on an opportunity to establish the U.S. as the world's clean tech leader.
In addition, supporting international climate finance and cultivating clean tech markets can strengthen relationships with key strategic allies and major emerging economies, like India and Indonesia. By supporting their ambitions to develop sustainably, we can improve future global greenhouse gas emissions trajectories, contribute to developing countries' development, and reduce the U.S. trade deficit -- all at the same time. Put simply, climate finance reduces the risk of investing in clean technologies and will thereby increase its economic returns over time, leading to a positive feedback loop of more investment in clean technologies and ever more demand for U.S. products. The bottom line is clear: the U.S. should embrace international investment as a means to bolster domestic industry if it hopes to compete in the global clean energy race. We know there are more than 850,000 Americans waiting for the U.S. to say yes to more jobs.

REAL LIFE. REAL NEWS. REAL VOICES.
Help us tell more of the stories that matter from voices that too often remain unheard.