I'm grateful my parents settled in New York City after they emigrated from Cuba. As a native New Yorker, I can't imagine not having this city in my life, for better or worse -- and there has been plenty of good and bad.

I must admit, however, that there is one other city I would've been proud to call home: San Francisco. Yes, of course, there's the obvious reason: Both are LGBT-friendly. But it's more than that. Both cities pulse with a beat that excites me.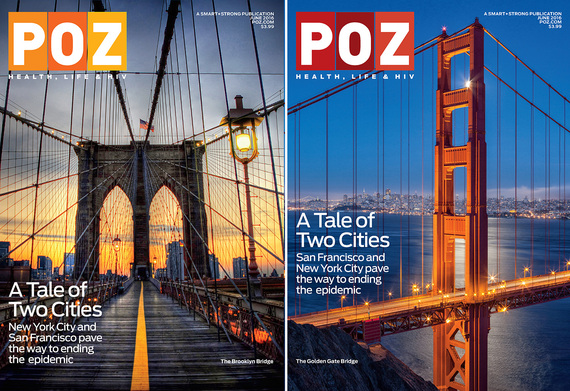 Nearly 3,000 miles separate New York City and San Francisco, but there is much that bridges each city to the other. They share the joys of diverse communities and vibrant economies, but they also share the mutual pain of the HIV/AIDS epidemic.
I say "share" in present tense because, despite much progress, neither city has conquered the virus, at least not yet. What is most remarkable to me about the common experiences of these two cities is that each is paving the way to ending the epidemic.

Our cover story takes an in-depth look at the strategies each city is implementing to fight HIV/AIDS. Better care and treatment for those living with the virus are being paired with increased prevention efforts, especially pre-exposure prophylaxis (PrEP). Click here for more information.

(If you haven't noticed by now, the two accompanying images depict two versions of our cover. Half of the issues printed have an image on the cover of the Brooklyn Bridge and the other half show an image of the Golden Gate Bridge. We know it's a gimmick, but please enjoy nevertheless!)

PrEP is virtually foolproof in preventing HIV. However, no prevention method, short of abstinence, is 100 percent effective. The recent news of the first documented case of someone adhering properly to PrEP and still becoming HIV positive was a stark reminder of that fact.

His circumstances were unique, so future cases like his will remain rare. Nonetheless, there are other more common circumstances that can cause somone to become HIV positive while on PrEP. Click here to read more.
Prevention efforts are important for all, but some groups have more cause for concern: men who have sex with men (MSM), in particular MSM of color; women, especially women of color; and transgender people, specifically trans women and further still trans women of color.
Although all the groups mentioned above certainly do deserve such focus, one group often gets ignored: trans men, in particular trans men of color, especially those who have sex with men. Click here to learn more about their unique concerns.
REAL LIFE. REAL NEWS. REAL VOICES.
Help us tell more of the stories that matter from voices that too often remain unheard.