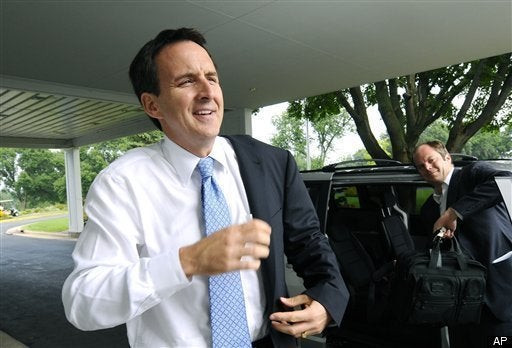 Two governors who were vocal opponents of health care reform are now requesting federal grants for abstinence-only education that are funded by that very same legislation.
On Monday, both Virginia Gov. Bob McDonnell (R) and Minnesota Gov. Tim Pawlenty (R) said they would not be applying for funds from the Personal Responsibility Education Program (PREP), which provides states with $55 million for comprehensive sex education programs. Instead, they applied for Title V funding, which has $50 million a year for states to implement abstinence-only education programs. The catch is that in order to get the federal dollars, states must provide a 75 percent match.
WHEREAS, the Act represents a dramatic attempt to assert federal command and control over this country's health care system, which accounts for one-sixth of our nation's economy, thereby reducing individual freedom for health care decisions; and [...]

NOW, THEREFORE, I hereby order that:

All executive branch departments and agencies are directed that no application shall be submitted to the federal government in connection with requests for grant funding for programs and demonstration projects deriving from the Patient Protection and Affordable Care Act ("PPACA" or "the Act") (Pub.L. 111-148) unless otherwise required by law, or approved by the office of the Governor.
In an e-mail to the Huffington Post, Pawlenty Communications Director Bruce Gordon explained that the reason the governor is not applying for the PREP funds is because he "opposes Obamacare and he is striving to find ways to stop its implementation in Minnesota. The Governor has consistently prioritized abstinence amongst family planning options."
According to the Washington Post, McDonnell spokesperson Stacey Johnson explained that "the governor's latest decision is consistent with his past decision" in supporting abstinence-only education.
Title V, funding, however, is also funded by the Affordable Care Act. When President Obama took office, he eliminated $115 million in federal abstinence-only education funding. The health care law restored $50 million a year for the next five years. Gordon did not return a follow-up e-mail from the Huffington Post asking how applying for Title V funding helps stop Obamacare.
Reproductive choice advocates in both Virginia and Minnesota criticized the governors' decisions. Linnea House, executive director of NARAL Pro-Choice Minnesota, said, "During a time of tremendous budgetary challenges for our state, the governor has once again shown that he will put political games ahead of sound policy recommendations." Jessica Honke, public policy director for Planned Parenthood Advocates of Virginia, said that, "Given our economic situation in Virginia, it's wasting taxpayer money," and noted that the group had people send more than 600 letters in support of PREP to Governor Pawlenty.
On Tuesday afternoon, DNC National Press Secretary Hari Sevugan e-mailed reporters a response to Pawlenty's executive order, stating, "After rejecting $7.8 billion dollars for his cash-strapped state where taxpayers are struggling to make ends meet and denying health care to a quarter million of his fellow Minnesotans, Tim Pawlenty's executive order to state employees might as well have read 'You will henceforth work for my Presidential ambitions instead of the people of Minnesota.'"
UPDATE: In a radio interview with AM 950 on Tuesday, Sen. Al Franken (D-Minn.) criticized Pawlenty for his proclamation, stating, "Even members of the Pawlenty administration thank me" for voting in favor of health care reform. "I think it's very bad that he's turned down this hundreds of millions of dollars. And I saw the proclamation. I think he very much misrepresents what the health care reform bill is."
Popular in the Community