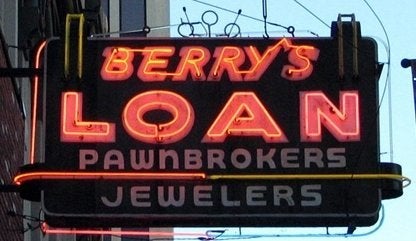 The economy is tanking, banks are scrambling for cover, the Fed is repeatedly cutting interest rates . . . and business is booming at pawn shop Crown City Loan & Jewelry in Old Pasadena.
Standing behind a display case brimming with hocked watches and jewelry, owner Doug Robinson can only smile when asked how things are going.
"Business is very good," he said. "The loan business is very good."
These aren't just any loans, of course. Robinson said the money he hands out -- no questions asked -- in return for people's collateral typically comes with an annual interest rate of about 60%.
He declined to say how much his loan balance was. But Robinson said it's risen about 40% in the last year and he expected to do even better this year.
"We've been on a continuous uphill run for a number of months," he said. "I don't see anything that will stop it."
For all the reassurance from the Bush administration and Federal Reserve that steps are being taken to keep the U.S. economy from going down the toilet, the harsh reality from the consumer's perspective is that times are tough and getting tougher.
Related
Popular in the Community