Justin, a brown Shepherd-mix puppy, is an unlikely visitor to Capitol Hill. Though he spent Tuesday afternoon in the House of Representatives' Canon House Office Building, the 3-month-old used to live on the streets, a stray animal with an unknown history.
Rescued by the Washington Humane Society, Justin was just one of roughly 50 dogs and cats available for adoption at the second annual "Paws For Celebration" event, co-hosted by the American Society for the Prevention of Cruelty to Animals and the Congressional Animal Protection Caucus. The event is designed to honor shelters and rescue organizations throughout the nation and raise awareness for pet adoption.
"The ability to have a pet enhances one's life. It generates a more healthful mental and emotional condition and we know that many people live a fuller, happier life once they adopt," said Rep. Jim Moran (D-Va.), co-chair of the Congressional Animal Protection Caucus. Moran mentioned that his own office has two dogs, Bunker and Oliver.
Rep. Lois Capps (D-Calif.) noted that "roughly seven million animals enter shelters every year, and it's important for us to raise awareness and find these pets a loving home."
Richard Patch, vice president of federal affairs for the ASPCA, said that the bipartisan, bicameral event is independent of any specific legislation.
"This is really, as the name implies, just an event to 'paws' and celebrate the wonderfulness of these animals," Patch said. "I think people in Washington, we sometimes get lost in the moment and forget about the very real impacts of animals on the lives of the members of Congress, their staff and the constituents at home."
The adoptable dogs and cats, who came from organizations within D.C. and the surrounding areas, were greeted as a welcome reprieve for Hill staffers. Lawmakers ogled at kittens Lindsay and Rollie Pollie Ollie in one corner of the room, while Happy, an 8-year-old pomeranian mix, showed off her tricks in another. They also met Avielle Richman, a dog named after the 6-year-old victim of the Newtown, Conn., school shooting last December.
"It's awesome to be here," said Jordan West, a 22-year-old intern working for Rep. Trey Radel (R-Fla.). "Bringing the dogs definitely gets everyone's attention. Dogs and cupcakes is like every person's dream," she added, referring to the light refreshments served.
Caleb Chappell, a 19-year-old intern working for Rep. Louie Gohmert (R-Texas), said it was a nice change of pace.
"Normally, we mainly answer phones, run speeches or amendments down to the Cloakroom, do research, maybe attend some hearings," Chappell said. "So it's nice to get out and get to have some fun with some dogs. Because I haven't seen my dog in about a month or so."
Though the occasion was festive, Moran noted that the Congressional Animal Protection Caucus does very serious work. He pointed to a number of different bills, including ones to ban puppy mills, stop dog fighting and horse slaughtering, and to end the gassing of dogs and cats in shelters.
"These animals, you can see them up front, and you can be their rescuer," Moran said. "And not only does it save the animal's life, but it enhances your own life."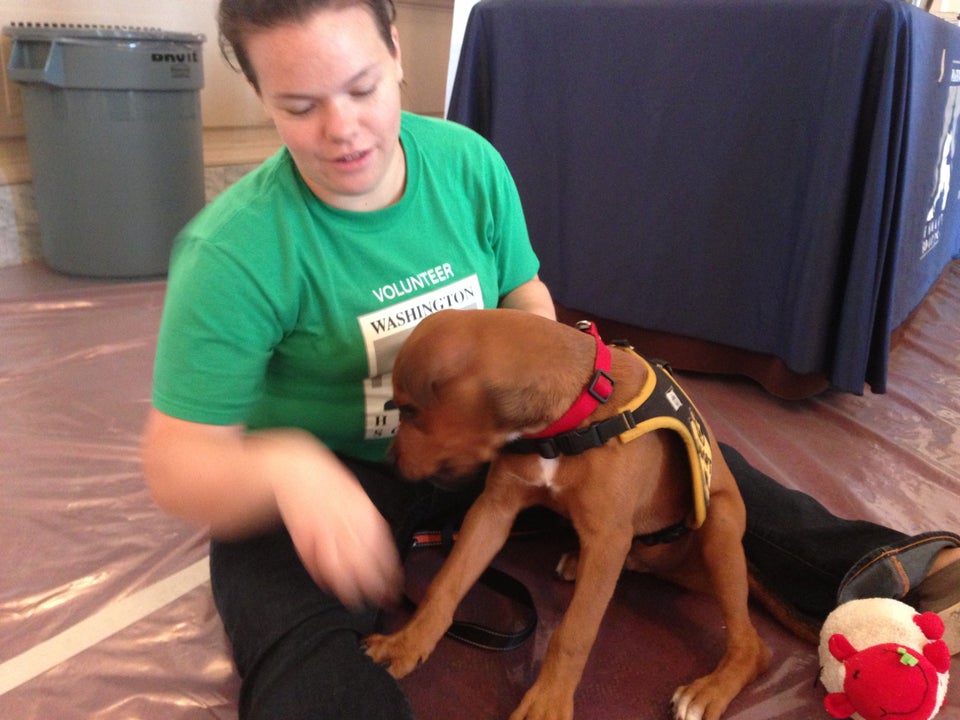 Paws For Celebration 2013
Popular in the Community