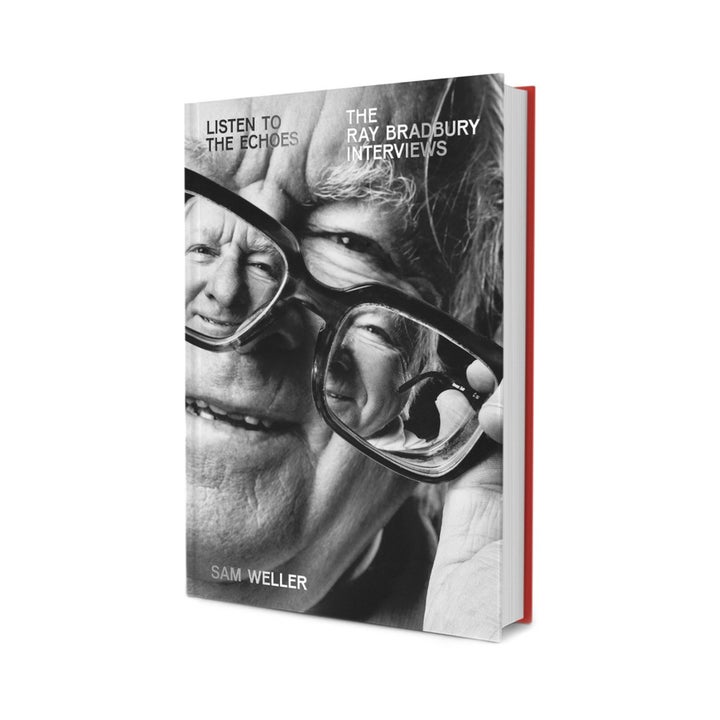 I first encountered the words of Bradbury in utero—my Dad read the freak show frescoes from the 1951 collection, The Illustrated Man aloud to my Mom while I was still a month off from arrival.
I grew up, like many Gen X adolescents, nerding out to Dungeons and Dragons, the spandex bravado of KISS, the space opera allure of Star Wars and, of course, the fantastic fictions of one Ray Douglas Bradbury, caretaker of Mars, gatekeeper to Green Town, tour guide to all things that lurk long after midnight.
It was a surreal experience to later become his biographer, to spend thousands of hours with the man. He loved the inherent fate in the entire confounding scenario, deeming my pre-birth encounter with his words and work as a premise that was, in and of itself, decidedly Bradburian.
In 12 years, as one might imagine, I observed many of Bradbury's creative secrets. I peered behind the Oz-ian curtain, as it were, and paid close attention. Bradbury was a master storyteller and visionary artist who created across an unprecedented nine decades. Fahrenheit 451. The Martian Chronicles. Dandelion Wine. Something Wicked This Way Comes. Massive collections of poetry. Massive collections of essays. Hundreds of short stories across every conceivable genre. He owned and operated his own theatre company. He wrote episodes of The Twilight Zone and Alfred Hitchcock Presents. On a whim, he scripted an animated short film that was later nominated for an Oscar. He earned an Emmy for an animated television adaptation of his own YA novel, The Halloween Tree. Bradbury developed architectural concepts for shopping malls, the 1964 World's Fair and EPCOT. There is a crater on the moon named, by NASA, for Ray Bradbury's 1957 novel-in-stories, Dandelion Wine.
Not surprising then, that much of my own creative ethos is culled from what I learned working alongside Ray Bradbury. I share many of these insights into craft as a professor of creative writing at Columbia College Chicago and when I conduct writing workshops at public libraries and high schools across the country.
So here are a few of the many creative secrets gleaned in working alongside one of the 20th Century's great creators.
1. Do What You Love and Love What You Do
This was Bradbury's mantra. He wrote about subjects, themes and ideas he loved, often going back to childhood, from dinosaurs ("A Sound of Thunder") to circuses (Something Wicked This Way Comes) to Mars (The Martian Chronicles).
"Make a list of ten things you love," he often instructed young writers, and write a short story, poem or essay about each one."
Many of his passions, from the stories of Poe and Baum, to dinosaurs and deep space, to circus sideshows and mysterious stage magicians, all trace back to his formative years. And this, I think, may be the greatest secret to Bradbury's towering global success. Up until his final days, Bradbury never abandoned his inner-child.
Bradbury had these words written in Sharpie marker on a piece of masking tape affixed to the front of his typewriter (that's right, he never worked on a computer). Bradbury maintained that first drafts must be written all the way through, impulsive bursts of joyful creativity affording the subconscious the space to get the story down, uninterrupted by our self-conscious intellect. This is how the man was able to write a complete draft of Fahrenheit 451 in the unfathomable window of just nine days time. It's important to note that after a quick first draft, Bradbury would then allow for the intellect to intrude during the much slower, more laborious revision stages. But first drafts, he maintained, must be intuitive. "In quickness, is truth," he said. "The more swiftly you write, the more honest you are. In hesitation is thought. In delay comes the effort for a style, instead of leaping upon truth which is the only style worth deadfalling or tiger-trapping."
Going to back to when he was 12 years old, Bradbury wrote for the pure joy of the creative act. Ray Bradbury was a one-man celebration of joie de verve. When he wrote, he was like a child with a box of 64 Crayolas scattered out before him, fearless and indefatigable. Bradbury never wrote for money. He never wrote for fame. He wrote simply as a celebration of creativity. He believed the best writing came from a sense of play.
4. Read a Short Story or a Poem or an Essay Every Night
This was Bradbury's reading assignment, suggesting that serious writers follow it for 1000 nights to "stuff their heads with metaphors" that might later emerge in their own original work. Bradbury read everything, from the Sunday comic strip Mutts to Herman Melville.
When Bradbury was 21 or 22 and just beginning to publish in the pages of the pulp fiction magazines of the 1940s, he stumbled upon a word association game that ignited his imaginative process. He made lists of nouns, each word beginning with the word "the" to lend specificity.
"The Lake." "The Crowd." "The Jar." "The Night."
Bradbury allowed his subconscious to surprise him, writing down nouns and then letting the word inspire a memory, a scene or a story. Almost the entirety of Bradbury's first book, the groundbreaking work of the dark fantastic, Dark Carnival (later revised into The October Country) was written using this generative writing prompt.
When he was 17 and 18 years old, Bradbury started submitting his stories to the slick, New York literary magazines. He was rejected at light speed because, as he would say, he was a "terrible writer." I once found a rejection slip from legendary Esquire co-founder and editor Arnold Gingrich telling Bradbury that his ideas weren't original. I asked him how he dealt with this constant, early rejection and he was succinct: "I assumed [the editors] didn't know what they were doing."
The point here is that young writers must plow ahead. They must ignore the speed bumps, the potholes, the blockades and the brick walls and stay myopically focused on reading and writing constantly.
"In quantity," Bradbury advised, "eventually comes quality."
7. Work on Multiple Projects Simultaneously
Ray Bradbury never suffered from writer's block, per se. In the late 40s and early 50s, working on his "Illinois novel," which would later become Dandelion Wine, he regularly hit walls and struggled. But here is the difference between Ray Bradbury and mere mortals: When Bradbury faced creative challenges, he just moved on to other creative projects. This way he continued writing. This work ethic is what enabled his singular prolificacy. While most scribes quit at the first encounter with frustration, Bradbury started something completely new and, quite often, this cleansing of the creative palate helped solve his initial vexation.
8) Jump Off The Cliff and Build Your Wings On The Way Down
When Bradbury was a teenager, he fished radio scripts out of the dumpsters behind the studio where George Burns broadcast his national radio program. He studied the scripts and started writing his own, eventually chasing Burns down and hand- delivering his juvenile creative meanderings. After two years of this routine, the first publication of the words of Ray Bradbury came on February 26, 1936, coast-to-coast on the Burns and Allen radio program. George Burns used one of Ray Bradbury's jokes on air.
When film director John Huston asked Bradbury in the summer of 1953 if he would write the screenplay for Moby Dick, Bradbury had limited experience with film scripts and had never read the Melville novel in its entirety. No matter, he accepted the job.
Everything the man did was a leap of faith. He designed shopping plaza concepts with famed L.A. architect Jon Jerde, never having gone to college.
Ray Bradbury's entire career is one of creative risk taking. He believed in himself, even, in the early days, when he had no reason whatsoever to believe at all.
"The message of Zen," he offered in Listen to the Echoes: The Ray Bradbury Interviews, "…is something I have been teaching people for years when it comes to writing. It's what Yoda says," he said, dropping a dexterous Star Wars reference. "Don't think. . . . Do."
Often when Bradbury recited this, he recited it again for dramatic impact.
Related
Popular in the Community