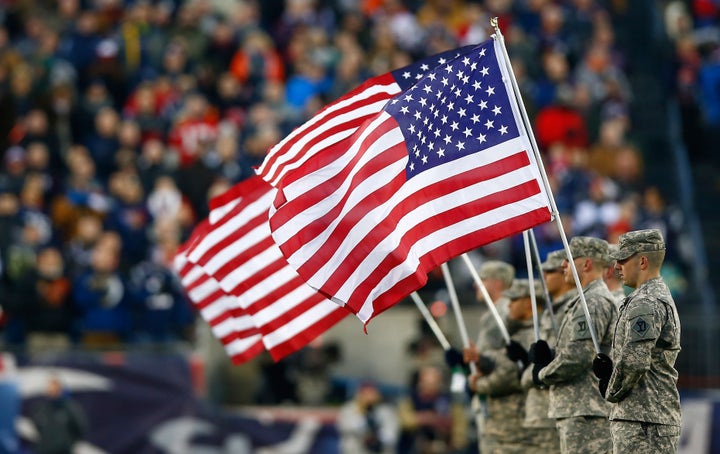 Calling "pay for patriotism" promotions at major sporting events "marketing gimmick[s]," Sen. Jeff Flake (R-Ariz.) has helped convince Congress to ban the kind of mid-game salutes to troops that enabled NFL teams to pocket a reported $5.4 million of taxpayer money between 2011 and 2014.
The National Defense Authorization Act, which NJ.com reports was "agreed to by congressional negotiators" on Monday, will prevent professional teams and leagues from making money off of celebrating the military at halftimes and quarter breaks.
Under the new law, the Pentagon will be forbidden from using taxpayer funds on what has been called "sponsored patriotism." As a result, Defense Department-funded recruiting practices like "Hometown Heroes" -- through which soldiers are honored on jumbotrons in the middle of sporting events -- will be barred from arenas and stadiums.
"I applaud my colleagues for recognizing and agreeing that demonstrating appreciation and standing in patriotic solidarity with our military should not come with a price tag," Rep. Frank LoBiondo (R-N.J.) said.
Along with Hometown Heroes, Military.com listed profiting from"on-field flag roll outs, pre-game color guard ceremonies, half-time soldier recognition ceremonies and National Guard sponsored high-school player of the week recognitions" as included under the umbrella term "sponsored patriotism." 
The issue came to light last spring when Flake called out the $377,500 that the New York Jets had earned in a three-year span through what -- on the surface -- appeared to simply be acts of patriotism.
"[G]iving taxpayer funds to professional sports teams for activities that are portrayed to the public as paying homage to U.S. military personnel would seem inappropriate," Flake wrote last May in a letter to Chief of the National Guard Bureau General Frank Grass and Defense Secretary Ash Carter. "Such promotions conjure up feelings of patriotism and pride for most sports fans, and the revelation that these are in fact paid arrangements is disappointing."
It remains to be seen, however, whether the NFL and other major leagues will continue to spend timeouts saluting the troops and honoring our flag without such a strong monetary incentive to do so.
PHOTO GALLERY
Amazing Sports Photos
REAL LIFE. REAL NEWS. REAL VOICES.
Help us tell more of the stories that matter from voices that too often remain unheard.