Starting my company Linda's Stuff 15 years ago was the thrill of a lifetime, but it was also exhausting and filled with daily struggles. Being the first to realize the huge opportunity that existed to sell luxury items online, where none existed, was very challenging right from the start. No one else was selling discounted luxury goods online in any formidable way - so there was no one to seek direction from or to model the business after.
While I was developing the business and unknowingly launching the luxury consignment category online, my father helped me navigate the land mines all around me. Soon, daily phone calls to my father, a lifelong entrepreneur, became not only a part of my daily routine, but also my sanity net. From all of the chaos and confusion that defined the early days of Linda's Stuff, my father emerged as an incredible sounding board and a huge trove of knowledge--he became my first real mentor.

I happen to have found my mentor close to home, but mentors are everywhere, if you know where to find them. Mentors are an invaluable resource that I think every entrepreneur should seek out. Not only did my father/mentor listen to all of my (sometimes ridiculous) questions, he also provided me with the honest feedback I needed to find my path to success. I remember him telling me the following advice: "Be nice to those you meet on the way up because you will meet them on the way down." It is a lasting comment, not only because I am reminded to always be nice and fair to everyone, but that there will be highs to every low and vice versa in business.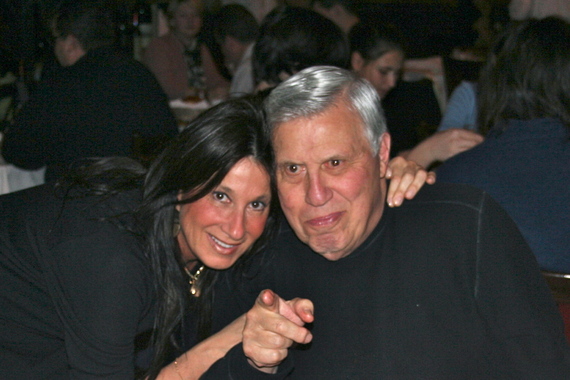 Throughout my career, I have been paying it forward by mentoring the young women and men I have worked with throughout my 15 years with Linda's Stuff.

Our VP of Marketing and Operations has been with us for almost 10 years. She started with us when she was a sophomore in college. The minute she walked in I knew she was a great fit. She was full of ideas and enthusiasm for what we were doing. As her mentor, I wanted her to feel empowered but also needed to be honest with her, even if that isn't always easy. I saw her grow from a young student into a vibrant, competent career woman, right before my eyes. As her mentor I feel it is important for me to keep guiding her--she jokes, and says that with any important life decision she now asks herself, what would Linda do? It is incredibly flattering that someone trusts you with important career decisions. This is why my door is always open--I want to hear what my team has to say and to help them when they need guidance. It is hugely important to me that they feel we have a policy of open communication.
How can you pick a mentor? Ask yourself the following questions when thinking about your mentoring prospect:
Are they committed to their path to success?
Are they engaged in their own community? Do they have a supportive network? or actively seek out supportive networks?
Are they curious about the world around them? Do they seek out answers to questions they may have?
Do they have strong opinions? How is this person's communication skill?
Are they willing to step out of their comfort zones and take criticism?
Are they respectful of your time, or other's time around them?
How is/was their performance in school?
Mentees should assess the questions above, as it will give them a snapshot of how the potential mentor views themselves in relation to their success and the success of others. To be a mutually beneficial relationship to both the mentor and the mentee, both have to be committed to active listening and active participation to thrive.

Wherever you are in your career, whether you are just starting out, reinventing it or want to sustain it, you are not alone. There are people around you that can help you in so many ways.
Reach out to people you admire, and don't wait until a mentor finds you!
Set goals for what you hope to get out of your relationship with your mentor.
Work with your mentor to set up realistic times of communication and communication methods at the start of your relationship--manage this respectfully as everyone's time is valuable.
Honesty hurts--but you don't have to take things at face value. You are a contributing member of a relationship, so your thoughts and ideas count too. Don't be afraid to challenge a thought (respectfully) and ask questions if you do not agree with something!
Be grateful to learn and express it (it doesn't have to be everyday, but mentors also like to hear when they are doing a good job)
.
Related
Popular in the Community