Last summer, as I was riding home on BART from a performance at the Berkeley Repertory Theatre, an aspiring young playwright from Los Angeles who had noticed the press kit in my hands started to chat me up. After inquiring what play I had seen that night, he got right down to business.
Citing numerous problems he perceived with the theatre scene in Los Angeles, he was curious to learn how and where he might get his plays produced in the Bay area. After I mentioned several local theatre companies that offer readings of new works (Playwrights Foundation, San Francisco Playhouse, Crowded Fire Theatre Company, Aurora Theatre Company's Global Age Project, TheatreWorks' New Works Festival, Magic Theatre's Virgin Play Series) as well as suggesting that he consider submitting his work to various Fringe festivals, he told me that what he really liked to write were historical plays that required fairly sizable casts.
Like many young playwrights, he believed that theatre companies would be eager to stage ambitious, large-scale plays by unknown playwrights. Needless to say, he was shocked when I suggested that he turn to websites like Kickstarter and Indiegogo to help raise money so that he could stage his plays in the city where he lived. "You mean self-produce?" he gasped.
I urge any and all playwrights with stars in their eyes to strap themselves in for a harsh reality check and read three of the most brutally honest articles written this year about the landscape of contemporary theatre:
After the blood in your veins has thawed and you can once again feel a pulse, think about the famous "Pyramid of Philanthropy" which has served as a model for the efforts of numerous performing arts organizations as they try to expand their audiences.
On the bottom layer are single ticket buyers, casual attendees who may choose to attend an opera, symphony, or theatrical performance several times a year.
One layer above them are the subscribers who form the core of an organization's loyal audience.
One layer above the regular subscribers is an elite level of subscribers who make regular contributions to the producing arts organization.
One layer above them are subscribers who not only donate, but volunteer their time to help with tasks ranging from envelope stuffing to opening their homes to visiting artists.
At the very top of the pyramid are those who serve on the company's board of directors. Not only are they required to raise substantial amounts of money for the company and recruit new board members, they act as the organization's top level of missionaries in the local community.
The following graphic shows the Pyramid of Philanthropy as it has been applied to fundraising efforts for the National Park Service: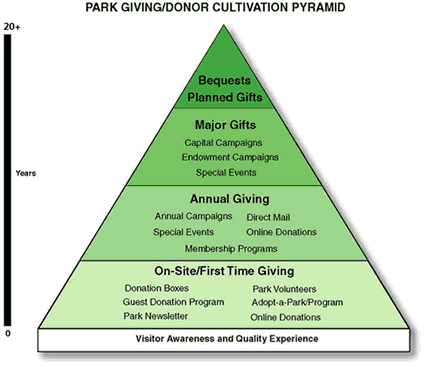 The Pyramid of Philanthropy
As Ellen Cushing explains in The Bacon Wrapped Economy, this model seems to be increasingly irrelevant to a new generation of people who have acquired sudden wealth from their work or investments in technology. With social media helping to attract audiences to readings and other new projects, I'd suggest that aspiring playwrights look to circuit parties and raves as new models for attracting attention to their work.
Unlike traditional theatre companies, circuit parties and raves can move from one location to another with ease. Instead of relying on the financial security of traditional subscription marketing (as articulated by Danny Newman in his book, Subscribe Now!), producers and playwrights must force themselves to ask if they are willing to be satisfied with a one-night stand.
For most staged or semi-staged readings that's the best a contemporary playwright can expect. And if you're eager to get your new play performed before a live audience (with or without scenery), why not?
The more bitter and sarcastic souls may echo the words of Mart Crowley's swishy Emory in The Boys in the Band, who took one look at the men assembled in his friend's apartment and asked "Who do you have to fuck around here to get a drink?" The more idealistic souls will probably look to Mickey Rooney for their inspiration:
If anyone has a handle on this concept, it's 35-year-old Stuart Bousel, the founding artistic director of the San Francisco Olympians Festival, No Nude Men Productions, and San Francisco Theatre Pub who estimates that, since moving to San Francisco in 2002 he has helped nearly 100 new plays get exposure in the form of readings, semi-staged, and fully-staged productions. His most recent project? A three-play minifestival entitled Behind The Curtain.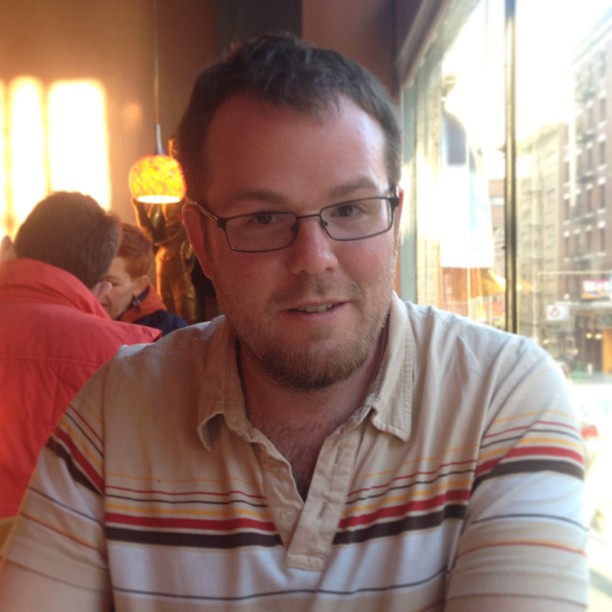 Stuart Bousel (Photo by: Cody Rishell)
As Bousel explains, one day he casually mentioned to his friend, Meghan O'Connor, that he was writing a backstage comedy named Pastorella. O'Connor (who used to be the Literary Manager for Cutting Ball Theatre) replied that she had written a backstage play called In The Wings for her thesis. They soon discovered that a mutual friend, Marissa Skudlarek, had written a backstage play entitled The Rose of Youth.
"We've each written a backstage play," observed Bousel (who describes himself as an eternal optimist who can be horribly bitter). "And I've got a theatre -- so let's have a festival!"
After renting the EXIT Theatre for three nights, Bousel got started issuing press releases and publicizing the event through social media and his friends at San Francisco Theatre Pub. By opening night, he had built a devoted audience of theatre geeks with day jobs eager to attend the premiere of O'Connor's play.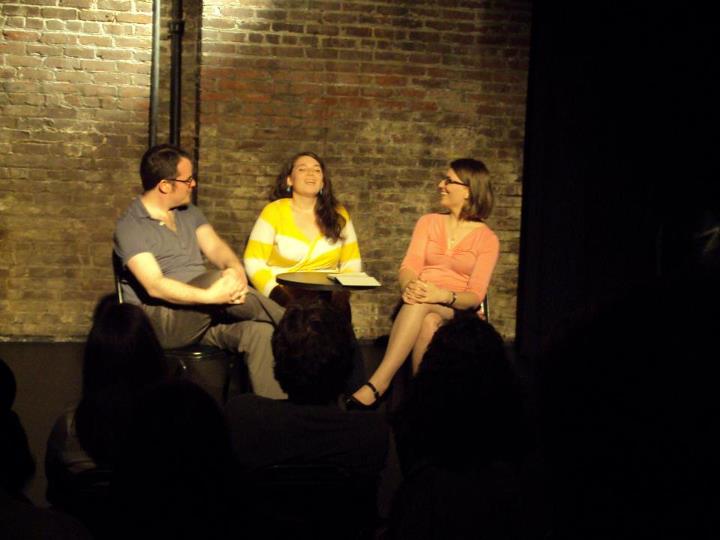 Playwrights Stuart Bousel, Meghan O'Connor and Marissa Skudlarek
on opening night of the Behind The Curtain Festival
Rather than have a traditional post-performance talkback with the playwright, Bousel and Skudlarek conducted a laid-back interview with their playwright friend before the performance. As a result, the audience of friends and fans was nicely primed for the event.
O'Connor's sharp wit has been on display in Satellites and All's Fair (Inkblot Ensemble). Tethys, or In The Deep (2012's San Francisco Olympians Festival) and performances with her improv friends at Chinese Ballroom. Like many playwrights who write about backstage life, one of the characters she created for In The Wings is semi-autobiographical. The blurb for her play reads as follows:
"In The Wings brings you backstage of a theater that was bold and bored enough to put on an obscure, deceased man's only play. This play is a two-for-one: you enjoy all the gripping drama on the stage, and all the shenanigans that go on in the wings. And there is an alien invasion to boot!"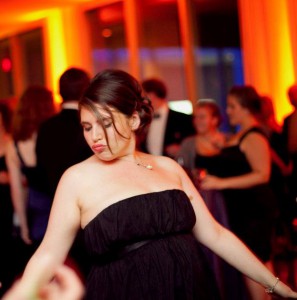 Playwright Meghan O'Connor
The "actual" play resembles a 19th century comedy of manners staged with the actors (Vince Faso and Allison Page) facing upstage less than six feet from the brick wall at the rear of the theatre. Seated on stools on either side of the action are a stage manager who might have to go on in case one of the actors doesn't show up, a props manager (Sunil Patel) who has to cope with overeager actors who misplace things before the show, and a female intern (Tonya Narvaez) who has a romantic crush on the play's narcissistic male lead (Kenny Bourquin).
Add to the mix a terrified novice (Sam Bertken) who's busily puking backstage (played by the same actor who portrays the butler in the 19th century play) and the female intern's husband (who has shown up in the caped costume he wears for his part-time job as an action hero) and there is plenty of potential for comic relief.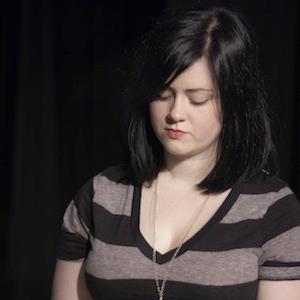 The comically gifted Allison Page
In true theatrical tradition, on opening night the actor who had been cast as the stage manager had to cancel and was replaced by Claire Rice. Notorious scene stealer Allison Page brought down the house with her impersonation of a masculine caped crusader who speaks with a thick New Jersey accent. Most remarkable was the loud and enthusiastic audience response, which frequently resembled an old-fashioned operatic claque. A good time was had by all.
REAL LIFE. REAL NEWS. REAL VOICES.
Help us tell more of the stories that matter from voices that too often remain unheard.