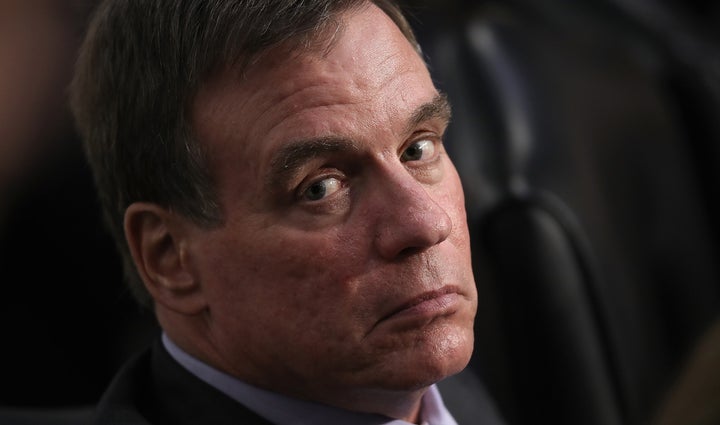 A little over a year ago, Sen. Mark Warner (D-Va.) addressed a small audience of political insiders at the Brookings Institution, one of the most prestigious think tanks in the nation's capital. Times were changing, Warner told the crowd, and the old guard from Washington and Wall Street wasn't keeping up with the needs of the modern workforce. The gig economy, outsourcing and automation had created an era of unprecedented "income volatility" for Americans. New financial technology firms had "an opportunity to bridge part of that new social contract," to "lean forward and meet workers where they're working."
It had been a long day for the Virginia Democrat. A dental appointment had unexpectedly turned into a three-hour ordeal, and he'd arrived at the conference a little "cotton-mouthed," as he put it. When he veered into a discussion about "a much more aggressive way to upscale people" through "an enormous number of intersection points," including "your relationship with that FinTech provider," it wasn't obvious exactly what Warner was after.
But the big picture was clear enough. The government needed to "encourage innovation." Entrepreneurs had to be thinking about a "portable benefits system," about emergency funding to help people meet unexpected expenses. It was time to get past the same old debates about government and regulation. This was about change. It was about progress. Warner had seen the future.
A year later, that tomorrow has arrived. And the grand financial technology breakthrough, it turns out, is to help payday lenders sidestep basic consumer protection laws.
In late July, Warner introduced the ingeniously titled "Protecting Consumers' Access to Credit Act of 2017." The legislation would allow payday lenders to ignore state interest rate caps on consumer loans as long as they partnered with a national bank.
Although it has been generally overlooked amid the GOP's stumbling attempt to repeal Obamacare and its aggressive plan to slash taxes for Wall Street, Warner's little bill has a much better chance of making it into law than the Republican Party's marquee efforts. Companion legislation is scheduled for a vote in the House Financial Services Committee on Tuesday, where the bill has the backing of archconservative Rep. Patrick McHenry (R-N.C.) and Reps. Greg Meeks (D-N.Y.) and Gwen Moore (D-Wis.), liberal Democrats with a history of sympathy for the financial industry. Warner's Senate version is co-sponsored by tea party darling Sen. Pat Toomey (R-Pa.) and Sen. Gary Peters (D-Mich.).
Warner's bill has drawn opposition from consumer groups including Americans for Financial Reform, the Center for Responsible Lending and the Consumer Federation of America, along with civil rights organizations including the NAACP and the Southern Poverty Law Center.
In September, the groups wrote a joint letter to every member of Congress urging them to oppose the legislation, saying it "wipes away the strongest available tool against predatory lending practices" and will "open the floodgates to a wide range of predatory actors to make loans at 300% annual interest or higher."
Dozens of states regulate payday lending through usury caps ― blocking loans with annual interest rates higher than a certain amount, often 36 percent. Payday loans usually take the form of a two-week advance of a few hundred dollars with a "fee" of a few dozen dollars. In 2013, the Pew Charitable Trusts found that a typical payday loan was about $375, with a $55 fee. Since the life of the loan is so short, in just two weeks this "fee" works out to an annual interest rate of over 380 percent. In practice, though, it's usually much worse than that, since, according to Pew, a typical customer ends up repeatedly rolling over a payday loan, ultimately handing over about $520 in fees to pay off an initial $375 advance.
The Consumer Financial Protection Bureau has since approved standards curbing some of the worst abuses in the market, but many states remain justifiably concerned about this type of activity. Interest rate caps are a powerful tool applying to essentially all credit, not just payday loans. But national banks have a great deal of flexibility with these standards thanks to a court decision from the 1970s. They have to comply with the interest rate caps only in their home state ― not those of the state where the person receiving a loan lives. So payday lenders and other predatory operations sometimes ask banks in loosely regulated states to issue loans on their behalf. The payday lender quickly buys the loan after it is issued by the bank, allowing the bank to earn a commission for its service as a regulatory frontman. In 2015, a federal court prohibited this end-run around state laws in a few states. Warner's bill would essentially overturn the court decision and protect cross-state rent-a-bank schemes nationwide.
A Warner spokesperson defended the bill with a torrent of legalese. "The Second Circuit in Madden v. Midland upset well over a century of established practice when it limited national banks' ability to sell loans to purchasers in other states. President Obama's Solicitor General told the Supreme Court that he thought that the decision was 'incorrect,' and we've since seen evidence from accomplished academics that the decision has reduced access to credit for borrowers with lower credit scores. The Protecting Consumers' Access to Credit Act would restore long-standing legal precedent and encourage access to credit for low- and middle-income Americans, while preserving longstanding, existing rules that protect consumers from abusive payday lending. Moreover, national banks will still be required to abide by existing usury laws in their home states."
Silicon Valley has been toying with the high-interest consumer loan market for a few years. LendingClub, Prosper, LendUp and other FinTech companies have been billing themselves as hip, savvy alternatives to payday loans or pricey credit cards. They typically partner with a bank to avoid regulatory costs, and they are just as eager to bypass state usury laws as are their more notorious competitors. LendingClub, in particular, insists it will not be able to help people lower their credit card bills if it has to abide by state usury caps (banks that issue credit cards are mostly exempt from those laws, after all).
But some of these firms aren't much better than the garden-variety predatory lender over by the 7-Eleven. Last year the Consumer Financial Protection Bureau fined San Francisco-based LendUp for ripping off more than 50,000 customers.
In a statement provided to HuffPost, Meeks argued that the bill would actually prevent people from turning to online payday lenders. Which is true, since technically they'd be getting their payday loan from the bank.
"The bill would allow a third party to enforce the legal interest rate established between a bank and its customers ― it is not a backdoor for unscrupulous players as some suggest," Meeks argued in a statement provided to HuffPost. "Without access to these bank loans, consumers in New York will be pushed to higher cost alternative service providers including pawnshops, rent-to-own arrangements, and online payday lenders."
"We want to make sure that our constituents have adequate access to bank loans while helping the banking system defend itself from questionable products and services," Moore spokesman Eric Harris told HuffPost.
Support HuffPost
The Stakes Have Never Been Higher
Popular in the Community