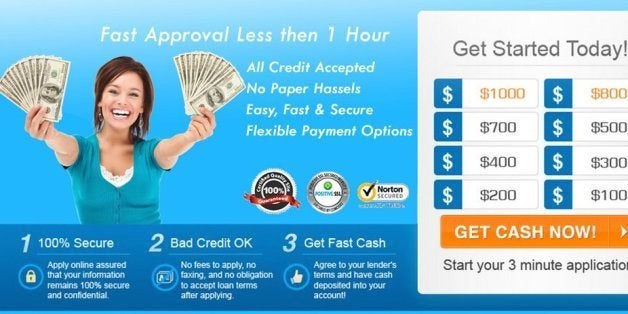 Borrowing from any payday lender can be a risky endeavor. Borrowing from one online can be downright perilous.
The pitfalls of borrowing from storefront payday lenders -- companies that offer short-term loans with high interest rates -- are already well-documented. Regulators and consumer groups have long warned such loans can trap people in vicious cycles of debt. Less is known about online payday lenders, which offer the same service with the added allure of the transaction happening completely on the Web.
Consumer groups say these types of lenders may be even riskier for struggling borrowers than brick-and-mortar lenders, leading consumers into even more hopeless financial quagmires.
"They loan to people not even caring whether they can pay the whole thing off," said Jay Speer, the executive director of the Virginia Poverty Law Center. "They just want a certain amount every couple weeks -- as much as they can beat out of you until you default."
Online lenders make up the fastest-growing segment of the payday loan market, according to Tom Feltner of the Consumer Federation of America, which does research and advocacy on a variety of consumer issues. Although online payday lenders make up only one-third of the payday lending market, their revenue tripled from $1.3 billion in 2006 to more than $4 billion in 2013, according to a recent study by the Pew Charitable Trusts.
People who borrow money from online lenders are about twice as likely to experience overdrafts on their bank accounts than those who borrow from a storefront lender, according to the Pew study. Borrowers also default more often when they get loans online rather than from a brick-and-mortar loan shop, the study said.
Regulators with the Consumer Financial Protection Bureau are writing the first federal rules for payday lenders, The Wall Street Journal reported earlier this week. Under the Dodd-Frank financial reform act, the CFPB has the authority to regulate payday lenders, whether they're based on Main Street or the Internet, and the agency's rules are expected to apply to Internet loan companies in addition to physical loan shops. The CFPB declined to comment for this article.
People who borrow money from online payday lenders are more likely to default than those who borrow from storefront payday lenders, according to a recent report from Pew Charitable Trusts.
Though there is not yet a federal law prohibiting the practice, states have historically regulated payday lending. In a payday loan shop, the business' state license is clearly on display. But on the Internet, it's harder to tell if a company has a state license. To find that out, consumers have to read the fine print on a lender's website. If they're not licensed, lenders may not be obeying the law.
"Borrowers online have a dizzying amount of choices for payday loans," said Feltner. "One of the biggest concerns is that those loans are not all regulated -- they don't always comply with consumer protection laws in the states where they operate."
The online lending industry says small-dollar loans can be helpful for people who don't qualify for traditional forms of credit.
"Since the financial crisis, banks have tightened their lending requirements," said Peter Barden, a spokesman for the Online Lenders Alliance, a lobbying group. "For consumers in need of a couple thousand dollars to make ends meet, they have nowhere else to go."
Payday loans, which are generally for small amounts of money (usually between $100 and $1,000), are designed to help people make it to their next paycheck. Most of the time, you don't need good credit to be approved for a loan: Lenders generally ask only for your Social Security number, employment information and a post-dated check, which they'll cash on your next payday. The loans come with high fees -- being charged $125 for a $500 loan is typical. Calculated annually, that works out to be a 652 annual percentage rate (APR).
Typically, you repay your loan on the following payday, with brick-and-mortar lenders usually cashing your post-dated check. Online, it's different: Most web-based lenders require borrowers to let them directly withdraw funds from their bank accounts. Sometimes, borrowers can refuse to give a loan company that access, choosing instead to secure the loan with a post-dated check. But that almost always means undergoing a more difficult application process and waiting longer to receive the loan.
It can be dangerous to give lenders permission to dip into your checking account every two weeks, said Lauren Saunders, the managing attorney at the National Consumer Law Center, a Boston-based nonprofit group. "When you authorize someone to make withdrawals like that, you're losing control of your bank account," she said. Once that happens, lenders can quickly suck you dry, leaving you with overdraft fees or without enough money to pay your bills or rent.
Sometimes, people find themselves taking out a second loan to pay off the first, and then a third to pay off the second. "It quickly spirals out of control," said Mark Taylor, a worker in rural western Virginia who knows the dangers of online payday lenders better than many.
Taylor, 50, is a field service technician for a company that makes rescue chambers for coal mines. He took out an Internet loan in the summer of 2013, and quickly got up to his ears in debt.
Taylor said he needed the loan to help cover a $3,000 down payment to buy the land on which his mother lives. Taylor didn't have the money and worried that his lack of credit would keep him from being approved for a traditional loan from a bank.
Taylor went online and borrowed $1,000 from a lender called Silver Cloud Financial, Inc. It's a tribal lending entity owned and operated by the Habematolel Pomo of Upper Lake, a Native American tribe in rural northern California. Taylor said he only had to give Silver Cloud minimal information, including the name of his employer, how much he was paid, and his bank account number. He agreed to let Silver Cloud make automatic withdrawals from his bank account on payday every two weeks to cover interest and fees for the loan.
Shortly after applying for the loan, Taylor saw the funds appear in his account. Although the cash advance helped Taylor buy the land, it came with a 705 percent annualized interest rate. Over the course of 10 months, Taylor would have to pay an extra $3,150 on top of the $1,000 he'd borrowed.
Although Taylor works full time and makes a $48,000 yearly salary, he found it impossible to keep up with the payments and still have money left over for living expenses. Afraid of what might happen if he defaulted on the loan, Taylor went online and borrowed more money, from a different payday lender. When he couldn't pay off the second loan, Taylor took out a third. And then a fourth, and then, finally, in October 2014, a fifth.
The loan companies were taking Taylor's entire paycheck every two weeks, Taylor said, and he started working odd jobs to make extra money. He even had to write bad checks to buy groceries for himself and his mother.
Still, it was impossible to stay on top of the payments. Taylor was searching for a consolidated loan to pay off his debts when he stumbled across the Virginia Poverty Law Center, which offers free legal services to low-income state residents. The center told Taylor that the types of loans he had been given were illegal in Virginia, where state law says Internet payday lenders can't charge more than 12 percent annual interest without a license.
A lawyer for Silver Cloud Financial, which gave Taylor the first loan, said that the transaction did not break any laws. The lawyer, Robert Rosette, told HuffPost that Taylor's loan originated on tribal lands and not in Virginia, and therefore was not subject to Virginia state law.
In a statement to HuffPost, Silver Cloud said it was a legal, licensed and regulated entity that follows all federal laws. The lender operates under sovereign tribal law, it said, adding that Native American sovereignty "predates the founding of the United States, is enshrined in the United States Constitution, and is further codified through federal statutes and hundreds of years of judicial precedent."
Some consumer attorneys have argued that even lenders based on tribal lands cannot flout state law. The legality of the issue still appears unsettled, with legal battles currently being waged over this very question in several states. Regulators in Connecticut on Tuesday fined the head of Oklahoma's Otoe-Missouria tribe, John Shotton, and two payday loan companies the tribe owns a total of $1.5 million for making payday loans to Connecticut residents, according to Bloomberg News. The Otoe-Missouria maintains it has a legal right to lend in states where payday lending is illegal because it follows federal and tribal laws.
Payday lending isn't outright illegal in Virginia, but it is in other states. A total of 15 states and Washington, D.C., have enacted interest rate caps that effectively outlaw any kind of payday lending, whether it's from storefronts or online companies, according to the Center for Responsible Lending, a consumer advocacy group based in Durham, North Carolina.
Still, even in those states, consumers can access digital lenders. Many of these companies claim that because they operate online, state law doesn't apply to them. As with the tribal lands issue, this question is still open to debate.
"In that regard, the law is ambiguous," said Barden of the Online Lending Alliance. Most of the trade group's members don't loan in states that prohibit it, he said, but the Alliance "doesn't take a position" on whether or not the practice is illegal.
Though no federal law prohibits payday lending, some restrictions do exist. The Electronic Fund Transfer Act, for example, prohibits lenders from only allowing consumers to repay loans through recurring electronic payments -- something that payday lenders do regularly, consumer advocates say.
Additionally, guidance issued by the Federal Deposit Insurance Corporation in 2005 says that payday loans should not be made to anyone who has already been in debt from a payday loan for three months or more of the previous year. But the agency's guidelines don't have the effect of law and only apply to FDIC-supervised banks.
As with any online transaction, consumers should do their homework to make sure the lender is reputable, Barden said, adding that "a few idiot lenders" are giving a bad name to the industry.
For Taylor, the field service technician in Virginia who now owes about $20,000 to online payday lenders, there has been some relief. Last month, acting on advice from Speer, the executive director of the Virginia Poverty Law Center, Taylor asked his bank to stop allowing the lenders to make withdrawals from his checking account.
Perhaps predictably, the companies that lent him the money aren't happy. Some of them have begun hounding Taylor with phone calls. Meanwhile, his debt is rising fast, growing higher every two weeks. Finally, the debts have ruined Taylor's credit, which he says will cause him to pay more for insurance and for his cell phone.
He says he feels guilty that he wasn't able to pay back the loans. "These people did give me money. It ain't their fault I couldn't manage it," he said.
But he says the same thing that happened to him could happen to anyone. "The payments are so high [for these types of loans], there's no way anyone could honestly pay them. And anybody that don't make a whole lot of money, it's gonna do them the same way. So they really shouldn't even be offered."
If you have a personal story about borrowing money online, The Huffington Post wants to hear from you. Contact Hunter Stuart at hunter@huffingtonpost.com or 212-402-7149.
Update, January 21, 2015: Lisa McGreevy, CEO of the Online Lenders Alliance, emailed HuffPost an extensive response to this article. She reiterated the stance of the OLA representative in the story, that state laws about online lending are unclear and that most online lenders don't operate in states "where jurisdiction is in question." Among her other points:
"The article relies heavily on a Pew Charitable Trust study regarding online and storefront lending that is based on research conducted in 2011, which preceded changes by many online lenders in response to industry guidance from the FTC. In short, the study does not reflect how legitimate online lenders conduct business today. ... We do, however, agree with a number of the conclusions in the Pew report, including the need for more fraud protection and strong, clear federal guidelines for small-dollar loans. ...
"OLA and its members abide by a strict set of industry best practices that Pew referenced positively in its study. ... OLA companies use sophisticated underwriting analytics to ensure customers are willing and able to repay. Defaults aren't good for the lender or the consumer. ... OLA has a fraud prevention and identification program that works with the FTC to shut down [fraudulent lenders].... OLA's newly launched 'Look for the Seal' education campaign encourages consumers to 'know before they owe' and only work with responsible, legitimate online lenders."
Related
Popular in the Community