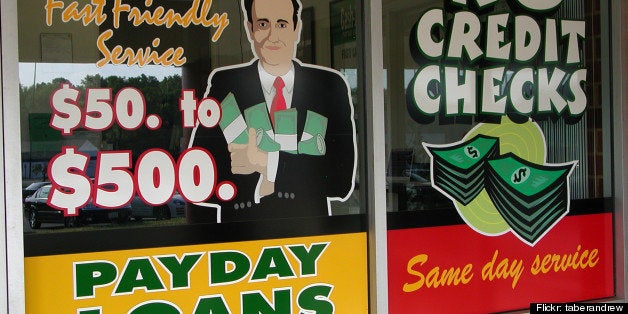 According to the report, 7 out of 10 borrowers use payday loans -- typically short-term, high-interest cash advances -- to make payments on recurring bills, including utilities, car payments, food, rent and mortgage payments. This is contrary to the typical marketing from payday lenders, who often pitch the loans as quick cash for a onetime cash crunch.
The report surveyed more than 33,000 adults, examining who uses such loans and for what purpose. According to the report's demographic data, the typical borrower tends to be 25 to 49 years old and has a household income below $40,000. Those making from $15,000 to $25,000 are most likely to use payday loans. Just more than 5 percent of Americans -- about 12 million people -- have used a payday loan in the past year, the report said.
Pew's survey also revealed just how the fees and interest payments can add up to be astronomical. On average, borrowers shelled out nearly $900, including interest, fees and principal, for a loan of $375. These figures indicate how much borrowing costs balloon when a customer cannot pay off an initial loan in a lump sum. Instead, many borrowers renew a single loan multiple times -- and that can lead to five months of debt on average, the report said.
The structure and costs of these small-dollar loans vary widely from lender to lender and from state to state, with interest rates ranging from those similar to what's charged for credit card borrowing (about 15 percent) to the equivalent of more than 400 percent. Twenty-eight states allow storefront payday lenders, while 14 states and Washington, D.C., have restrictions on the loan shops. Eight states allow storefront lenders but have stricter guidelines for fees and interest rates.
Consumer advocates are highly critical of the payday lending industry because its profits rely on the extension of loans for a fee, which means there is little incentive for lenders to help desperate borrowers trying to climb out of debt.
See a chart showing the income distribution of payday loan customers.

Popular in the Community