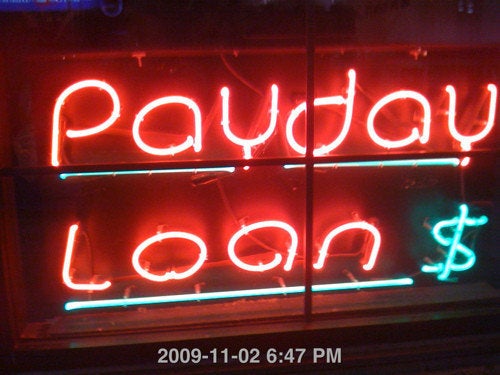 This article has been updated
WASHINGTON -- The Chairman of the nation's largest payday lending outifit is making the rounds in the nation's capital to praise consumer advocate Elizabeth Warren and the new Bureau of Consumer Financial Protection (CFPB). The mini-press-junket is part of a concerted lobbying effort from payday loan giant Advance America aimed at pushing the CFPB to crack down on the overdraft fees charged by mainstream banks like Wells Fargo and Bank of America, to the benefit of payday lenders.
Overdraft fees and payday loans are widely reviled by consumer advocates, who view both as unfair and deceptive products that directly target the poor. But they are also big business -- both overdrafts and payday lending represent multi-billion-dollar markets. They also directly compete with each other: Every payday loan customer could be padding bank profits by overdrawing, and vice versa.
Warren is charged with setting up the new Consumer Financial Protection Bureau, but she is not formally director of the nascent agency. President Obama must put a formal CFPB director in charge by July 21 or the bureau will lose authority over payday lenders and other "nonbank" financial operators, like mortgage brokers and check-cashing firms.
With that deadline fast approaching, Advance America Chairman Billy Webster is doing everything he can to make sure that whoever gets the top CFPB job will steer consumers who need quick cash away from overdraft fees and into payday loans.
"People . . . might think we're opposed to CFPB, and we're not," Webster told The Huffington Post.
Webster explicitly praised Warren's background and said she would make a good candidate for the CFPB Director position. Independent Community Bankers Association President Cam Fine made similar comments last week.
"I like Elizabeth Warren," Webster said. "She's got incredibly relevant life experience for this job: She comes from a working middle-class family, she knows how working middle-class families think and what pressures they're under. That's good."
Webster says Advance America supports CFBP because the agency could fairly evaluate payday lenders' and big banks' products to the benefit of consumers.
"We think that, as Elizabeth Warren has talked about, we should evaluate all these nonbank lenders on criteria around transparency, disclosure, understandability to the consumer, hidden fees. We think those are right criteria to evaluate all the products," he said.
Webster objects to criticism of payday loans' high annual percentage rate (APR), noting that competing products offered by big banks are not subject to the same analysis.
A typical Advance America loan, Webster says, amounts to $300, with $45 in fees. That amount must be repaid within 18 days, resulting in an APR of over 300 percent -- far above the 36 percent maximum that consumer advocates cite as a fair.
Webster says banks have only avoided scrutiny for overdraft programs because overdraft costs are measured in one-time fees rather than APR. But Webster pointed to a recent report from the Pew Charitable Trusts which finds the equivalent APR on the average overdraft fee to be more than 5,000 percent.
Susan Weinstock, project director Pew Charitable Trusts' Safe Checking in the Electronic Age program, said Webster is taking the wrong lesson from the report. She said both payday loans and overdraft fees are predatory.
"5,000 percent interest is too high and so is 400 percent interest," Weinstock told HuffPost. "We want to see financial products that minimize risk, that are transparent, that are safe. It's like curing obesity -- do you feed them cake or do you feed them cookies? Neither of them are going to get you any better. Let's feed people fruits and vegetables."
Other consumer advocates agree.
Choosing between overdraft fees and payday loans is "a false choice," said Kathleen Day, spokesperson for the Center for Responsible Lending. "Both are abusive. These are abusive products. We don't think consumers should have to choose between two abusive products."
Instead, "people should be given reasonably priced overdraft products, and payday lending should be limited to 36 percent APR," she said.
Webster says bank customers who overdraw their accounts do so an average of 14 times a year, but a March report from CRL finds that payday loans are "designed to to keep [borrowers] indebted for extended periods." The report calls this a "treadmill of debt" that results in much higher costs than Advance America's $45 fee.
According to the report, payday loan recipients are indebted to payday lenders for an average of 212 days during the first year after they take out their first payday loan -- the same loan which Advance America touts as an 18-day debt. Borrowers routinely "roll over" their first payday loan into another larger loan when they find themselves unable to pay off the initial loan. A full 44 percent of borrowers in the CRL study defaulted on their payday obligations within two years of taking out their first payday loan.
Every major U.S. bank offers some form of overdraft "protection," which adds up to big money for those banks. According to financial research firm Moeb's Services, banks accrued $36.5 billion in overdraft fees in 2010. The entire banking industry's 2010 profit was $87.5 billion, according to the FDIC.
Big banks say their overdraft profits are fair, pointing to a recent federal regulation that requires customers to "opt in" to overdraft programs, rather than being automatically enrolled without explicit consent.
A Wells Fargo spokesperson noted that the company lost $270 million in revenue during the fourth quarter of 2010 alone, thanks to the new rules, and expects to lose $215 million to $240 million each quarter of 2011. The spokesperson said Wells Fargo now offers a "protection" service that links a customer's checking accounts to a savings account, rendering a fee of just $12.50 in the event of an overdraft. But traditional overdraft fees run $35 per charge, and Wells allows up to four overdrafts per day -- up to $140.
A Bank of America spokesperson said the bank no longer permits overdrafts for in-store purchases, limiting them to ATMs in an effort to eliminate "unwanted" overdrafts. The bank does not disclose its overdraft revenue, but the spokesperson said it anticipates a negative impact on earnings from the new policy.
CFPB declined to comment for this article.
This article incorrectly identified Billy Webster as CEO of Advance America. He is Chairman. The article has been updated with the correct information.