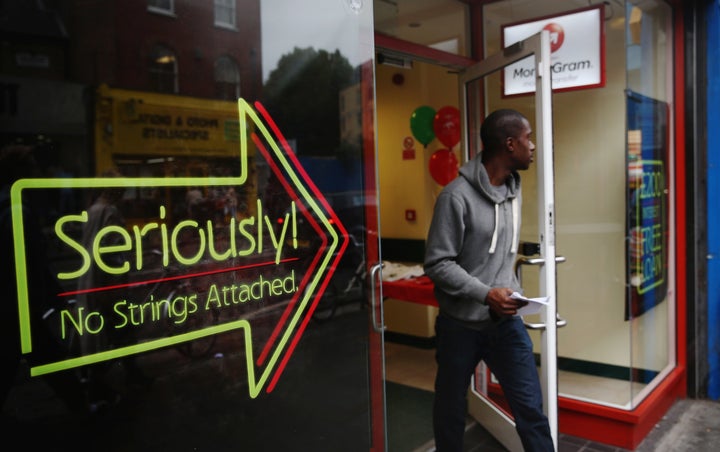 Happy payday loan customers are all alike, it seems.
Hundreds of individually submitted comments to a federal regulator praising the payday loan industry contain identical phrases, like "It was a very efficient process and definitely the most reasonable option for me."
That phrase appeared in 18 separate, supposedly legitimate and unique online customer comments. Forty-nine customers somehow ending up independently writing messages containing these exact two sentences: "To avoid bouncing a check, I turned to a loan to help pay some bills. I found that it was a great choice for me and I was able to pay my power bill on time and without penalty."
In total, more than 220 of the comments submitted to the Consumer Financial Protection Bureau ― regarding the agency's proposal to crack down on payday loans ― use many of the same sentences, according to an analysis conducted by Allied Progress, a nonprofit focused on the influence of special interests.
The group sent a letter to the CFPB outlining its findings on Monday, noting it had not analyzed every comment submitted. More thorough analysis, it said, would likely turn up more strangely similar comments.
In June, the Consumer Financial Protection Bureau proposed the first federal rules targeting payday loans and other high-interest consumer financial products. As a required part of the rule-making process, the agency is accepting comments from individuals, the industry and advocacy organizations until Oct. 7.
Of course, form letter writing campaigns, petitions and coordinated messaging from interest groups is nothing out of the ordinary in the federal rule-making process. Groups across the ideological spectrum employ these tactics to argue that their views represent the wishes of masses of ordinary Americans.
While it's unclear who is responsible for the similar online messages, it has been previously reported that the payday loan industry wanted to try to fill regulators' inboxes with pro-industry customer comments. In August, the Cleveland Plain Dealer's Stephen Koff reported that payday lenders were getting borrowers to write to regulators praising the industry and warning that regulation would restrict their access to credit.
What makes this far different from run-of-the-mill astroturfing is the possibility that borrowers were coerced into writing pro-industry letters as a condition of getting a loan or might have thought that was the case. (The industry told Koff this was not the case.)
And Dave Dayen reported for Vice that industry leaders discussed plans to inundate regulators by having borrowers write letters praising the industry at the same time they were taking out a loan. In that case, there were talking points for the letters.
Particularly relevant is Dayen's report that a corporate lawyer boasted his firm had three full-time writers to help with the effort.
CORRECTION: A previous version of this story misstated that the CFPB is accepting comments until Nov. 7. It's accepting comments until Oct. 7.
Popular in the Community