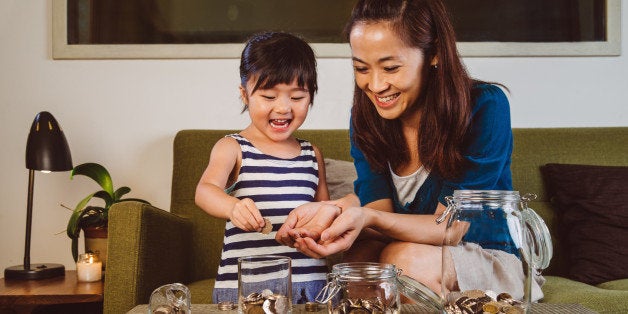 When it comes to measuring a woman's health, we often do so with numerical indicators that fit nicely into a medical chart like the numbers that correspond with our age, weight, blood pressure, or cholesterol level. While these measurements are certainly relevant to our overall health and are easy to determine, they fail to paint a comprehensive picture of a woman's health and wellbeing. Many other numbers like income, paid days off, an address or zip code are just as important, if not more important, and are often excluded from discussions about a woman's overall health. As we celebrate National Women's Health Week, I'm challenging us to think about some of the "other numbers" that matter and determine whether a woman is able to reach her optimal health and wellbeing.
How Much a Woman Earns: Women with lower incomes have less access to health care and are more likely to have high blood pressure, diabetes, are more likely to be obese, and have higher rates of self-reported poor health as compared to women with higher incomes. Lower income women have reduced access to stable housing, leading to geographic restrictions that limit their access to educational opportunities, health care services, healthy food, and a clean environment. A higher income is also associated with a higher level of physical safety, as women living in poverty are more likely to be survivors of domestic violence and less able to escape abusive situations because of a lack of resources.

The Spacing of a Woman's Pregnancies: One key factor for both maternal and newborn health is the amount of time between the birth of one child and a woman's next pregnancy. Studies show that closely spaced pregnancies (less than 18 months) don't give a mother enough time to recover from the physical stress of pregnancy, increasing the likelihood of bleeding during pregnancy, premature placental rupture, and maternal death. Newborns of pregnancies not spaced at least 18 months from a previous birth experience additional risks such as delayed prenatal care, premature birth, low birthweight, and neonatal mortality.
A Woman's Address: Women who frequently move residences have more difficulty accessing health care and social services. Accessing these services is critical for women who suffer from chronic illnesses and need to have consistent access to care in order to effectively treat their conditions. Additionally, housing instability is particularly important for domestic violence survivors who without stable, safe housing for themselves and their children, experience consistent threats to their personal safety, undermining their physical, mental, and financial well-being.
Number of Paid Days off Work: Women, many of whom serve as bread-winners for their families, are often trying to balance work, childcare, eldercare, and other responsibilities. Women increasingly need to take time off around the birth or adoption of a child, for their own medical needs, or when a family member becomes ill. Yet only 53% of workers report being able to take some type of paid leave for their own illness and only 39% report being able to take some type of paid family leave for the birth of a child. A 2012 survey by the Department of Labor found that nearly one in four women who took leave to care for a new baby took only two weeks or fewer and about half of those women were back to work in under a week.
We should never deny the importance of obesity, cancer, or cardiovascular health in the broader context of women's health issues, and I'm not suggesting we downplay the importance of many of the physical health characteristics that we often focus on during National Women's Health Week. However, let's broaden our research and efforts to examine the other indicators that ultimately help or hinder a woman's ability to raise the status of her physical, mental, and financial health.
While we must continue to track and monitor the "traditional numbers" found in a woman's medical chart, let's challenge ourselves and our policy makers to examine the numerous "other numbers" that matter to women. Let's take time to think about the important social determinants, systems, and environments that frequently prevent women from achieving their greatest health outcomes. In addition to the amazing women's health education and direct health care service initiatives, let us also lift up the policy solutions available to improve the numerical values associated with how much a woman earns, where she calls home, her ability to care for herself or a loved one, and her ability to plan and space her family.
Related
Popular in the Community