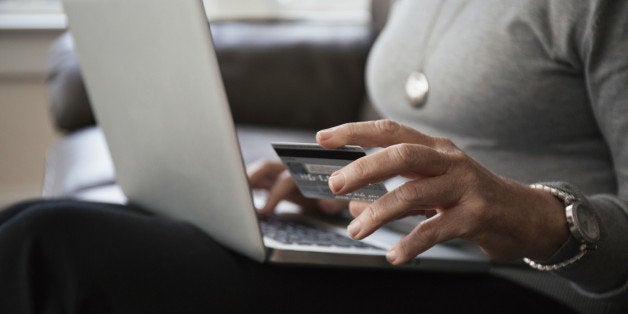 "In a sluggish economy, never, ever f*** with another man's livelihood." - Risky Business
As a sex worker, I hear "why don't you leave the industry?" all the time. We all do -- it's one of the big questions I see Duke student and porn performer Belle Knox fighting off too. I've been in the industry for about 10 years, so I've had a lot of time to think about the answer. For me, becoming a sex worker was part survival and part career path, as I had been working three jobs at a mall for very little and knew it wasn't sustainable. I brainstormed how I'd transition from one aspect to another, taught myself marketing strategies, learned how to best utilize social media in order to connect to clients. I expected that I would stay in the industry for quite a while, either as a worker or an organizer. I enjoyed my work (most of the time), speaking publicly and without shame about it at universities, on television, online and over the airwaves. As an Internet-savvy professional, I blogged regularly, used online advertising and branded myself on social media. All publicity is good publicity, right? And I could always write about my experiences.
I discovered that leaving the sex industry was far easier said than done. I spoke to faith-based organization Solace SF about options. I had encountered them multiple times and they seemed friendly and not too pushy. Many groups that focus on the intersection of sex work and religion (or sex work and radical feminism) talk constantly about how much they want women to leave the industry, how it drains us, how it mistreats us. I didn't feel mistreated myself, but I was exhausted and ready to leave the adult industry behind. Solace promised to help me with my resume, get me interview clothes, advise me on applying for jobs when my primary work was adult in nature. Ten years is a long time to have a gap in a resume, after all!
A representative from Solace told me that I had two choices -- work as a freelancer, continue to hustle and don't worry about my history... or say goodbye to Kitty Stryker, delete everything related to that name and try to wipe the slate clean. I sat with that for a while, turning over in my head how it would feel to delete a persona I spent 10 years creating, honing, perfecting. I would lose all my contacts, lose all the work I had done in media. I couldn't tell prospective employers about speaking at South By Southwest if I distanced myself from this persona, because I had done a presentation on sex work under that identity. I considered it, but ultimately decided I'd rather take my chances and get whatever help I could without destroying my past like I was ashamed of it. But the help never came, and I discovered that Solace had fallen apart with rumors of fraud following in its wake. I can't say I was altogether surprised. All I had gotten in the end were cupcakes and the very occasional gift card for Safeway, nothing to help me move forward and start a new job.
And people wonder why sex workers don't trust the organizations available to "help" them.
Even if that help had panned out I was (and still am) somewhat conflicted about whether or not I want to leave the sex industry. I know I don't have the energy for it anymore on the one hand, but I don't know if I can get started anywhere else. I was outed under my legal name for a piece I wrote about Porn Wikileaks, so it's not easy, but is possible to link my legal name to my adult one. If an employer Googles my name, they'll find my "sordid past" and then will it matter how many Twitter followers I have or the success of my blog? Even if hired, I could be subsequently fired for having been in porn or written about dildos. What do you do when your brand is adult-based and all your best connections, writing and media appearances relate not to SEO, but SEX?
I'm a fighter, though, so I decided to try working independently, first as a marketing manager (sex work teaches you a lot about social media and branding) and later as a writer. I found Patreon, a service that allowed content creators to gather patrons who could pay for your art on a subscription basis. Knowing that crowdsourcing was unfriendly to sex workers and needing a sustainable option, I started up a Patreon account, making sure the content I posted followed their guidelines. It encouraged me to work harder on my writing, and was, for the first time, a viable alternative to sex work. It was great for the first few months. I funded a business trip to the upcoming Feminist Porn Conference in part because of the financial assistance Patreon provided, where I'd be speaking on porn and privacy.
Then I got an email from Patreon, saying that the payment processor PayPal had threatened to shut down all integration with their site because of "adult content." The email stated, "as you can imagine, this would be detrimental to creators -- hundreds of thousands of dollars were to be "frozen" unless we flagged all adult content pages, made them private and removed PayPal functionality from their individual pages... I'm so sorry that we had to do this without warning you first, but it was SUCH an emergency! We simply had to take action to avoid a situation where creators would lose hundreds of thousands of dollars of legitimate pledges." Patreon emailed all of our patrons to warn them, and suggested we also email them to ensure payments went through as usual at the beginning of April. They worked around the clock responding to my panicked emails. While Patreon was open to artists creating work that was adult in nature, their hands were tied. And not in a kinky way.
This was not my first clash with PayPal or similar service WePay, of course. As I've discovered by seeking out stories on Twitter and Facebook, if you have anything to do with sex in some capacity and have tried to use an online payment processor, you'll have had a run-in with one of them freezing your account, returning donations in best case scenarios and just taking it in the worst cases. As the organizer of an event with burlesque, I once had my account frozen for a week, losing vital time to purchase supplies, and I had to submit via email all sorts of information to "prove" I was legit (meaning, of course, not a sex worker). Companies like PayPal or WePay will Google people they deem suspicious and then take the money out of their accounts if they decide it's "adult" without ever clearly defining what that means. Like obscenity, the rule seems to be "we'll know it when we see it".
Of course, it's not just me. Andre Shakti found herself in similarly hot water in March for crowdfunding travel costs using Fundly to make it to the Feminist Porn Awards and Conference. While her offered perks followed Fundly's terms, WePay, the payment processor they used, shut down her account because they were "adult," causing the Sex Workers Outreach Project to write to Fundly encouraging them to stop using WePay and actually do what their tagline says... "raise money for anything". Or there was Maggie Mayhem, a porn performer, tried to raise money for going to Haiti to do relief work using PayPal, and, despite the fact her fundraising had nothing to do with porn, she found her account shut down. Michelle Austin, another porn performer, had accounts at both companies shut down at different times -- WePay did because her company was "linked to an adult company" (which can mean anything from linking to an adult company to having adult content show up in a Google search). She thinks PayPal shut down her donations simply because there was a porn shoot on her personal blog. Makes me wonder how many Tumblrs asking for donations for medical care get their accounts shut down for that reason?
PayPal and WePay are not required to give answers as to why they freeze or shut down accounts, but often all that's required is the history (or even the suspicion) of sex work. It's not just them, either -- Amazon Payments joined the list when Polly Whittaker raised money to fund publishing her memoirs of her experiences with sex culture, but when it came to cash out, Amazon decided her memoirs were too sexual in nature. Google Wallet has had similar issues for those looking to receive payment for handmade BDSM toys. And Square has banned Courtney Trouble for life, even though they were using it for non-porn purposes, because their Google search uncovered that Courtney is a porn producer.
Why do these payment processors have such a strict policy on adult performers, so strict that having worked in the industry means you could find yourself banned for life? I looked into this somewhat and found many such companies claiming that statistically, adult companies were more likely to be high risk for chargebacks (when someone buys the content, often downloading what they want and then calling the company to report fraud). However, I couldn't actually find these supposed statistics.
Instead, I discovered indie porn site owners saying their chargeback percentages were low enough to not warrant calling them high risk, and arguments about what constituted pornography (considered a "risky" investment) versus adult content (not necessarily deemed "risky" but a gray enough area to make enforcement completely arbitrary). I also discovered other types of business often considered at risk for chargebacks (travel, computer services, sorcery!). I spoke to someone who works in PayPal's fraud department, and he said that 90% of the cases he had deal with digital goods, as people could get the item or service immediately, and there's no traceable trail. But it's adult companies that get this treatment, time and time again. These businesses aren't targeted the way adult performers are. While current indie developers have had their accounts frozen, I haven't seen a situation yet where someone *used* to be an indie dev or had links in their sidebar for games they had made, and because of that they got their account shut down when they tried to crowdfund going to SXSW.
Also interesting is that being associated in any way with adult services or performers does not seem to be enforced across the board. Multiple erotica sites dealt with PayPal, telling them that "morally objectionable" content wasn't allowed... including books with BDSM content (they later sort of backed down from this, though it still seems to be case by case). Vicki Gallas, a former escort, was banned from using PayPal to process payments for her memoirs, because they included sex work. Seattle Erotic Art Festival had their account frozen even though they only used the service to process fine art submission fees. The SF Citadel, a BDSM community space in San Francisco, had no issues with WePay, though, though they've since stopped using it out of solidarity. SWAAY, a sex worker community project, accepts PayPal. It seems like what counts as "adult" shifts drastically and is impossible to anticipate.
Particularly interesting is that PayPal really got its start, not only through online auctions like eBay, but adult websites and online gambling. Both are things they now refuse to have anything to do with, even though porn sites and online casinos helped rocket PayPal to the popularity it enjoys today. In 2003, citing high fraud rates, Paypal stopped accepting adult transactions or gambling ones, offering instead to monitor user transactions and report potentially illegal activities.
Our economy is pretty terrible right now. When jobs are difficult to come by, people are starting small businesses out of their home, selling stuff on eBay, making mobile apps, crafting things to sell on Etsy. And, of course, more and more people are trying their hand at something in the adult entertainment arena to help them get by - perhaps camming here, maybe doing a porn there, possibly stripping or selling their dirty socks. College is expensive. Rent is rising in many major cities. Sex work can be and is a ticket out of debt for many people.
Yet, we live in a culture that brands us permanently for dipping a toe into sex work while simultaneously insisting sex workers should leave the industry and do other work. The subsequent shaming becomes a double-edged weapon. With PayPal and WePay controlling most of the online payment market, banning sex workers past or present from using either can mean that any other sort of small business idea is made impossible for us. I may want to stop doing sex work and write instead, but if I can't process online payments because of having an adult history, and companies won't hire me because they can Google my sex work history, I'm stuck in the business, whether I like it or not.
Interestingly, as faith in PayPal and WePay falls, companies like Verotel are moving forward, accepting Bitcoin as a possible alternative form of online payment for adult companies. Perhaps Bitcoin and other similar payment systems outside of the Visa/Mastercard monopoly is the way of the future for those on the margins when companies like PayPal or WePay can steal unfettered from marginalized populations.
But, until we can use Bitcoin to pay rent and buy groceries, the only payment sex workers can count on is the anonymity of cash in hand, and as long as that's true, that scarlet letter makes it hard to leave the industry. When payment processors can dictate morality, that's a scary road to walk down. I've felt sharply the need for society to stand with me, with all sex workers, to recognize that sex work is, in fact, work... and that staying employed during hard times is a sign of our resourcefulness in the face of a hostile world. Sex workers learn how to use tech as a survival strategy -- we're the CEO, CFO, marketing director, PR department and human resources, all on our own. I don't know a company alive that couldn't use that skill set in an unsteady economy.
In case you were wondering, my Patreon patrons all switched over and rent got paid. Guess PayPal just lost out on the fees for all those transactions.
I hope it was worth it for them.
Support HuffPost
The Stakes Have Never Been Higher
Related
Popular in the Community