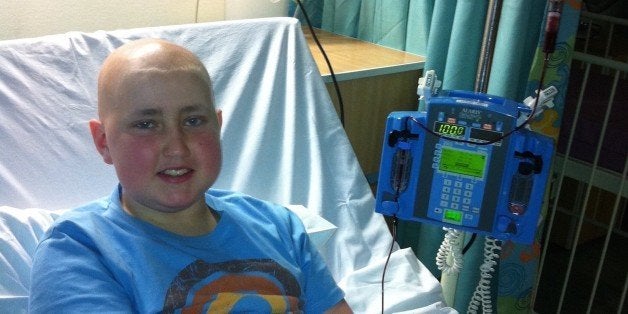 I'm 17, and I'm paying for my bone marrow transplant. Here's why.
I remember being 13 and getting ready to go back to school after the summer holidays. I'd played a lot of cricket and my junior football season had kicked off when I started to feel unwell.
I was fit -- I usually played lots of sport, but I just didn't have any energy. My mum wasn't convinced it was the usual teenage boy lethargy that has a tendency to creep on at that age -- she thought something wasn't 'quite right' and took me to the GP. I had a blood test and the local hospital contacted me within hours and called me straight in. It was weird. I should have been at school starting Year 9 and playing rugby with all my school friends, but instead I was being transferred to Sheffield Children's Hospital.
It felt like things were more serious than I originally thought.
The next day, after some painful bone marrow and spinal fluid tests, I was told the devastating news. I had a rare form of Leukaemia (AML). I was told about the chemo I would have to have, and all the side effects I would inevitably have to go through: sickness, hair loss, tiredness, bleeding, bruising and isolation.
My immune system would get so low that there would be times when I wouldn't be able to see anyone except the doctors and my family because of the risk of catching infection.
The hospital was old and the wards were too small and noisy. On one side of me, my mum was asleep on a camp bed, and on the other, a poorly baby crying, with their mum on a camp bed too, for weeks on end. The nurses had no room to work, there were machines bleeping all the time, there was no privacy and lots and lots of sick.
When my mum and dad told our friends and family the news about my Leukaemia they were really shocked, but most people just wanted to help. Friends ironed my brother's school shirts for us, sent meals for my dad and my brother when my mum was staying in hospital with me, and made me cakes to cheer me up. My brother also set up an online donations page and soon quite a bit of money started to come in.
I needed a lot of blood transfusions during my treatment. So when more and more people asked what they could do to help I started to say, "Well, you could become a blood donor," because I wanted to help out those who were helping me -- the doctors, the nurses.
The doctors and nurses at Sheffield Children's Hospital were amazing. They explained everything to me about my treatment. They even managed to organise for me to have some chemo at home so that I didn't have to be in hospital on my 14th birthday.
My doctor, Professor Vora, is a world expert in Children's Leukaemia. I felt really lucky to be in a hospital in Sheffield being looked after by a professor and his team.
While I was undertaking my third course of chemo, Professor Vora went to a conference in London and came back with the news that for my specific type of Leukaemia, research had shown the best plan would be to have a bone marrow transplant to try and stop the Leukaemia from coming back.
My heart sank as the Professor explained about how the transplant could feel even worse than chemo and that there was a great number of days I'd have to spend in an isolation room to protect me from infections.
One day, after the news had sunk in a bit, I asked Julie, my bone marrow transplant specialist nurse, how much a bone marrow transplant would cost the NHS.
"About £150,000," was the answer. And then, I suddenly had my answer to how people could help me. I wanted to pay back the hospital for my treatment and to make the hospital better for future patients.
I want to help redevelop the Cancer Ward at Sheffield Children's Hospital, so more teenagers can have a better, more comfortable experience.
I want to make the hospital a better place for patients and their families. There needs to be spaces for babies, for children (and for teenagers too) and more modern facilities for the amazing doctors and nurses to be able to treat their patients better.
I want to fund research on childhood Leukaemia so that Professor Vora can help more children. Research gives hope to patients and their families. It helps find better treatments with fewer side effects and, maybe one day, will help find a cure.
I'm now 17, and I'm now in remission. I've done my GCSE's, (seven A's and five B's), I'm doing my gold Duke of Edinburgh award and I'm in the 6th form at Lady Manners School doing four A levels. I play as much sport as I can; I love sport and I need to keep myself fit. I get involved with as many school activities as I can and play cricket and other sports out of school too.
My fundraising total now stands at £63,683.25, so I'm just under half way.
I am determined to get to my £150,000 target and #GivingTuesday is a perfect way to raise awareness of the wonderful care the NHS has given me.
I want to pay back this money to the Children's Hospital Charity to say thank you for saving my life.
This post is part of a series produced by The Huffington Post and the 92nd Street Y, founders of #GivingTuesday, a global day of giving that will take place this year on December 1. These stories highlight the work of organizations and people around the world who are committed to giving back and doing good this #GivingTuesday.
REAL LIFE. REAL NEWS. REAL VOICES.
Help us tell more of the stories that matter from voices that too often remain unheard.