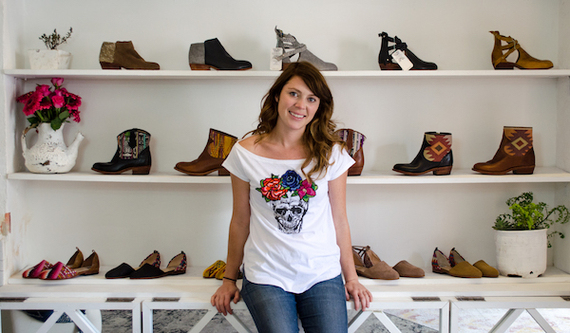 Britini Port is the founder of Uxibal, "a philanthropic lifestyle brand" located in Antigua, Guatemala. Port uses her own unique designs to create an empowering mission for the women of Guatemala. Uxibal is Mayan for "sister". Her business model is inspired by the desire to create products for women that in turn supports them with education and work experience.
Her passion for helping women in rural Guatemala began while working there in the Peace Corps in 2010. After seeing the struggles by many Guatemalan people, women in particular, she saw an opportunity to have a positive impact on their lives.
In 2012 she began designing shoes and partnered with a local boot-maker to create their first signature leather & textile boots. The handmade and traditional processes allow Uxibal to provide new opportunities for struggling artisans. The company is preserving traditional weaving patterns and in turn shares the Mayan culture with the world.
Uxibal's products are made with care in-house. The team uses sustainable fabrics that are handwoven by a team of female artisan weavers. Locally sourced materials ensure a high-quality finished product. In line with their mission to have a meaningful social impact in Guatemala, they have partnered with non-profit organizations they are proud to recognize and support.
A few words from Founder & Designer Britini Port:
What has been your biggest challenge in starting your own company?
One of our biggest challenges was accessing the quality materials we needed to create a superior product. We've become creative in figuring out ways to use local materials in different ways- one way we do this is in our packaging. Instead of importing shoe boxes from China, we use handwoven baskets made in Guatemala and recycled textile bags to pack our shoes. They are unique and reusable too!
What advice would you tell someone who was starting their own company, today?
As a business owner, there are many little things you have to think about on a day-to-day basis and it can be overwhelming. Setting short-term goals for your company is a good way to stay motivated and keep your team moving forward. There will always be more you can do. Take the time to celebrate your achievements along the way.
Who is your biggest role model?
I'm really inspired by the artisans I work with. Many of the women and men we employ come from backgrounds of extreme poverty, have little formal education, and often face discrimination in Guatemala because of their indigenous roots. What motivates me at the end of the day is seeing the passion in their work and their desire to create a better life for themselves and their families.