When it comes to saving money on auto insurance the best thing you can do is regularly shop for a better deal, but a new survey shows that many Americans don't do that and are subsequently losing out on hundreds of dollars in potential savings.
According to a January 2017 survey conducted by Princeton Survey Research Associates International and commissioned by insuranceQuotes, 39 percent of U.S. policyholders have never shopped their auto insurance for a better rate. What's more, nearly half are unaware that they can shop and change insurers at any time and don't have to wait for their next renewal date.
"Without question you should always shop for better deals on your auto insurance," says Florida-based financial consultant Mike Arman. "Insurance companies count on inertia, figuring most customers will think it's too much trouble to shop for a new policy. So many people just renew and renew and renew, missing out on possible savings."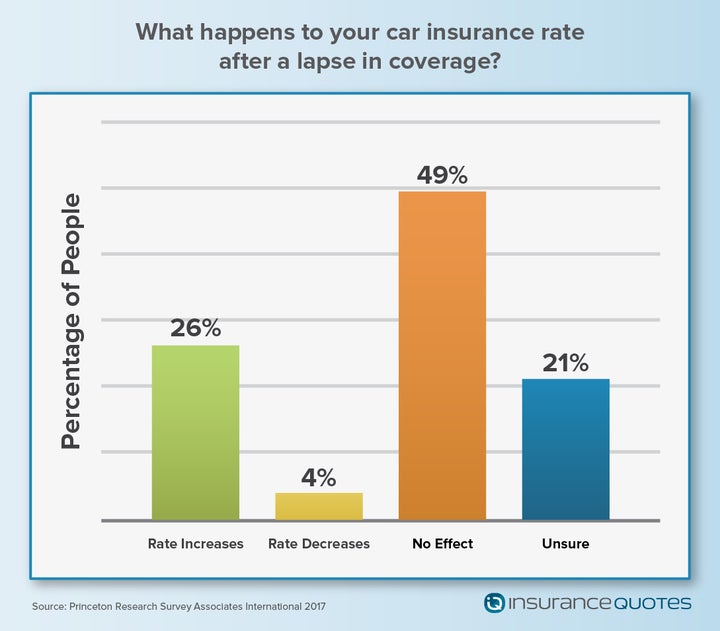 The survey would suggest this is accurate, as many Americans have remained with the same auto insurance company for long stretches of time. Twenty-one percent of respondents said they've had the same insurer for six to 10 years, and 8 percent said they haven't switched companies for more than two decades.
Generation X (ages 37 to 52) is the demographic least likely to shop for car insurance, with 44 percent saying they've never checked to see if a different company might offer a cheaper policy than the one they have now.
Millennials (ages 18 to 26) are the age group most likely to shop for a new policy on a regular basis, with 32 percent saying they shop around about once a year for a better rate.
Interestingly, millennials are also largely unaware that they can shop for a new policy at any time. Fifty-three percent mistakenly believe that they have to wait until their current policy is up for renewal in order to change companies.
"Insurance companies know this is the case, and they raise your premiums a little more with each renewal — not enough to make you jump ship, but enough to gild their bottom line just a little bit more," Arman says. "This is the 'boil the frog slowly' theory of pricing. And it works."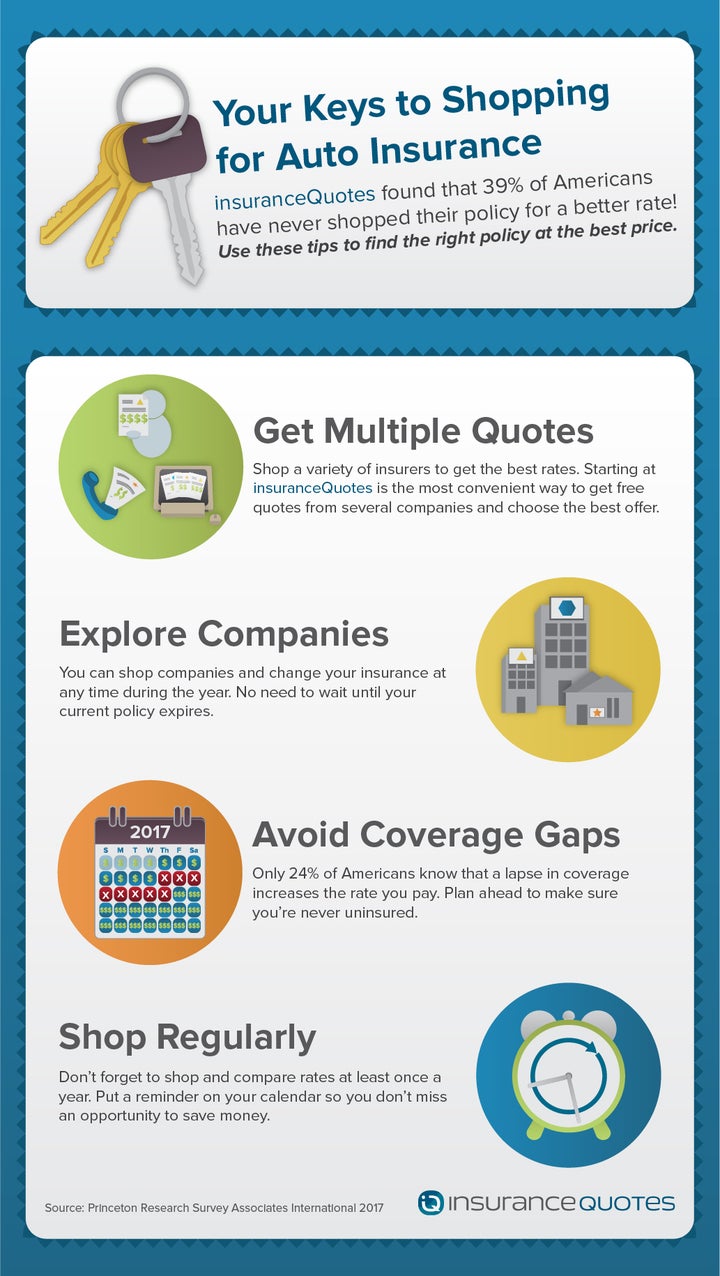 Why aren't more people shopping for car insurance?
Like many other products car insurance is a competitive marketplace, where different insurers are jockeying for different types of customers, says Michael Barry, vice president of media relations for the nonprofit Insurance Information Institute.
However, he says not enough drivers take advantage of that reality.
"In other words, people are used to shopping around for a wide variety of products, but with insurance there's a lot of inertia, even though it's a buyer's market," Barry says. "People may complain about a rate increase on their policy, but what proactive steps do they take to shop their policy around?
"You see all these TV ads and billboards saying they can save you money, but not enough are actually shopping. But I think when people do take the time to shop they find out there are benefits."
Insurance companies also have a vested interest in keeping your business, which means they often make shopping for a new policy an unattractive proposition by offering incentives like automatic bill paying and loyalty discounts for long-term customers.
"Loyalty discounts should not be blindly trusted, because you might get a better deal by switching," says Florida-based insurance lawyer Michele Ross. "Insurance companies also know how easy it is to click renew and pay a little more annually compared to filling out all the questionnaires associated with insurance quotes, so they can sneak in increases without much fuss from their customers."
Tips for auto insurance shopping
Broadly speaking, shopping for a new policy is an essential part of making sure you've got the best deal, but there are a few key considerations before setting out to find more affordable auto coverage.
Here are four insurance shopping tips:
1. Shop regularly … but not too frequently. Kevin Lynch, assistant professor of insurance at The American College in Philadelphia, says drivers should look closely at the terms of their current policy every year. Getting into this habit will also serve as a reminder that you should consider shopping for a cheaper policy.
But Lynch cautions that switching insurance companies too often can have a negative impact on your premium.
"If you jump ship every six months that's going to start playing a role in how an insurer prices your policy, because they don't want to invest in someone who might leave before the year is over," Lynch says. "So shop around but don't become too casual about frequently switching companies."
2. Don't just consider price alone. Not all insurance companies are created equal, and Lynch says drivers shouldn't just shop for the bottom line.
Do some research on any insurer you're considering, which includes visiting your state's department of insurance to see if any particular companies have a high percentage of consumer complaints against them.
"They might not pay a lot of claims, which is a red flag," Lynch says. "Even if they're offering you a cheaper premium you could lose money if you ever need to file a claim."
3. Get quotes from multiple providers. Compare at least three to five quotes every time you shop — but make sure they're for the same types and amounts of coverage. This is easy to do using the tools at insuranceQuotes.
4. Avoid a lapse in coverage. Even going a single month without car insurance can cause your rate to rise. Barry says actuarial data shows that once someone has a gap in coverage they're more likely to lapse again in the future, which is a risk factor. So always make sure you have a new policy in place before canceling your old one.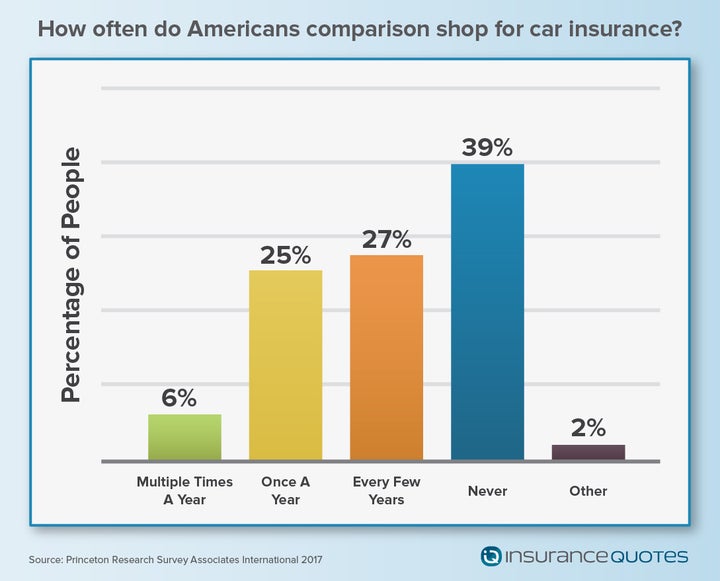 The insuranceQuotes study suggests not enough U.S. drivers understand the severity of lapsed coverage.
According to the survey, only 24 percent of respondents were aware that having a lapse in auto coverage results in a higher premium — and it most certainly does
A 2015 insuranceQuotes study found that letting your coverage lapse longer than 45 days causes an average rate increase of 12 percent once a new policy is reinstated. In some states this lapse penalty is even more severe.
For instance, having just a one-day lapse of auto coverage in Florida can cost you as much as $96 for a 6-month policy. And letting your coverage lapse for 45 days or more costs New Jersey residents the most — $214 or 35 percent — for a 6-month policy.
"I don't think most drivers give the issue of lapsed coverage a second thought until they are suddenly faced with a premium increase after going without insurance for a certain period of time," says Doug Heller, an independent Los Angeles-based consumer advocate who specializes in the insurance industry. "You should avoid letting this happen at any time, because it will cost you."
Laura Adams is a personal finance expert, award-winning author, host of the top-rated Money Girl Podcast, and insuranceQuotes' senior analyst. Join a growing group of thousands who are taking their finances to the next level in her free Dominate Your Dollars private Facebook group.
Related
Popular in the Community