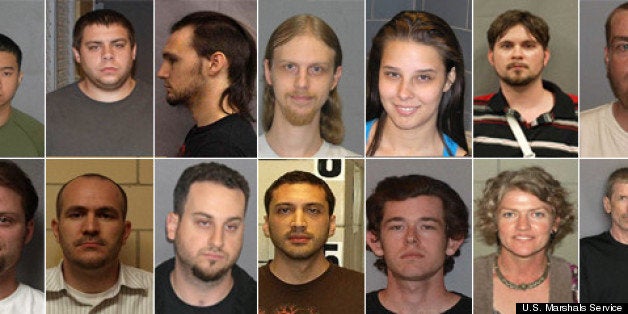 WASHINGTON -- Eleven individuals charged with helping overwhelm PayPal's website in 2010 have reached a plea deal with federal prosecutors that could potentially allow them to avoid a felony conviction.
Under the terms of the deal, 11 defendants in what is known as the "PayPal 14" case pleaded guilty to both felony and misdemeanor charges during their appearances in federal court in San Jose, Calif., on Thursday, but their sentencing will be pushed back for a year, according to reporter Alexa O'Brien. If they stay out of trouble with the law, federal prosecutors will seek to drop the felony charges, and the defendants will be sentenced to probation and possibly receive credit for time served.
One of the defendant's attorneys, Stanley Cohen, who called the deal a "big win for civil disobedience," said it also requires each defendant to pay eBay $5,600 in restitution. Two other defendants pleaded guilty to a misdemeanor charge, and likely will be sentenced to 90 days in prison. A final defendant who was indicted earlier this year on separate charges involving attacks on credit card companies and recording industry groups was not eligible for a plea deal.
In terms of the number of defendants, the PayPal case is the largest brought in connection to a DDoS attack, which some activists defend as a legitimate form of protest protected by the First Amendment. While PayPal collected the IP addresses of more than 1,000 computers involved in the attack, the PayPal 14 were the only people charged. There have been several other high-profile DDoS attacks against other websites, including government sites, in the years since the PayPal attack. A DDoS attack participant in a separate federal case was sentenced to two years probation earlier this week, and forced to pay $183,000 in restitution to Koch Industries.
The 14 defendants were charged under the Computer Fraud and Abuse Act, which critics say is overly broad and exposes computer users to extremely harsh sentences for relatively innocuous computer crimes.
Pierre Omidyar, the founder of PayPal's parent company eBay, called for leniency this week, saying they should have been charged with misdemeanors, not felonies.
A spokeswoman for the U.S. Attorney's Office for the Northern District of California did not immediately respond to a request for comment.
This is a developing story and will be updated.
Related
Popular in the Community