It's getting close to game over for a controversial school shooting video game after PayPal joined a growing list of companies that have refused to support it.
The online payments company confirmed Wednesday that it has shut down an account being used to sell the video game, "Active Shooter," which allows players to simulate carrying out a mass-casualty attack with a gun, grenade or knife.
"PayPal has a longstanding, well-defined and consistently enforced Acceptable Use Policy that prohibits the use of our services for the promotion of violence," a PayPal spokesman said in an email to HuffPost.
Though the game's developer, Acid Software ― which is listed online as based in Moscow, Russia ― continues to offer a free demo of its product on its websites, PayPal's decision would significantly hamper its ability to collect profit online.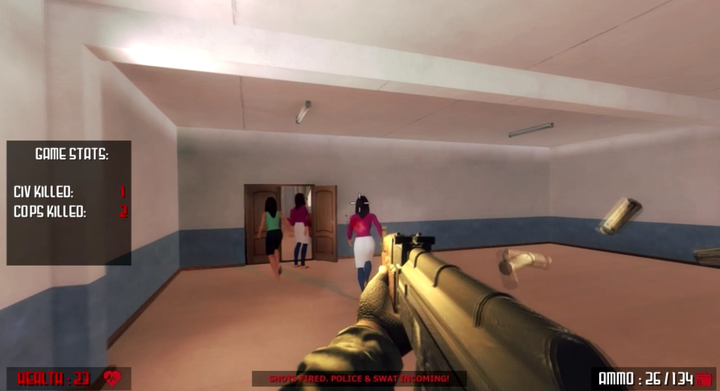 Fundraising website Indiegogo has similarly removed the Acid Software's crowdfunding page. Popular video game platform Steam also banned the game from being hosted on its site.
A representative for Valve Corporation, which developed Steam, said in a statement to The Washington Post that one of the game's developers, Ata Berdyev, was previously removed from using its service last fall over troublesome issues.
"Ata is a troll, with a history of customer abuse, publishing copyrighted material, and user review manipulation," Valve's statement said. "His subsequent return under new business names was a fact that came to light as we investigated the controversy around his upcoming title. We are not going to do business with people who act like this towards our customers or Valve."
After "Active Shooter" was removed from the gaming sites, it was listed on two separate websites set up by the developer, but removed after the company hosting them received complaints, The Associated Press reported. The sites were subsequently set up on Russian servers, according to Berdyev.
"Seems like everyone in US trying to censor us, whilst not explaining what exactly we are violating," he said in a message to the AP.
Acid has continued to deny that its game promotes violence or violates any terms of service. Critics, including survivors of school shootings and the family of victims, have argued otherwise.
Sandy Hook Promise, an organization that was created after the 2012 mass shooting at a Connecticut elementary school, started a petition for PayPal to close its account with Acid. An online petition on Change.org also racked up more than 282,000 signatures in support of removing the game from service. The online petition on Wednesday was also seeking support for tighter gun control regulations.
An early pre-release version of the game had been listed for $20. A final version is slated to be released early next month.
REAL LIFE. REAL NEWS. REAL VOICES.
Help us tell more of the stories that matter from voices that too often remain unheard.