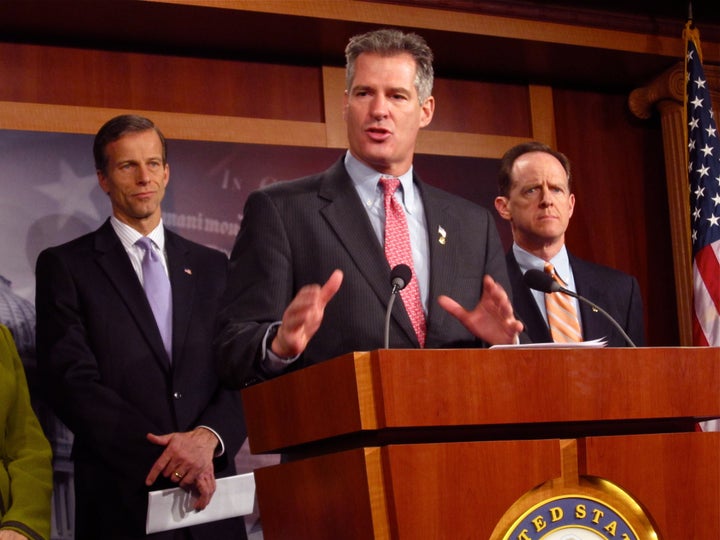 WASHINGTON -- The pending extension of the popular payroll tax holiday may have been a debacle for most Republicans in Congress, but it could be seen as a vindication -- even a boon -- to one: Massachusetts Sen. Scott Brown.
Facing a tough election challenge from Elizabeth Warren, the popular architect of the Consumer Financial Protection Bureau, Brown was among the first politicians on Capitol Hill -- and the first Republican -- to call for extending the 2 percent cut for a full year without paying for it.
It was a headline-grabbing break from party orthodoxy. And if his colleagues had followed his advice, this would have headed off the embarrassing standoff just before Christmas when Republicans blocked the extension in a fight over how to pay for it, and they would have settled for a two-month deal.
Facing a second showdown, they relented Monday when House Speaker John Boehner (R-Ohio) abruptly dropped the demand to find $100 billion in cuts to pay for the extension through the rest of the year.
With Warren riding a populist surge of anger over income inequality, Brown has recently been touting his bipartisan and moderate votes, and the payroll outcome hands him a new plank to stand on, especially with his early advocacy for the deficit-spending solution.
"It's funny. I've been talking about it since then," Brown told The Huffington Post. "I talked about it in caucus. I brought it up . I let the people in the House know that."
No one took up his suggestion until Monday.
"I'm not sure what the reasoning is," Brown said. "You know, I don't keep a scorecard. But I think it just makes sense. We have other things we can work on. And I've always felt that money would come back in the system," he said, referring to his argument that the tax cut would generate economic activity.
Observers weren't sure Brown should get credit for leading, however, noting that Brown cannot espouse too much conservative dogma in the very blue Bay State.
"That position is certainly not going to hurt," said Thomas Whalen, a political historian at Boston University. "He's trying to establish his bona fides as a moderate in Massachusetts."
So Brown has to "walk a very fine line" of not alienating conservatives, while keeping independents on his side.
"His goal here is to win Massachusetts independents, and independents are inclined to the extension of this tax cut," said Whalen, arguing that the political reality had more to do with Brown's position than leadership qualities.
"Nobody's going to confuse Scott Brown with a visionary," Whalen said. "He's like an everyday guy, a doofus, chocolate ice cream that goes down easy with average people. No one's ever going to accuse him of being Daniel Webster."
Nevertheless, being out front on a high-profile piece of legislation could be helpful for Brown in his showdown with Warren.
"That seems to be the hallmark of his career," Whalen said. "He's been lucky, and in the right place at the right time, and he sort of fell into this."
Calling all HuffPost superfans!
Sign up for membership to become a founding member and help shape HuffPost's next chapter
BEFORE YOU GO