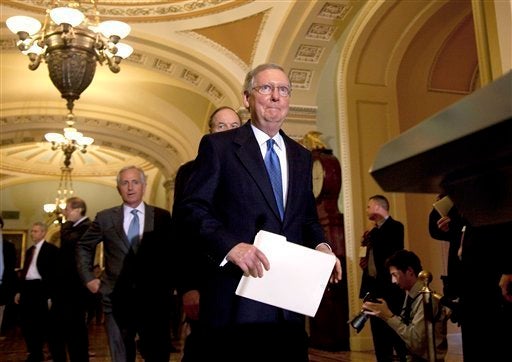 UPDATE - House Republicans are threatening to reject the payroll tax cut and unemployment insurance extension deal approved by the Senate, according to GOP sources. The House GOP convened a conference call Saturday afternoon, where rank-and-file members expressed open hostility to the bargain. Neither House Speaker John Boehner (R-Ohio) or Majority Leader Eric Cantor (R-Va.) is interested in fighting for a deal cut by Senate Leaders Harry Reid (D-Nev.) and Mitch McConnell (R-Ky.) with little of their input. GOP sources said that passage of the Senate bill was highly unlikely, and that House Republicans are more likely either to amend it and return it next week, or appoint conferees to find a compromise.
WASHINGTON -- The Senate voted to extend a popular middle-class payroll tax cut for two months in a rare Saturday session, delaying until February a new showdown over the 2 percent break enjoyed for the last year by some 160 million Americans.
The measure passed easily, with a vote of 89 to 10, but Democrats and President Obama had to accept language that requires him to make a decision within 60 days on whether or not to proceed with the 1,700-mile Keystone XL oil pipeline from Canada to Texas. Obama had threatened to veto the extension if the pipeline was included.
The bill, costing about $33 billion, also extends unemployment benefits that would have expired on Jan. 1 for many Americans. It also stalls a law that said doctors' payments from Medicare would be cut by 27 percent at the beginning of 2012.
The measure goes to the House Monday, where it is expected to pass, although Republican leaders opposed doing a short-term extension, and a spokesman said the leaders were still talking to members about it.
President Obama ignored the Keystone provision in his remarks Saturday and praised the deal to reporters. And he demanded that Congress act on the full extension of the cut when they return.
"It is my expectation, in fact it would be inexcusable for Congress not to further extend this middle class tax cut for the rest of the year," Obama said. "It should be a formality and hopefully it's done with as little drama as possible when they get back in January."
Both Democrats and Republicans claimed victory in the fight, with Democrats saying they were happy to battle for a middle-class tax cut again in two months, that much closer to the 2012 election.
Democrats insisted Friday that if the GOP throws up roadblocks again, they will be in a weaker position and will lose.
"It's going to be very difficult for Republicans to say to the American people, 'we know this works for you, we know this is important to your bottom line, your take-home pay and family, we know it helps economic growth, but we're not going to do it,'" said Sen. Bob Casey (D-Pa.).
"I would urge them to show the same amount of passion, the same degree of intensity that they show on protecting the top 0.1 percent," Casey added. "Show that same passion and urgency to what happens to workers."
Democrats had wanted to pay for the cut by slapping a 1.9 percent surtax on incomes above $1 million.
And while Republicans hailed the inclusion of the pipeline -- which Obama had initially threatened to veto -- Democrats said it did not matter because the State Department, which is overseeing the approval process of the border-crossing project, warned that 60 days was not enough to address environmental concerns. Therefore, the approval likely would be denied.
"We feel we're giving them the sleeve off a vest," said Sen. Chuck Schumer (D-N.Y.), adding that the White House approved.
Schumer also argued that most middle-class voters are not too worried about "whether some pipeline in the Great Plains may be built."
"Republicans have chosen an issue that may matter to some of their contributors and the oil companies, but it's not on the tip of the tongue of the average person," Schumer said.
But Republicans believe they got the other side to cave in, and that they can tout the defense of a "job-creating" project that is estimated to generate about 6,500 positions, though the some members of the GOP argued it would be 20,000.
"After weeks of debating a one-sided Democratic proposal that we all knew was designed to fail, we finally put together something that could pass," said Senate Minority Leader Mitch McConnell (R-Ky.). "One of the things Republicans were fighting for -- and got -- was a Keystone XL pipeline provision authored by Sen. Lugar (R-Ind.)."

The fight over how to pay for the extension prevented a longer-term deal lasting till the end of 2012. Ultimately, the only common ground completely agreed upon with this measure was raising a fee on banks doing business with Fannie Mae and Freddie Mac. That provision would take 10 years to pay for the two-month extension.
Obama was expected to sign the bill, as well a spending measure, before going on vacation this weekend.
REAL LIFE. REAL NEWS. REAL VOICES.
Help us tell more of the stories that matter from voices that too often remain unheard.