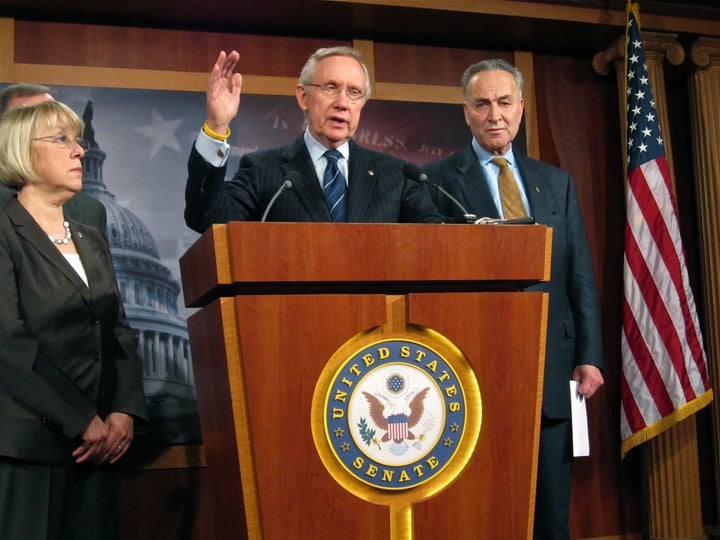 WASHINGTON -- Lawmakers signed off on the final details of the bill to extend a payroll tax cut and unemployment benefits Thursday, likely clearing the way for the $152 billion measure to pass before Congress takes a break next week.
The final obstacle was getting enough senators to sign the compromise bill worked out by a House and Senate conference committee. Three Republican senators refused to sign on, and Sen. Ben Cardin (D-Md.) only signed reluctantly because half of the $30 billion unemployment extension is paid for by extracting $15 billion from the federal pension system.
And it took a personal appeal from President Barack Obama and a promise to stop targeting government workers in the future because many of Cardin's constituents are federal employees.
"One of the things he brought up, I brought up, was the impact on federal workers and what is likely to transpire the rest of this Congress," Cardin said. "I think there's a resolve to say, 'Look, this is it.'"
Cardin could have expressed his objection by not signing the conference report, but Sens. Mike Crapo (R-Idaho), Jon Kyl (R-Ariz.) and John Barasso (R-Wyo.) all refused to back the deal, complaining they had not been involved in the negotiations.
"I didn't know their reasons. I still don't know their reasons," Cardin said, echoing House Speaker John Boehner (R-Ohio), who set up the deal by dropping GOP opposition in his chamber.
"There was an awful lot of conversation going on," Boehner told reporters Thursday. "Matter of fact, if I recall correctly, there were two or three public meetings where they were all present, so for someone to say they weren't involved really would surprise me."
The bill would also prevent a cut to doctors' fees in Medicare. That portion costs $22 billion, and also had to be off-set with cuts elsewhere.
The extension of the 2 percent payroll tax cut -- which costs $100 billion and is worth about $1,000 to an average family -- will be added to the deficit.
While the agreement prevents extended federal unemployment benefits from expiring, it adds several conditions, including a Republican proposal to allow states to drug test the jobless for the first time. It will also reduce the duration of federal benefits, which kick in for workers who use up the standard 26 weeks of state benefits. Under the deal, the maximum duration of combined state and federal benefits will gradually decline from 99 to 73 weeks.
But in the short term, several states will get a boost. In December, Congress reauthorized federal aid for two months, but did so in a way that would cause the final 20 weeks of benefits to phase out in one state after another over the course of the year. Michigan and Maine already "triggered off" the federal Extended Benefits program, which provides those final weeks of compensation.
According to a summary of the new legislation, states that lose eligibility for Extended Benefits from March to May will receive 10 extra weeks of benefits as long as their unemployment rates are above 8.5 percent (which would benefit Michigan, but not Maine). A Democratic aide said at least nine other states losing Extended Benefits would also receive the 10-week boost during that time.
Without a deal, the duration of jobless benefits would fall to 26 weeks, and waves of people receiving benefits under federal programs would stop getting checks. Congress has let benefits lapse four times in the past two years, including for a seven-week stretch in the summer of 2010.
"If passed, this legislation will also guarantee that hardworking Americans looking for a job in this tough economy will not have the safety net ripped out from under them," said Senate Majority Leader Harry Reid (D-Nev.).
That applies to people like Steve Bachman of Costa Mesa, Calif., who said he lost his $111,000-a-year job as product manager at an aerospace manufacturing company in March 2011. His current "tier" of federal unemployment insurance will expire shortly before the end of the month, meaning that if Congress somehow goofed on its payroll tax deal, he would be left hanging.
"My unemployment benefits are $1,800 a month, which pays my mortgage and my health insurance," Bachman said in an email. "I am still going negative each month about $2,000 even with unemployment benefits."
Bachman, 52, said he has been the runner up in three job interviews in the past 10 months, but mostly he said joblessness has been a mix of anxiety and boredom. What really rankles him is Republican reluctance to reauthorize benefits and the suggestion -- baked into the legislation via its drug-testing provision -- that unemployed people are on drugs.
"They're wanting to drug test everybody. Why would you want to do that? Most people are out there trying to find a job," Bachman said in an interview. "It just shows they think everyone on unemployment is sitting around smoking pot. If the Republicans had their way they would get rid of [unemployment insurance]."
Although Reid said Democrats had to accept some of the new conditions on unemployment insurance, he agreed with Bachman's assessment.
"People who are drawing those benefits are obligated to look for work, and they do that," Reid said. "We were unwilling to do some of the mean-spirited things to further embarrass people who are recipients of unemployment insurance."
While many insiders said they expected the deal to pass, Sen. Chuck Schumer (D-N.Y.) suggested balky Senate Republicans could still pose a problem.
"It goes without saying that this deal will not pass unless leader McConnell gives it his blessing," said Schumer, noting that House leaders are doing so.
"I don't get how not one Senate Republican conferee would sign a deal negotiated by their own party and endorsed by Speaker Boehner," Schumer said.
"There appears to be strange divisions emerging between the House and Senate Republicans these days," Schumer added. "Well, this agreement that helps middle-class families, senior citizens and those who have been looking for work is too important to be jeopardized by political rivalries between Republicans in the House and Republicans in the Senate."
Popular in the Community