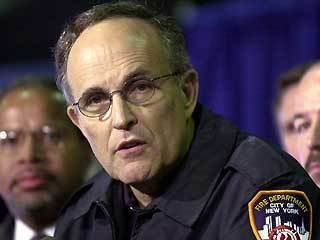 Rudy Giuliani has a firefighter problem. Following up on earlier criticism, a group of 9/11 family members and firefighters met on Monday at Dartmouth College to launch a campaign against the former New York City mayor and current Republican presidential candidate for what they deem to be massive failures before, during and after the attacks of 9/11.
But at least one member of the FDNY continues to offer his support to the former mayor -- and may be getting paid for it.
John R. Orlando, who serves with Engine 216 in Brooklyn, New York, has been cited prominently as a Giuliani supporter. Last June, in a New York Times article detailing the mixed reviews Giuliani has among the city's 11,000-membered firefighting force, Orlando said he regularly saw Giuliani at fires despite suggestions otherwise.
Orlando was also quoted as saying the "bottom line is, I think he's been more of a friend to firefighters than I've seen in the news. I don't think all the criticism is warranted."
Did those comments come with a reward? Three months after he praised Giuliani, Orlando found himself on the former mayor's payroll. On September 28, 2007, the Giuliani campaign paid one John R. Orlando more than $1,580 for what they deemed on a campaign filing as "political strategy consulting."
When asked about the arrangement -- after repeated attempts for comment -- Giuliani spokesperson Matt McKeon questioned the question.
"Are you suggesting that firefighters aren't capable of political strategy?"
Pressed to describe what strategy, exactly, Orlando provided, McKeon replied: "I'll get back to you."
Orlando, who is still with the FDNY, was also reached via phone. He was asked for comment about both his consulting for Giuliani and his thoughts on why the former mayor has been poorly received among his fellow firefighters. Like McKeon, he too said he would reply at a later time and never did.
During the Monday meeting, the 9/11 Parents & Families of Firefighters plotted the formation of a 527 committee to run an advertisement campaign against Giuliani's presidential campaign. "TV made him a hero, and we'll use TV to take him down," New York Fire Chief Jim Riches told ABC News. Among the issues raised were Giuliani's failure to upgrade the FDNY's faulty radio equipment, his decision to put New York's terrorist command center in the World Trade Center - a known terrorist target - and the hastiness of the post 9/11 cleanup job, which resulted in illness among many service members and the abandonment of buried bodies.
"It's our intention to set the record straight about the mistakes of the Giuliani administration," Norman Siegel, a lawyer for the group, told the Huffington Post. "The 9/11 family members have been speaking out about these issues for many years and they were listening and watching the Giuliani campaign people as they've used the story of 9/11. They decided it's enough."
Popular in the Community