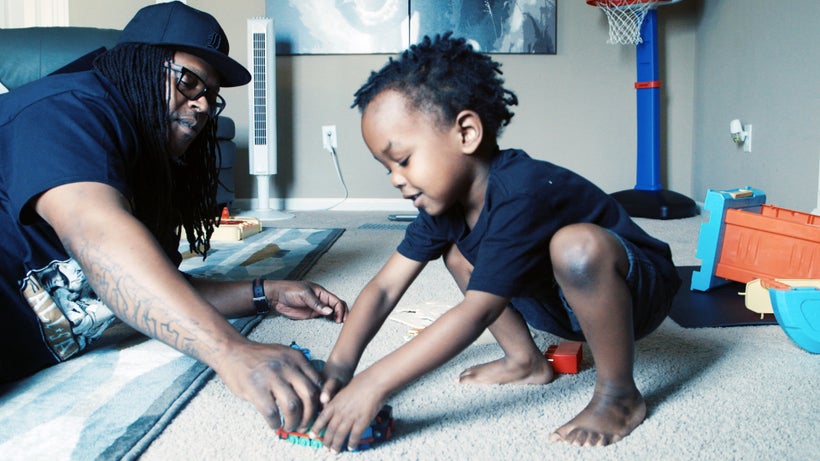 When you talk of fatherhood in America the black father is normally missing from that conversation because the narrative is that black fathers are absent from their children's lives. We're told that every major problem in black America can be solved if we addressed the problem of missing fathers.
Well that couldn't be the furthest thing from the truth. Recent data published by the Center for Disease Control reveal that black fathers spend more time in their children's day-to-day lives than dads from other racial groups, defying these false narratives about black fatherhood.
Peabody award-winning filmmaker Garland McLaurin takes us from these facts to actual stories in his 11-part docu-series, Pops, that premiered on PBS last Thursday. Pops is a documentary web series about African American men facing the toughest challenge of their lives: becoming good fathers.
"My hope is that these portraits of African-American dads will shed light on the beautiful and daunting experience of fatherhood and dispel myths about Black men and parenting," said McLaurin.
The web series follows the parenting experiences of BMe Genius Shaka Senghor, LaGuardia Cross, and same sex couple Chris and Shelton Stroman-Iniss during the course of a year. Each father explores the universal themes of responsibility, nurturing and love. Their stories serve to reflect the reality of black fathers in America. Shot in verité documentary style rich with raw, intimate moments, each character reveals what fatherhood looks like in their world.
"It is a complete joy being a father," said Senghor, father of three and producer of a docu-series of his own called Released airing on the OWN Network. "You get to witness stories in a light that are reflective of who we truly are as black fathers and not what the media continues to lie to us about."
Each story differs in personalities, socioeconomic backgrounds and struggles but share the collective experience of fatherhood.
"The media narrative of the deadbeat black father is generally accepted as a fact of life for African-American children," the show's team said in a statement. "But buried beneath these assumptions are the facts of black fatherhood that dispel some of those stereotypes. Pops goal is to affirm black fathers and black families – and empower them to share their own experiences of black fatherhood."
The Pew Research Center has found similar evidence that black dads don't differ from white dads in any significant way, and that there isn't the expected disparity found in so many other reports. Although black fathers are more likely to live in separate households, Pew estimates that 67 percent of black dads who don't live with their kids see them at least once a month, compared to 59 percent of white dads and just 32 percent of Hispanic dads.
Following its debut, new episodes of Pops will premiere every Thursday into the month of January 2018, with episodes ranging from 5-8 minutes each.
PBS/Lens Storycasts is a new web channel housed under the PBS Digital Banner. It's television's largest showcase of independent documentary film. Visit www.pbs.org/independentlens/about for more information.
Calling all HuffPost superfans!
Sign up for membership to become a founding member and help shape HuffPost's next chapter
This post was published on the now-closed HuffPost Contributor platform. Contributors control their own work and posted freely to our site. If you need to flag this entry as abusive,
send us an email
.