A report is spreading quickly on Facebook and Twitter that famed rapper Tupac Shakur is shockingly "alive and well" in New Zealand, 15 years after he died.
PBS has been hacked. (Scroll down for screenshot.)
PBS NewsHour online engagement staffer Teresa Gorman has spent much of her holiday Sunday night replying to folks on Twitter, telling them the report is false and PBS has been hacked.
The Lulz Boat has claimed responsibility. Not only has it posted the "Tupac Alive" Web update to the PBS site, but on Twitter it posted information for staffers, the PBS network, and password info for PBS stations.
According to Secure Business Intelligence, LulzSec has attacked several high-profile organizations in the last month, although it is known to hack for "entertainment and infamy," rather than financial gain.
The report on PBS NewsHour "The Rundown" carries the headline "Tupac still alive in New Zealand" with a timestamp of May 29, 2011 at 11:30 PM EDT. It includes a picture of Tupac and as of 1 a.m. Monday morning, it was still live on the PBS site.
Prominent rapper Tupac has been found alive and well in a small resort in New Zealand, locals report. The small town - unnamed due to security risks - allegedly housed Tupac and Biggie Smalls (another rapper) for several years. One local, David File, recently passed away, leaving evidence and reports of Tupac's visit in a diary, which he requested be shipped to his family in the United States.

"We were amazed to see what David left behind," said one of sisters, Jasmine, aged 31. "We thought it best to let the world know as we feel this doesn't deserve to be kept secret."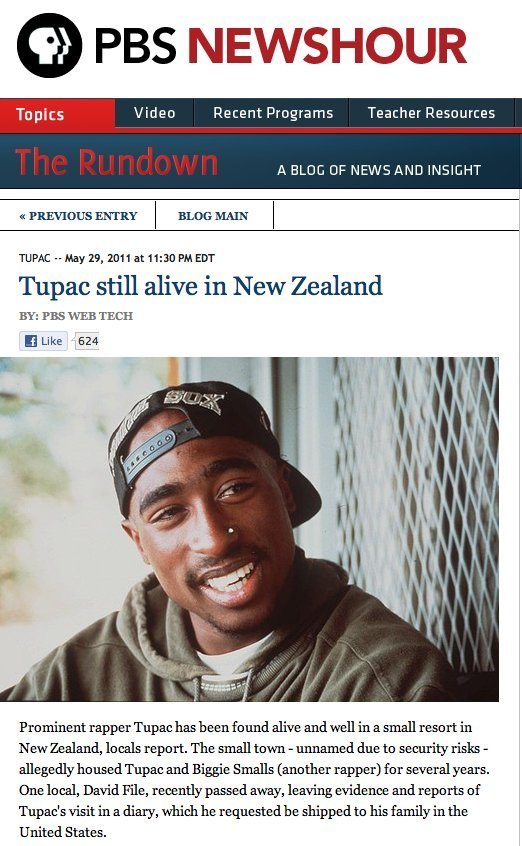 UPDATE: As of 2 a.m. Eastern Time, the link for the fake story now results in a "404" error message. The original version of that page can be found here.
UPDATE (2): Boing Boing reports that a Frontline Wikileaks episode angered LulzSec, the entity behind tonight's hack.
Related
Popular in the Community